Getting traffic on new blogs is not a simple job. It takes lot of time and efforts from webmasters. When a blogger put their steps in the field of blogging, he have to face many problems and difficulties to make his blog popular. But main problem is to get traffic on webmaster's blogs. If you are posting very unique and useful contents on your blog, but nobody is there to read your post, then all your efforts done for writing post gone waste. Some new bloggers left blogging just because of failing to drive traffic on blogs. And if you are also one of them and facing problems to get relevant traffic for your blog, then today your problem is going to vanish after reading this post fully.
In this post am going to tell you 21 Tested ways to drive traffic on blogs. When i was new in blogging then i also faced many problems and learnt many thing from my past experiences, which today i am going to share with you. I used to write post and start posting and publishing in social network groups and ads in classified websites. Posting and sharing in social sites and groups is not a bad idea but without organic traffic you can't be succeed in your blogging carrier and its reality.
So do you want to know how i start getting organic traffic on my blog
Tips2secure
??
If yes then continue reading otherwise simply close this page and visit our homepage or pages for other different articles.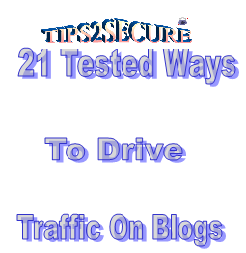 So guys, now am going to tell the steps which i used for my blog to make it popular and rank higher in SERP's (Search Engine Result Pages).
1. Start Writing Quality Post.
4. Start Commenting on other blogs. But always comment on blogs which are relevant to your blog niche. Here i used niche word for category of blog. It can also be done for building backlinks.
5. Start participating in Forums.
6. Share your post in Social sites like Facebook, Twiitter, Google+, Pinterest etc.
7. Use hashtag in your social sharing.
Example, 'Tested ways to drive traffic on blogs' can be written as 'Tested #ways to drive #traffic on #blogs'.
8. According to my personal experience I would like to recommend using Stumbleupon for getting fast and quality traffic. Simply
Signup Stumbleupon
and use open this link (http://stumbleupon.com/submit/) to submit your post. After posting you will get traffic instantly. Never do spam by using stumbleupon.
9. Do guest post on other blogs. Guest post means you should write articles for other blogs which are related with yours and ask owner to for backlink. You can also write for us and we will give you do-follow backlink. To write please visit
Write For Us Page
.
11. Use 'Top', 'Top 10 posts', '101 ways' in your post title. And one more thing if you are using 101 ways then you must write 101 ways, otherwise your readers can't believe on you for your future posts.
12. Write articles which are mostly searched in google.
13. Write for the use of people.
14. Never try to do Black Hat SEO for blogs. It may harm your blog.
15. Don't write to attract readers only, you must write to help and give your readers useful information and knowledge.
Also Read,
16. You should avoid commenting on blogs which are of different category from yours.
17. Never copy articles from other blogs.
18. Always write unique and unpublished contents on your blog.
19. Create videos for your post and upload on Youtube and Dailymotion.
20. Never use PTC (Paid to Click) sites to get traffic. This step is mostly used by Indians, so you must avoid these type of cheap traffic to keep your blog healthy.
21. Submit your Blog in Pingomatic.com and Pingler.com.
To know more on
SEO guide
please let me know or ask your questions in comment box, i will guide you.
Message: I hope that you have enjoyed '21 Tested Ways To Drive Traffic On Blogs [Simple Way To Drive Traffic]' article. However, if you want me to deliver more articles then please share my post. You can use Social Sharing Widget provided at the end of every post. After all, Sharing is Caring!.