Whilst a number of users are guilty for using mobiles solely for social media and playing games, there are now a number of business apps which are helping to substantially improve productivity inside and outside of the workplace.We would recommend that organisations take advantage of those most relevant to them, particularly as the majority are free!
In last post's we had mentioned about Information Technology and Its Role in Modern Businesses and today to help that organisations we've compiled a list below which may make some very useful additions:
DocuSign
DocuSign is an app that allows you to sign documents using just your mobile device and proprietary information in a way that was unheard of just a few years ago. With this app, there is a three-step verification process that allows you to sign documents that are legally binding with the use of your mobile device only.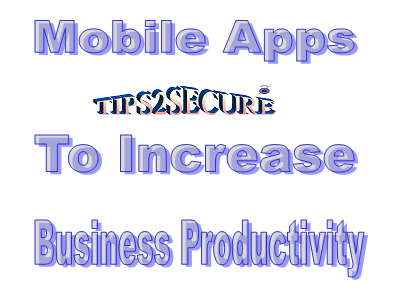 Pocket
Within your business, you or your staff may need to do intense amounts of research in a short amount of time. With Pocket, you can create a reading list of items that need to be explored. If you are the boss/manager, you can create a reading list and have your staff explore the content for you.
Producteev
The Producteev software packages work on a number of different devices, which means you can add the software to whatever devices your staff members are using. As a result, you are able to communicate with your staff members and assign them tasks from one central hub. If your staff members' tasks vary wildly from day-to-day, such as with a consultancy, then this app is not for your business. However, if your staff members frequently have to undertake the same type of job repeatedly, you can assign tasks with this app.
Remember The Milk
Some businesses have staff members that have to undertake a wide variety of tasks. It is quite normal for a smaller business that cannot afford to assign staff members to one-dimensional tasks. With the Remember The Milk app, your staff members can create a list of things to do and tick them off as they do them.
BidSketch
If your business has to create numerous proposals and bids to clients, then you probably have your own templates to help make the process a little less time consuming. BidSketch takes that idea to the next level, so that your future bids and proposals take far less time.
Basecamp
Basecamp is a collaborative tool that doesn't just assign staff members' tasks. They can see the project as a whole and see the progress of other staff members. They can create their own to-do lists, attach files, post messages, create documents and add events. Staff members can trade information, start discussions, and work through the details of their projects.
Microsoft Office
Microsoft Office
includes the very popular business tools such as Word, Excel &Powerpoint used by organisations around the world.The most basic package is now free however for a small fee a far more comprehensive
365
offering including additional storage and extra features is now available.
30/30
Motivation is a complex issue and there is no single way of fixing motivation issues. The 30/30 app works for some people by having a staff member work for 30 minutes and waste time for 30 minutes. It sounds crazy, but the idea is that many people will slowly grind to a halt as the day goes on, and some even say most people only have 2-3 hours of genuine productivity inside them. With this app, the time you waste both purposefully and forcefully will compel you to work very hard during your 30 minutes of productive time.
Author Bio:
David Munro is the Managing Partner and Joint Owner of Abica, a Glasgow based, business telecoms & IT provider. For more information visit
abica.co.uk
.