Welcome to Tips2Secure Media-Kit page.
Here you will find all the information that you need to advertise your product on Tips2secure.
An Introduction to Tips2secure
Hi, I'm Suresh Kumar — the person behind Tips2secure – and your point of contact for all media-related inquiries. Tips2secure was established on 8th November 2014. It was started with the aim to provide the best solution to bloggers to add income streams to their blogs.
Tips2secure has published 300+ posts covering the topics on blogging guide, SEO tips, Techno guide, VPNs, Reviews, Make money tutorials and many other stuff related to technology and Internet security.
Traffic Stats
No Need to Estimate Our Traffic using any Internet Tool, You can ask us for Google Analytics and We are ready to share with you!
Monthly Views
90,000+ Monthly
3,000+ Daily
DA: 30
PA: 41
90% traffic is Organic, i.e., from search engines.
Our reach on Social Media
Facebook: 35,000 Likes
(Total reach is around 200,000 on Facebook, including communities and groups.)
Twitter: 14,500 Followers
LinkedIn: 550 Connections
(Total reach is around 10,000 on LinkedIn, including communities and groups.)
Google+: 550 Followers
(Total reach is around 100,000 on Google Plus, including communities and groups.)
Advertisement Opportunities
Our balanced advertisement kit offers your company a chance to showcase your product/services in multiple ways. Our advertising quality guidelines ensure our readers get pleasing experience.


With Advertisers like Infolinks, TeslaThemes, ContentPPC, SEMRUSH, Grammarly, StudyBay, etc., you are ensured, you are at the right place to acquire more leads.


Some of Our Advertisers out of Hundred's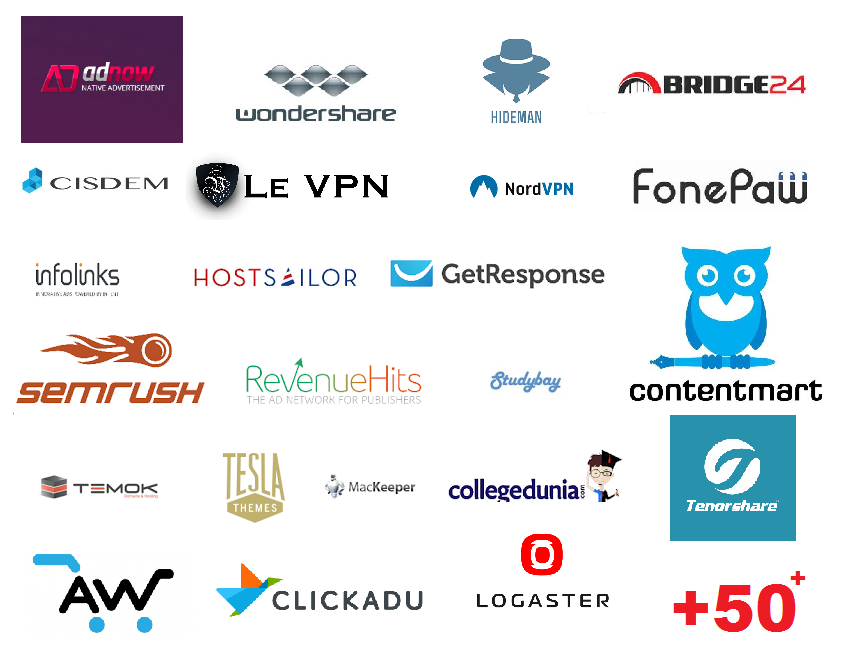 We seek out long-term partnerships with businesses who are committed to delivering quality services or products that are user-centric.

Here are the available advertising opportunities that we offer at Tips2secure. Depending upon your individual marketing strategy, you can pick one or custom bundle suited to your needs.
1. Sponsored Reviews
Sponsored review (post) is one of the specialties of Tips2secure. We not only write a comprehensive review, but we also share tutorials and guides to using your product.
Firstly we check the products and if we feel satisfied only then we publish the review.
Pricing:

We always charge less and according to your budget.
It varies according to the Advertisers' products and services. To know the price, please write us an email:
kumarsluck0001@gmail.com
2. Banner Advertisement opportunities
Header (468×60): 1 slot
Validity: 30 Days
Sidebar (300×250): 2 slots
Validity: 30 Days
Pricing:
Write us an email with your requirements.
You still have any query then I would like you to have your query in my email box.

kumarsluck0001@gmail.com