In this article, I'll be talking about Aspectwise, an online portal which can serve as a vital tool to simplify your shopping experience and help you in finding the perfect product. The tool helps in finding the perfect gadget that can fit right in your expectations.
In this review, we will take a look at how this happens in detail.
Mainly, this platforms revolves around two main sections – gadgets and technology. It would help in deciding which can be the perfect, for example, say smartphone as per your needs.

Users are capable of comparing, view its ratings and also get recommendations that suit their necessities. The best part is that the website works on a unique and detailed algorithm and this leads to making your shopping experience organized and better. The tool also provides you unbiased review and ratings that can help you decide which device do you need actually.

Glance at their working methods
Let me explain my view from a customer point of view. So, I was looking for Best Mobiles under 10k for my dad's birthday.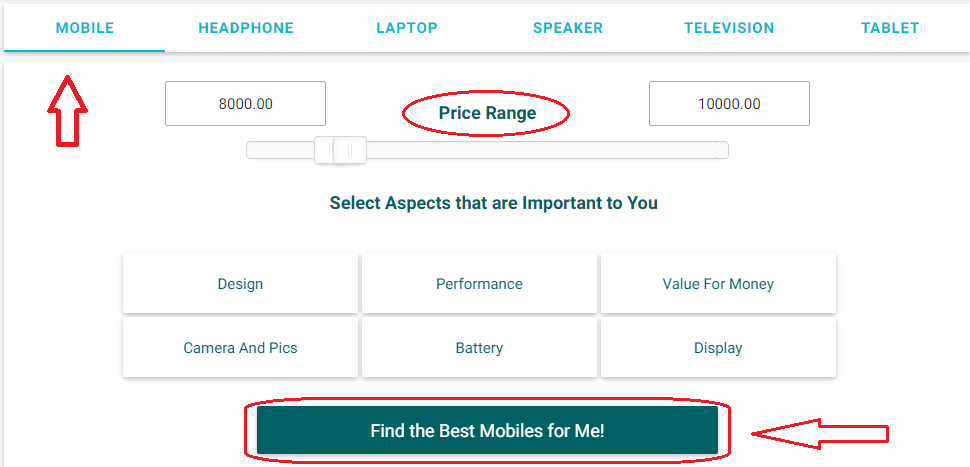 Generally, when you do things like this, you would google up and check up different websites like GSMareana or Smartprix and make your mind from user comparisons and customer reviews for that phone.
But what happens is that there are so many brands, and it leads to nothing but confusion.
So, this is where Aspectwise comes to the rescue. The website aims at portraying smartphones only as per your specific needs. For example, if you need a smartphone with a good camera, just tell your requirements and the website would pack every possible result based on your budget and needs through e-commerce websites like Amazon, Snapdeal, Flipkart and much more.
This cuts down the need of browsing many hours in searching for the best smartphones by reading dozens of reviews on each of these websites.
So whenever a user searches for smartphones under 10k, it would get filtered results from all of these websites.
As of now, we can see that the Samsung Galaxy On5 is the best available option under the budget that suits my needs.

Quick Peek at How Aspect Wise Work
Users open Aspectwise.in to get started with the process.
Head to the tab about what you want to buy. This time, I went with the mobiles.
The main process starts here. There would be different tabs that will ask you for your need so that you can be suggested with best options. For example, I needed a phone with awesome performance, so I'll go with that.
Next, select your price range and let the magic begin. That's all you have to do, you will be presented with best options as per your needs.
Conclusion:
A lot of times I've found myself stuck in the dilemma of selecting electronics as well. Being the techy and nerd in my group, it's me who gets questions like which phone to buy.
With Aspectwise, this thing gets a lot easier.
Message: I hope that you have enjoyed 'AspectWise Review – Simplifying Shopping Experience ' article on Tips2secure. However, if you want me to deliver more items, then please share my post. You can use Social Sharing Widget provided at the end of every post. After all, Sharing is Caring!