Regardless of the size of your business, chances are you deal with a lot of electronic data. Between documents, emails and other essential files, finding enough storage space can be a challenge. Rather than investing in hardware to store your data at your location, it makes far more sense to find a cloud storage solution and store it there. Digital cloud storage online offers a number of advantages over on-site storage. For one thing, it is far less labor intensive since you don't have to worry about managing extra hardware or dealing with security. Not only that but it also tends to cost far less since you don't have to invest a lot of money in equipment or staff.
5 Steps To Find A Reliable Cloud Storage Solution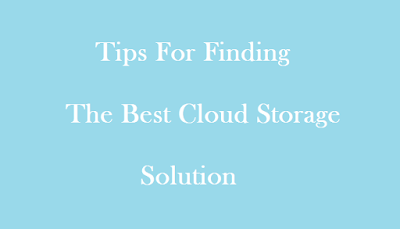 It is important, however, to make sure that you choose the right cloud storage provider to manage your data. After all, some of your company's most sensitive information is likely contained within the files that you will be storing. Here are some tips on how to find a reliable cloud storage solution:
1. Determine how much space you need. Spend some time analyzing your files to figure out approximately how much space will be required to store them. Having a general number in mind can help you find and compare packages that are well-suited to your company's needs.
2. Read reviews of some of the top cloud storage online providers. Online reviews can provide a valuable glimpse behind the scenes, allowing you to gain insight into which companies leave their customers feeling most satisfied. Pay particular attention to any reviews that were left by companies that are similar to your own in terms of their storage needs. Make a list of any cloud storage providers that seem promising based on the reviews that they received.
3. Research the top companies. Using your list from the previous step, spend some time checking out the websites of the top-rated companies that offer cloud storage online solution. See what type of storage packages they offer. More importantly, take a closer look at what security measures they have in place to protect your data. If you have any questions, contact them by phone to see how easy they are to get ahold of. Because they will be handling all of your data, it is important to know that you can reach someone when you need to in case anything goes wrong.
4. Compare prices. If you are like most businesses, you are probably working with a limited budget. Find out how much it would cost to store your data with each of the companies.
5. Choose your provider. Based on all of your research, decide which cloud storage online provider you are going to use. Fill out any necessary paperwork to get started. Additionally, make sure that all of your staff members are properly educated on how to encrypt data before sending it to the cloud.
You should also read,
Top 10 Best Online File Sharing Websites for Free 2016
5 Best Websites to Send Large Files Up to 20 GB for Free

Research Leads To Best Cloud Storage Online
When it comes to finding the best cloud storage solution, it really just boils down to doing proper research. Because you are entrusting your data to the cloud storage provider, it is important to make sure that they have proper security measures in place and that they will provide uninterrupted access to your files when you need them.
Message: I hope that you have enjoyed 'Tips For Finding The Best Cloud Storage Solution' article. However, if you want me to deliver more items, then please share my post. You can use Social Sharing Widget provided at the end of every post. After all, Sharing is Caring!