Finding a
good engineering college
is a tough job to do. Especially in a metro city like Kolkata. There are so many options that you can easily get confused. You need to find an affordable college, which has good academic facilities and is still near your home. All this while keeping in mind which subject you want to do your
B.Tech
in.Huh, now that's a lot of work to do. Solving our users' problem we have brought you a list of
best engineering colleges in Kolkata
. You can choose the most suitable one of them according to your needs.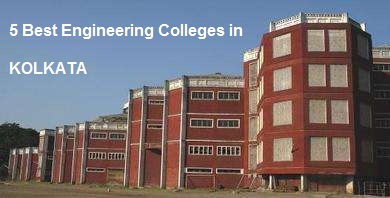 Check These Best Engineering Colleges in Kolkata

1. Admas University
Admas is a great engineering college. You can trust them for your education. They offer engineering in Civil, Computer Science, 4, Electronics and Communication, and Mechanical subjects. They also offer an integrated course of Engineering + MBA in 5 years for each one of the subjects mentioned above. They also have various degree courses for Arts and Commerce stream students.
Address- Adamas Knowledge City, Barasat- Barrackpore Road, P.O. Jagannathpur, District- 24 Parganas (North)Kolkata, West Bengal 700126 , India


Contact-(+91) 8017774232, 8017773665, 8017773996, 8017773664


You should read,


Top 3 Recommended Android Apps for Engineering Students in 2016
Grammarly Review 2016: Best and Easy Way to Learn Engslish Online!

2. Amity University
The name of Amity University is often heard across India. They have many branches of their academic facility across the country and they are successfully running all of them so I don't think you should face any major problem with them.They offer Engineering in (Biotechnology, Civil, Computer Science, Electronics and Communication, Mechanical & Automation and Metallurgy subjects. Metallurgy is a very rare subject they offer which is often neglected by other engineering colleges.
Address- New TownKolkata, West Bengal, India
Contact-
(033) 44012801, 44012802, 44012803, 44026893, 44007737, 1800-200-3320

3. Bengal Institute of Technology
Although Bengal Institute does not offer many forms of engineering and other courses like other participants in this list, they do provide a great learning environment. The focus is solely on Engineering means the management can use all their resources to provide the best facilities to students which is a plus point for them.They currently offer engineering in Biotechnology, Computer science, Information Technology and Electronics & Communications.
Address- Tech Town DhapaManpuronBasanti Highway, New science city. Kolkata India (700150)
Contact- (033) 23458001, 23458005, 23458005


4. Budge Budge Institute of Technology (BBIT)
Budge Budge Institute of Technology or BBIT as known among the locals is another good college for students looking for an affordable college. They allow you to do engineering in (Civil, Computer Science, Electrical, Electronics & Communication and Mechanical. They also offer diploma courses for all of the above-mentioned subjects for students who are looking for knowledge more than the degree in less time. You can complete the diploma in 3 years.
Address- Nischintapur, Budge Budge Kolkata, West Bengal 700137, India

Contact-
(033) 24820676, 24820670(033) 24820641
5. Calcutta Institute of Engineering and Management
Calcutta institute is named after the old name of the city. They are successfully managing their college for many years and are one of the oldest colleges in Kolkata. If you are looking for a trustable management then you can surely count them in.They currently offer Civil, Computer Science, Electrical, information technology, Electronics& Communication, Instrumentation & Control engineering. They also have MBA course for students looking to study further.
Address- 24/1 A, Chandi Ghosh Road,Kolkata, West Bengal 700040 , India(033)

Contact-
24219951, 24218998, 24215747, 9609255320, 9339745431, 9874865593, 9433008596
If you have any suggestion for this list of Best engineering colleges in Kolkata, please let us know we will surely amend it in our article.
So which one of these colleges you found the most suitable for you?
Do you know any better college which deserves to be on this list?
Message: I hope that you have enjoyed '5 Best Engineering Colleges in Kolkata' article on Tips2secure. However, if you want me to deliver more items, then please share my post. You can use Social Sharing Widget provided at the end of every post. After all, Sharing is Caring!