No doubt, for the bloggers who do blogging to earn some money or their living, Adsense is one of the best ways to monetize their blogs with Advertisements and get paid when someone visits their sites and make clicks on the shown ads. Here, It is also very true that Google Adsense rejects 90% applications of their interested publishers due to many reasons like Invalid traffic, sites under construction, not enough content to show Ads and many more.
Even I am also getting daily 5 to 10 emails per day from the readers of Tips2secure with wordings, "Hi Suresh, Adsense has rejected my application. Is there any another way to earn some money by displaying ads and getting paid for CPC."
Please go through this post for some other Adsense Alternatives.
That's the main reason why am doing researches a lot to find some alternatives of Adsense. But it's very hard to suggest alternatives because there are hundreds of Ad networks who claims to provide better CPC rates to their publishers. Some of them are fake, not paying and making false promises.
I had already finalised 3 Alternatives of Google Adsense. But the satisfaction level that my clients are getting good but they want more.
After a long research, I came to know about AdsOptimal. These days AdsOptimal is my favorite Ad network after Adsense. It's better from all sides (High CPC, higher CPM), even sometimes they give CPC and CPM more than Google Adsense. I highly recommend my readers if you are also one of them who have been rejected by Adsense team, should go for this network without wasting your time.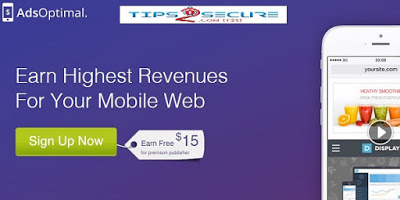 You know what?

You can run AdsOptimal with Adsense too. It's especially known for the web owners who have more mobile traffic on their sites. It's paying more than all other available networks for traffic from mobile. Mobile traffic is drastically increasing because people like to surf the internet and do their all possible works on their smartphones, tablets and iPads. Here, I would like to reveal a fact about Tips2secure that 85 percent traffic is only from high-end mobile devices on tips2secure.
This video will guide you, how your Ads will look like on different mobile devices.
A little more about AdsOptimal
1. They are paying real bonuses to new publishers of up to $15
2. Normal websites would get $5 and premium websites would get $10 as bonuses. Remaining $5 will be paid once publishers make Adsoptimal advertisements live on their blogs.
3. Minimum payment thresh-hold is of $50 only via Paypal and Cheque.
Interview with AdsOptimal Team
I have interviewed one of their experienced staff last week, and the questions I asked and the answers I got from them are given as below:
• About AdsOptimal
We are a Y Combinator-backed startup, based in the beautiful San Francisco Bay area.
We partner with Double Click, Criteo and many others bringing you the best ad network and top dollars. With our innovative ad tech, we help publishers increase website revenue from both web and mobile.
• How does AdsOptimal work?
Sign up is easy and no geeky skills required. We take care of all the hard work for you.
Once your site is approved, you'll be given instructions on how to set up your account. It only takes you a few clicks. After that, you will receive up to 15 USD singing bonus and start making money.
• Is it free to join?
It is absolutely free for publishers to join AdsOptimal.
• What is your advertising model?
AdsOptimal offers pay-per-impression, click or conversion.
• How and when will I get paid?
Whenever your revenue reaches 50 USD, you can request a payout.
• Any other benefits of joining AdsOptimal?
Certainly! If you successfully refer a friend to us, you will get commission plus 10% of his earnings for a year.
As you all know that our main objective is to provide right and best services to our readers. I am recommending this network after my complete investigation.
Now, I would like to discuss on How to Sign up and create Ad units in AdsOptimal.
1. Click Sign Up for AdsOptimal.
2. Fill your details as per their instructions.
3. Now, wait till they review your application. Once if you get approved, you will get an email from them.
4. Next step is to login into your account and create Ad unit. First step is select your desired format then click on get code as shown in below image.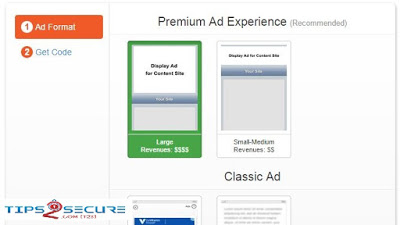 5. Paste that code on your site, where you want to show the Advertisements.
6. You have done.
Some special features
This Ad network has many types of Ad units for both PC and mobile users. For the owners who want to display the Ads only for mobile users, have to add the javascript code inside header and it will start displaying for mobile users. There is also a sticky bottom unit which will probably generate more revenue.
Conclusion

All the above given points and facts are totally verified and tested by Tips2secure. You can do participate in AdsOptimal without any risk or fear. Still have any questions or doubt please ask here, we will solve and reply all your queries.
Message: I hope that you have enjoyed 'Best Google Adsense Alternative – AdsOptimal' article. However, if you want me to deliver more items, then please share my post. You can use Social Sharing Widget provided at the end of every post. After all, Sharing is Caring!