As a webmaster,
I don't recommend you to build links using Private Blog Network
. PBN is a network of websites to create backlinks which come under black-hat SEO.
Disclaimer: This post is not about promoting any black hat SEO techniques, we are just here listing some PBN hosting providers. This post for the people who want to build PBN even after knowing the negative points of PBN.
Some points about PBN
There are 2 ways to do thing. The first way is to do it by following all the rules and regulation while other way is to do it by breaking some of the rules. Every webmaster wants to rank his website in SERP fast. To rank a site in SERP there are different ways like link building, keyword research, competitor's analysis etc. Some of these ways are search engine friendly while some are not.
One of the ways to rank a site in SERP is PBNs. But I never recommend using PBN as it's for short term results and too much risky.
Google hates the sites use PBN to rank faster and give penality to such kind of websites.
Sometimes PBN results in penalization instead of boosting the rank of blogs/websites.
It increases maintainance cost.
Handling a PBN is a complex process.
PBN requires a lot of time and experience.
Top 5 Private Blog Network (PBN) Hosting Providers
I am sure if you are having at least one website then you must have heard this term. There are different hosting providers for PBNs where you can make your site and create your own PBN.
Let me introduce 5 Best PBN service Providers here so that you can kick start your PBN journey with them.
1. Easy Blog Networks

Easy Blog Networks is the first PBN solution in the list when we talk about PBNs. Easy Blog Networks is the platform which deploys different blogs to different hosting providers and automates the maintenance. They are using some of the popular hosting providers like Amazon, Digital Ocean etc. The smallest plan of Easy Blog Network starts from $35/month for 10 blogs which is quite affordable.
Best Features of Easy Blog Networks
1. Quick and Easy Installation of WordPress
2. Automatic updates for themes, plugin and WordPress
3. Everything is visible to you like details of hosting providers, IPs etc.
4. Periodic check for indexation.
5. Easy and quick HTTPS support
2. Bulk Buy Hosting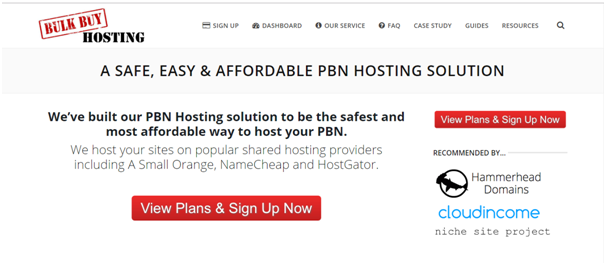 Bulk Buy Hosting is another Good PBN hosting provider. The main strength of Bulk Buy Hosting is its good IPs and Name Servers. Instead of just WordPress, you can also host your HTML sites with Bulk Buy Hosting. The smallest Plan of Bulk Buy Hosting starts from $15/month for 5 domains. The main problem with Bulk Buy Hosting is that you need to setup your site manually.
Best Features of Bulk Buy Hosting
1. Good IPs and Name Servers.
2. They are hosting sites with popular hosts like Hostgator, Name cheap etc.
3. Unique and Different range of IPs.
4. Different data centres.
3. PBN Hosting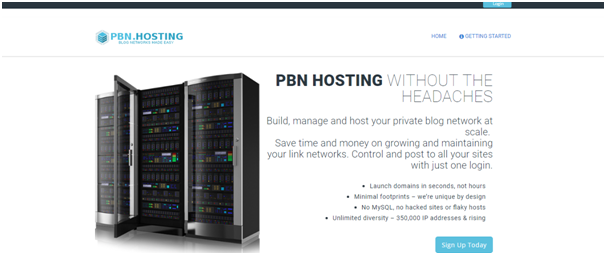 PBN Hosting is one of the popular hosting solutions to host your PBNs. PBN Hosting is using CDN to host your sites. With CDN, they are running your site faster. Instead of just WordPress, they are hosting static HTML sites for speed. The smallest plan of PBN Hosting starts from just $59/month for 20 domains. The main strength of PBN hosting is its unlimited IPs.
Best features of PBN Hosting
1. Easy and quick imports.
2. Instant blog launch.
3. Unlimited IP Addresses.
4. Uptime and Google Index counts will be checked time by time to avoid de-indexation of site.
5. It uses CDN to boost up the speed.
6. Easy monitoring of all your sites from single dashboard.
4. Bluseo PBN Hosting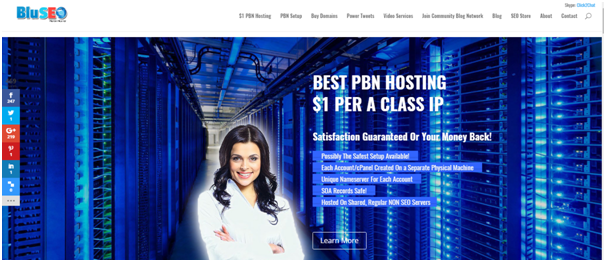 Bluseo is also known for $1 PBN Hosting. The best thing about Bluseo is that each CPanel is created on separate physical machine. Like other PBN Providers, Bluseo is also hosted on other shared servers. The smallest plan of Bluseo starts at just $10/month for 7 IPs. You can get maximum of 28 IPs from Bluseo.
Best Features of Bluseo PBN Hosting
1. Easy and Quick Setup
2. Up to 28 unique IPs are available.
3. Each account is on different server. So there is less chance of getting caught by Google.
4. Each time you will get unique Name Servers also.
5. If you don't want to setup your sites then the team of Bluseo can do it for you.
5. No Name Internet PBN Hosting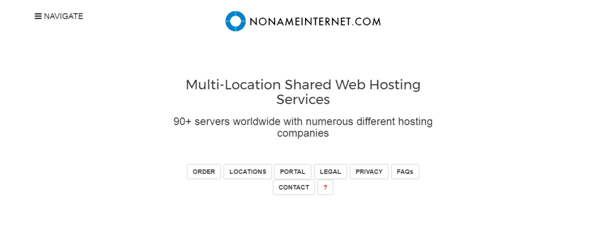 No Name Internet is the last PBN Hosting of our list. With No Name Internet PBN Hosting, you will get 90 different IPs. They are using different location worldwide to secure your PBNs from Google. The control panel of No Name Internet is combination of WHMCS and cPanel. The smallest plan of No Name Internet starts from $10/month for 5 domains.
Best Features of No Name Internet PBN Hosting
1. Good diversity of IPs.
2. Bit Less price then other PBN Providers.
3. Support is quick and your problem will get resolved quickly.
The only problem with No Name Internet PBN Provider is that their Name Servers are not as good as other PBN Providers. The dashboard and other UI is also a bit confusing and problematic for new users.
Read also,
5 Best Low Competition Keywords Finder Tools
Get 1000 Visitors a Day (Traffic) from Twitter to Your Website
126 Low Competition Keywords List with High CPC
6 False Beliefs about the Alexa Traffic Rank
Final Words
To create and maintain PBN is a tough task. One need to take some risk and should be ready to pay some good amount of money to the provider. There are many different providers across the internet who claims to be secure. But you should be aware before you buy any PBN Service Provider.
PBN is not as simple as hosting one simple site, it is more than that. So you should go through all the PBN Providers first and then decide which one is good for you and your money site. One single mistake can harm you badly. So first spend good amount of time in study of PBN Providers and then go with one which you find good for your PBN. You can check the above 5 and go with anyone. I would recommend you to go with Easy Blog Network due to its feature. So check them out.
Message: I hope that you have enjoyed '5 Best Cheap PBN Hosting Reviews [Private Blog Network]' article on Tips2secure. However, if you want me to deliver more items, then please share my post. You can use Social Sharing Widget provided at the end of every post. After all, Sharing is Caring!