Today, In this tutorial I will guide you about placing Adsense ads below your post title and also anywhere in the middle of your blogger posts. You can easily add code of
Google AdSense
ads by following this tutorial and screenshots.
Adsense ads in below title of the middle of posts always perform better. Ads below title give
higher CTR
and
increase your Adsense revenues
. For WordPress bloggers, there are many customized plugins available for placing ads in the middle of the posts but in the case of blogger it is some what tricky part to place AdSense ads in the middle of all the posts. For that purpose I am sharing here a script which makes able Blogspot bloggers also to add Adsense codes between the middle posts and below title,
Steps to Add Adsense Ads below title and Middle of posts
Login to your
blogger account
and select the blog in which you want to place the Ads.
Navigate to 'Template' and click om Edit template.
(Before editing template, it is recommended to backup your template. You can backup your template easily by clicking on Backup/Restore template given at the top corner of right hand side.)
Step 3
Now locate this
<data:post.body/>
in your template. To locate easily click anywhere in HTML codings and press Ctrl+F to find the code.
You may find this code several times in your template, but you have to stop at second one, if second does not work the you will have to try the third one.
Step 4
Now replace the tag <data:post.body/> with the code given below
<div expr:id='"adsmiddle1″ + data:post.id'></div>
<b:if cond='data:blog.pageType == "item"'>
<b:if cond='data:blog.pageType != &quot;static_page&quot;'>
<div style="clear:both; margin:10px 0″>
<!– Add here Converted code of your ad –>
</div>
</b:if>
</b:if>
<div expr:id='"adsmiddle2″ + data:post.id'>
<data:post.body/>
</div>
<script type="text/javascript">
var obj0=document.getElementById("adsmiddle1<data:post.id/>");
var obj1=document.getElementById("adsmiddle2<data:post.id/>");
var s=obj1.innerHTML;
var r=s.search(/x3C!– adsense –x3E/igm);
if(r>0) {obj0.innerHTML=s.substr(0,r);obj1.innerHTML=s.substr(r+16);}
</script>
Step 5
Convert your Adsense code into XML. Code generated for Adsense Ads is in the form of HTML javascripts, but templates don't accept these codes directly, so you have to convert this HTML code into XML first before pasting the code in above script.
To convert your code Open HTML to XML tool, and paste your Adsense code there and click on covert. It will convert your code into XML. Now copy your new Adsense code and paste by replacing <!– Add here Converted code of your ad –>.
Step 6
You have done. It will automatically start displaying Ads below your post title.
Step 7
If you want display your Ads between or anywhere in the middle of your posts, then follow this liitle guide.
Place this tag <!– adsense –> anywhere inside your blog, where you want to show ads and you will be done. Add this tag after making your post editor in HTML language.See below in image.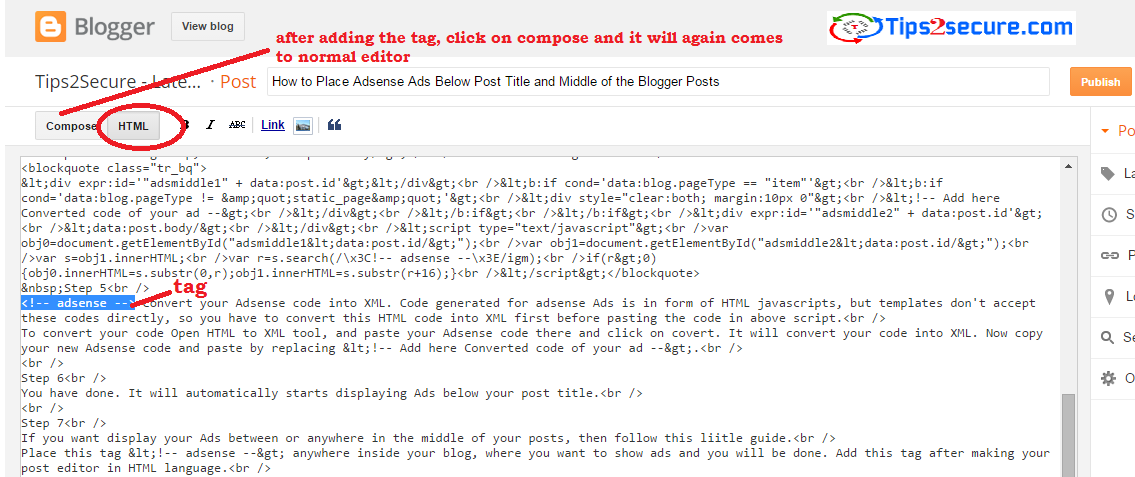 Centering the Ads

To centering the ads place center tag before and after the Adsense code like this
<div style="clear:both; margin:10px 0″>
<center>
<!– Add here Converted code of your ad –>
</center>
</div>
Floating the Ads Left or Right Side as shown in below image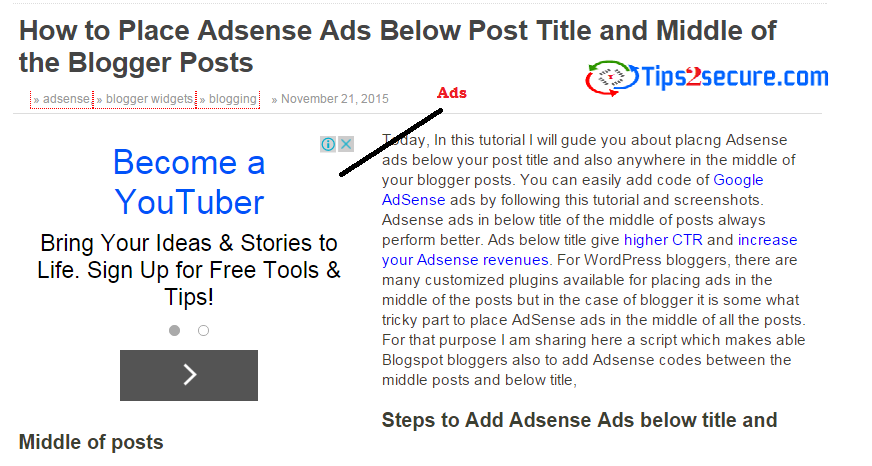 It's also very simple to make your ads floating left or right in your post by making little changes in your code.
<b:if cond='data:blog.pageType != &quot;static_page&quot;'>
<div style="clear:both; margin:10px 0″>
<!– Add here Converted code of your ad –>
</div>
</b:if>
Replace tag <div style="clear:both; margin:10px 0″> with <div style="display:block;float:left;margin: 5px 25px 5px 5px;">, you have done. If you want to float ad on right hand side then use this tag <div style="display:block;float:right;margin: 5px 25px 5px 5px;">
Conclusion
I give my best while writing this post to make it easy and clear to understand the tags, that's why I use screenshots also in this post. If you don't have much knowledge in template editing or HTML editing still you can do it by following this guide step by step. If you are not able to do this then please let me through comment box, I will do this for you.
Message: I hope that you have enjoyed 'How to Place Adsense Ads Below Post Title and Middle of the Blogger Posts' article. However, if you want me to deliver more items, then please share my post. You can use Social Sharing Widget provided at the end of every post. After all, Sharing is Caring!