When we talk about the term 'affiliate marketing', most often, the term referral marketing is neglected by most of us. Making money is always awesome, now matter from where it comes. Bloggers try to make money through advertisements, affiliates and even through sponsored reviews, but often neglect referral marketing. So here, we have brought some of the best referral programs for the bloggers that can help them to generate good amount of money. Go through the list below and find the best referral network for yourself.
Best Referral Programs for Bloggers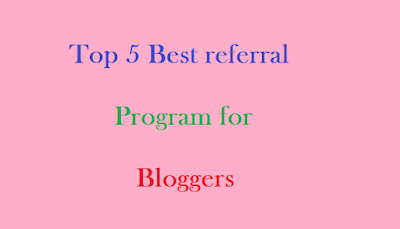 We have enclosed the list of best referral programs that can be chosen by most of the bloggers to earn a good sum of money. Here is the list to go with:
Kajamba Referral Program
Kajamba is one of the best CPM ad networks providing high CPM rates and history based ads just like Google Adsense to the publishers. The prompt payment through different options makes it one of the best ad networks. Kajamba also encourages the user to earn money by referring the publishers who have not joined Kajamba ad network yet. You can make up to $150 for every publisher you refer to Kajamba. You even earn 25 percent of total commission from earnings of the publishers referred by you. Just sign up with Kajamba in its referral program and get a unique link that you can promote anywhere.

ShareASale Referral Program
ShareASale is one of the best affiliate networks that provide pay per lead, pay per sale and pay per click programs to the marketers and bloggers. You can use its referral program to earn more money. If any merchant joins through your referral it pays you up to $150. It even pays you $1 for each sign up done through your referral link. It is a great referral program to try your hands on.
Bidvertiser Referral Program

Bidvertiser is a popular ad network based on CPC just like Google Adsense. You can also make good money by joining Bidvertiser referral program for both advertisers and publishers referrals.When you refer an advertiser to Bidvertiser then you get $5 when the advertiser spends $10. You get additional $50 when the same advertiser spends $50. When a publisher joins Bidvertiser through your referral link you get $10 when publisher makes $10 and additional $40 when that publisher reaches $50 or above. Payments are processed through PayPal as soon as you make $10.

Infolinks
Infolinks is another awesome ad network that provides an additional opportunity to all its users to earn more money through its referral program. It has a referral program for its publishers only. The referral program of Infolinks for publishers is really simple to understand. You earn 10 percent of earnings of the publisher joined through your referral link for first 12 months. Suppose the publisher generates $1000 in a year, you have an opportunity to make $100 for that year.

Media.net Referral Program
Media.net is the contextual advertising program that runs under the initiative of Bing and Yahoo. It is one of the superb Google AdSense alternatives to use on your blog. Media.net offers you an opportunity to make some money through its referral program. It offers you 10 percent of your referral's earning for the first 18 months of his signup. In edition your referred publisher will get 10 percent bonus earnings.
You should also read,
Grammarly Affiliate Program – Earn $0.20 Per Free Registration
How Much Money Can You Earn With a Fee App?
How to Earn your First $5 on Fiverr – Complete Guide
Final Words
Above, we have mentioned the top 5 referral programs for bloggers that can help them out in making some extra money if any user joins through their referrals. Though, some of the best referral programs were covered above, but Kajamba appears to be the best among all of them. Kajamba provides high referral commission rates that are as high as $150 and therefore is the best in the list.
Moreover, you will get the highest commission rates from the earnings of your referral. You get 25 percent of the total earnings of your referral that is much higher as compared to other referral programs. Suppose your referred publisher generates $1000 you will get $250 as your commission. So going with Kajamba Referral Program can be the best option for you.