Are you struggling for finding the best domain and hosting provider company? If yes, then I have compared the two top domain and hosting providers Bluehost Versus Godaddy. After reading this complete post, you will know which one is better Bluehost or Godaddy. While writing this post on Bluehost Vs Godaddy, I have included my personal experience and observation. So let's start the comparison…
Which Hosting to buy?
Which Host is better for my website?
Which Host should I choose for my upcoming website?
These are some of the questions when a newbie starts his first website. I have found many people who are searching for the Good and Cheap host for their websites. I am getting frequent questions from different readers about the hosting choice. So I have decided to write one comparison post on two different hosting providers.
Hosting is a very much important parameter in the field of blogging. It has a direct impact on your reputation in reader's mind and your income. As there are many hosting providers available in the market, bloggers get confused while selecting the appropriate one.
Actually, there is no such concept as perfect hosting. It all depends on your requirement and your budget. If the company fits in this frame, you're good to go with your perfect hosting.
Bluehost and Godaddy are the buzzing words of the hosting world. Let me make your decision easier by comparing both of these hosting companies by their features.
Bluehost Vs Godaddy: Background
Bluehost was started in 1996 with the primary focus to provide quality hosting service. They have almost 2 million+ customers across the globe. They are the big cheese of the industry when it comes to web hosting services.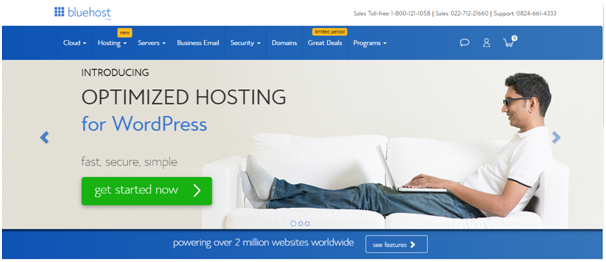 Godaddy was started in 1997. It is one of the giant registrars and hosting over 56 million domains. They are providing SSLs, hosting services and other related services.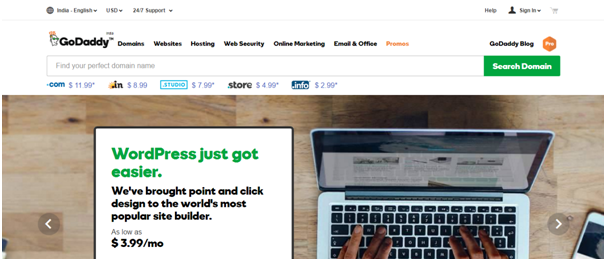 Bluehost Vs Godaddy: Comparison parameters
Speed
I went through many types of research and speed testing experiments, and with my personal experience, I found that Godaddy is faster than Bluehost. Though we can't say that Bluehost is too slow but in some locations, it is lagging behind in speed factor.
Thus, Godaddy is the winner for the speed parameter, but speed is not everything, right? Uptime and other parameters matter as well. So, let's see which one is better overall?
Uptime
Uptime is the factor, which has a direct relation with your brand. Nowadays almost every hosting providers offer 99.9% uptime, but how many of them are really providing what they are promising?
Bluehost is the only winner according to me when it comes to uptime. There are too many complains about the uptime of Godaddy. You can't handle the site having high traffic with hosting of Godaddy.
You may like to check,
10 Most Recommended Premium WordPress Themes
Tesla Themes Coupon Code – Flat 50% OFF
TeslaThemes Vs MyThemeShop
Bandwidth
Bandwidth is one of the important factors which one should look for while buying a new host. In the case of Godaddy, they offer unlimited Bandwidth. Bluehost is also offering unlimited Bandwidth to all users. So for Bandwidth, there is a tie between Godaddy and Bluehost.
Disk Space
Disk Space is one more factor which you should consider while buying a new host. Godaddy only offers 100 GB Disk Space in basic plans while Bluehost gives unlimited Disk Space for all the plans. So here, we can say that Bluehost is ahead of Godaddy.
Support
Not only for web hosting but for any product, good customer support is an essential parameter while making the decision for purchase. If your website is stuck at any point due to the hosting, you will directly reach to your hosting provider, right? But what if they don't respond you on time or not at all reply for your queries?
When it comes to good customer support, Bluehost is the champion. It is officially suggested by WordPress and other big cheese. You can easily contact them via live chat, call or Email.
Whereas Godaddy sucks when it comes to customer support. Even Forbes, Lifehacker and other big cheese of the industry don't recommend Godaddy.
So, obviously, Bluehost is the winner in this parameter.
User Interface
I think there is no competition in the user interface of both the hosting companies. Bluehost and Godaddy – both are having a good and user-friendly interface. Both the hosting providers are using different versions of cPanel.
Bluehost Vs Godaddy: Pricing
Both the hosting companies are providing three plans with different features.
| | |
| --- | --- |
| | |
| | Economy plan – $3.99/month |
| | Deluxe plan – $4.99/month |
| Business pro plan – $13.95/month | Ultimate plan – $7.99/month |
Bluehost offers basic, plus and business pro plans, whereas Godaddy offers economy, deluxe and ultimate plans. With the basic plan and economy plan, you can host single website whereas with other plans you can host unlimited websites.
Also, you can get 50% Off + 1 Domain Free if you go for Bluehost Now.
Click here
to Grab this offer Now!
By comparison, we can conclude that Godaddy is cheaper compared to Bluehost at the time of initial purchase, but the renewal rate of Godaddy is higher for every plan.
Final Verdict
I have used both of these hosting services and concluding my experience with these companies, I will highly recommend the Bluehost for its quality of service, whereas Godaddy still needs to improvise their service. Still, the choice is yours obviously. You can choose any of these as per your requirements and budget.
What is your recommendation? Share your experience if you have experienced the services of any of these companies. Still, if you want to clear anything regarding the choice of hosting provider, reach to us via comment section and feel free to share this article.
Message: I hope that you have enjoyed 'Bluehost Vs Godaddy: A Detailed Comparison Review [My Personal Experience]' article on Tips2secure. However, if you want me to deliver more items, then please share my post. You can use Social Sharing Widget provided at the end of every post. After all, Sharing is Caring!