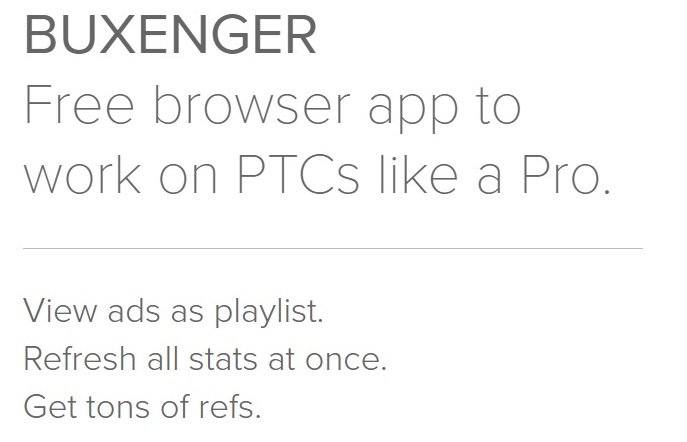 Are you looking for Buxenger Review and want a new way to get PTC ads for a long time? Well, I have discussed the review of Buxenger which lets you do the process yourself. Of course, I know how much you are interested to get the app. Most of us are feeling bored by logging in every PTC site. We are searching for the best software to maintain PTC sites in a single click. To overcome the hassles, Buxenger is the right app to manage all PTC account in one place.
To check its complete guide, here I have shared a post of buxenger review. By reading this post, you will get a better understanding of this software. So, I hope you will get the necessary information about the buxenger app. I recently used this app and it is awesome. As a result, I share my results and my final thoughts on this Buxenger app.
What is Buxenger App (Software)?
Buxenger.com is a free desktop software that helps you add PTC sites in a single site. This is a free app that helps to speed up your earnings from PTC websites. However, this app is very important for monitoring all PTC sites on your websites. It will give one easy way to view all sites quickly. By using this app, it boosts the process of viewing ads from multiple sites.
Apart from speeding up, you can view the stats from all PTC websites in a single click. It permits users to adds ads to their playlist and check them regularly. Buxenger has a very good referral program. It helps to manage all your referrals in PTC sites.
How to use buxenger?
Of course, buxenger is easy to use. Due to its user-friendly features, users can use it for managing ads in a single click. To use this application, you have to sign up for the buxenger. Then, you can add to your browser. After that, add any PTC accounts which are currently available. Some PTC sites are available but you should pick the best one. Now, you can find out new PTC sites added to your account. So, continue to the app and find them on your playlists.
If you want to use buxenger, click a small button at the top of your browser. But sometimes, it disappears for a few days. So, you have to type its domain name into your search. Here, you can follow the steps to add new PTC accounts to buxenger.
I will show you step by step procedure to add new PTC accounts faster.
At first, select "add website"
Choose a website to add for browser
Sign up existing accounts details or create new account
Go to setup account and click Next button
Then, return to buxenger back office
Finally, new PTC sites are successfully added
So, it is very easy to add a new PTC account to the buxenger app. Apart from this, you can add any existing accounts to buxenger.
Buxenger review – Features
Some features are really exciting when you use the buxenger app. Here I have listed some of the features of buxenger for your reference.
Buxenger app is completely legal and no risk found when using
Users can view their daily ads as quickly as possible
Add them in playlists and view one by one easily
This act as download builder and help you to join PTC sites in buxenger app
You may set alarms to known the limits in earning maximum cash out
Joining the PTC is so easy when compare others
You can watch all stats in one place by PTC management feature
It offers a very secure procedure to add PTC sites
Buxenger supports lots of PTC websites and lists in playlists
It is suitable for Chrome and Mozilla Firefox
Why should you use buxenger?
1. User-friendly
Of course, the buxenger app is really useful for you to maintain PTC sites in a single click. This is user-friendly and people love to have this extension on Chrome and Mozilla Firefox. It supports lots of sites that are managed by PTC. User-friendly is the main concept included in this app.
2. Views updates regularly
Don't waste your time. Users can get updates on this app automatically. The updates are regularly found in the browser. So, you should get it and kick start the process quickly. As a result, you can view them in a slideshow to save time. The app is cost-effective and you will get updates anytime anywhere.
Benefits of using Buxenger
1. Getting direct referral
By having a buxenger app, you will get direct referrals automatically to the site. So, it is very easy to find out referrals separately on each PTC program. In two ways, you can get referrals and PTC sites to your browser.
Affiliate program
Buy referral
2. Security benefits
Buxenger is well known for giving solid security. It is not a scam and the user gets only the legal version for managing PTC sites. It has password protection and adds an extra layer with Buxenger main password.
Is Buxenger scam or real?
As discussed earlier, there is no doubt in using the buxenger app. Of course, it is completely safe. It is just an extension of your internet browser. So, you do not worry about the side effects of using the buxenger app. By using this, PTC sites are organized in a single site.
Buxenger Pricing (Membership)
Buxenger comes with two types of membership plans, FREE and PAID. In the free plan, some features are limited while in paid plans you get additional features. Have a look at the below added screenshot to know the Buxenger pricing and features.
Buxenger Pros
It is free and the user can join anytime
Buxenger is very easy to use and create new PTC accounts effectively
It quickly speeds up the PTC earnings
User can gain more referrals and faster
You can go for the updated version and spend a premium cost
Buxenger Cons
Does not comfortable to add to the extension
Some people may feel hard to add due to a certain problem
It does not work on Safari
Not all PTC sites are supported
Conclusion
I hope this post will help you to understand what Buxenger is and how it works. Also, I shared my experience with Buxenger. So if you want to use the app, consider this post. It may help you to learn the basics and steps in the buxenger app.
Message:
I hope that you have enjoyed 'Buxenger Review – Is Buxenger App Safe for your PTC Collections?' article on
Tips2secure
. However, if you want me to deliver more items, then please share my post. You can use Social Sharing Widget provided at the end of every post. After all, Sharing is Caring!