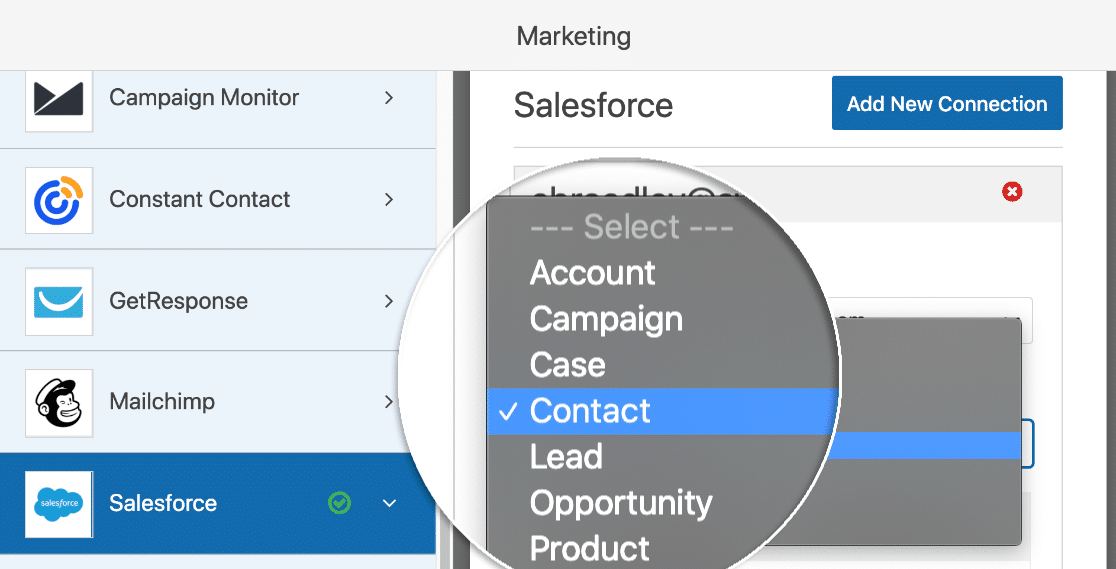 Today there are many add-ons available to be incorporated with WordPress Forms. It would make it easy to deal with information obtained from the customer. One such is Salesforce add-on where data collected from WPForms will automatically send to Salesforce CRM. Isn't it exciting as manual work gets reduced, and also it becomes easy to deal with entries.
Many times it is required to copy data from WPForms to Salesforce but using the add-on, it is done automatically. There are many service providers to work out with it but mostly are paid versions. So, use this WPForms add-on and get all your data to salesforce CRM for free.
CLICK HERE TO ACTIVATE WPFORMS NOW
Note: Customers must have an Elite license to use this feature.
How to connect WordPress with Salesforce?
To copy data from the form to Salesforce, it requires to create an object. But with the help of WPForms add-on, it is created automatically.
You are just required to select the object that you want to create for the form. Under settings options, there is a list of object, and you need to choose any of it.
Once you have chosen the subject from the list, it's essential to map the fields available in your WPForms to the fields of Salesforce.
It's relatively easy to map as you can get fields of your WPForms on left while Salesforce field on the right. Just map with each other and if required, add the condition logic. It would help to decide which entries are to send to Salesforce.
That's it, now all your form entries will be sent to Salesforce, and there is no need to copy/ paste manually.
Why opt for salesforce add-on with WPForms?
There are many external tools available in the market, like Zapier, that helps to send entries from WPForms to Salesforce. But it will prove very costly and needs experience in integration. But with the help of WPForms and Salesforce add-on, it is no more a difficult task. It can help to save time, reduce manual work and most importantly will improve the accuracy.
The integration is also effortless, and most importantly, it is available for free. It is suitable for both big and small business enterprise. These salesforce add-ons can go with any WPForms like contacts, accounts and even leads. Add-on has the already created object that can be selected without writing a single line of code.
If your website has multiple WPForms, there is an option to create different sales object according to the type of form. The easy mapping and integration help to send entries of form to the Salesforce CRM. Thus the flexibility and easy workflow make it the best option to communicate between WPForms and Salesforce CRM.
You may like to read,
How to create high converting ActiveCampaign Forms with WPForms?
How to Accept Credit Card Payments on WordPress with WPForms
Best Typeform Alternative for WordPress [WPForms]
Benefits of using Salesforce add-on with WPForms
Using Salesforce CRM with WPForms can work as a time-saver for everyone. The data automatically goes into the salesforce account, and thus you can save time. It would also reduce the manual work.
Makes easy to work with multiple teams as salesforce entries can be accessed by all members quickly. So, now there is no need to forward interties through mail to your team members.
It also helps in automating different tasks like customer tracking, sales processing and many others. The custom object will make it easy to carry out all the marketing task with ease.
Salesforce add-on works with the Salesforce API to send data from the form. WPForms gives the flexibility to connect any of the salesforce CRM with your form. Moreover, there is an option to add multiple salesforce accounts depending on your need. Thus you can get complete control over your data and also get reduced of manual work.