If you are blogging for a while, you already know the fact that email list is the primary
income source
for most of the professional bloggers who make a living from their online businesses.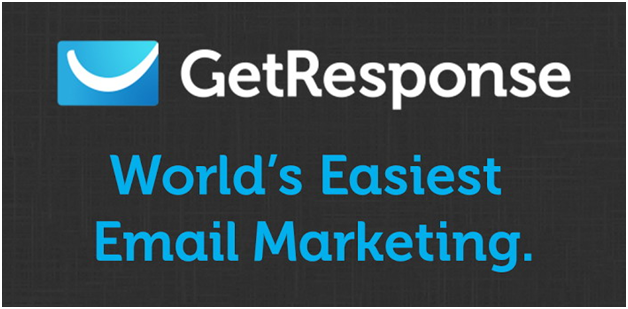 Every time you will read any blog, the first thing that you will find is "they will suggest you to build email list". Yes, email list is the true asset which will help you to generate more and more income.
The best way to build an email list is to make it automated. There are various tools using which you can automate this. GetResponse is one among those and very featured and economic. Here is the detailed GetResponse Review.
GetResponse is widely used, most affordable and used as a 3 in 1 package. It helps you do the following 3 things.
• Build an email list
• Create landing pages with ease and
• Do webinars to boost your email list

Features of GetResponse
Here is the detailed view of some of the amazing features of GetResponse.

1. Email Marketing tool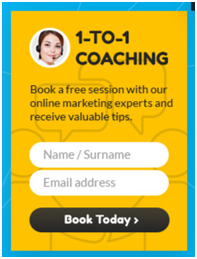 GetResponse initially started as an Email marketing tool used for sending the email to subscribers but later it grown their way and today is one of the top tool for marketers.
Here are the features of email marketing tool-
• Excellent support
• IPhone application
• Video Email Marketing
• Advanced newsletter templates
• Social Media integration
• Analytics allows you to track the emails and work better

All you have to do is, just follow these steps and create newsletter-
• Once you logged on your account, on GetResponse dashboard, Click on "Create Newsletter"
• Now, you will be taken to the next page where you need to pick an editor to start creating your newsletters or emails. I personally use and highly recommend "New Email Creator" option.
• Add the details
• Just send it. You can do the A/B testing but it depends on you. Anyway A/B testing is highly beneficial.
The best thing with GetResponse is, it costs much less than their competitor like Aweber and provides more features.

2. Auto Responders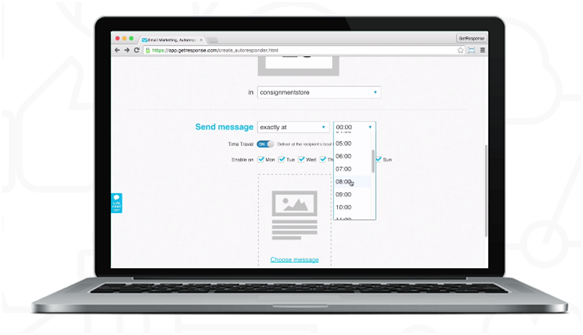 This is a must have feature for any email marketing tool where you can set the rules like if somebody will subscribe you, you can send some kind of goodies like an e-book, some software etc. for free.
The best thing is, if your tool support this features then you will not have to send them manually and whenever someone will subscribe you, an automated mail will be delivered to them.

3. Landing Page Builder
If you are doing your online marketing without a dedicated web page, you are losing a lot. As per the research, a simple landing page converts more than 400% compared to the normal campaign and so you must use this.

Though many companies charge on hundreds just for landing page, but GetResponse just provides you this feature with the complete package.
With GetResponse landing page creator, anyone can create stunning landing pages in minutes without any coding knowledge.
Once you log on to your dashboard, click on Landing Pages at the top, it will instantly show you "Page Templates" and gives a wide range of landing pages to choose from.
Pick any one of them according to your needs and edit that as per your demand.
Once you create the landing pages according to your needs, you can use the customized URL's given by GetResponse and display them anywhere you want to boost your conversion rates.

4. Webinar Hosting
Though GetResponse has just started this but it is gaining momentum day by day. In fact, GetResponse is the first email marketing service provider which has their self-hosted webinar platform.
Here you can invite the people to join your webinar, your audience can ask questions; can interact with you in real-time and many more.

You can host up to 100 webinars every single month with their Pro pricing plan (which costs you just $49 per month) and also allows you to build an email list of 5000 email subscribers along with the access to landing page builder that you can use to creating stunning landing pages.

Pricing
GetResponse is very flexible in pricing and you just have to pay what you are going to use. Select from the below plan and get started with an amazing email marketing tool.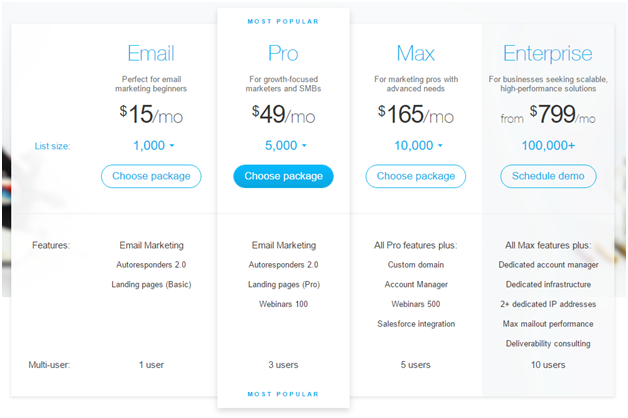 The best thing is, it is the cheapest service provider with at most features.
Also, GetResponse provides 30 days free trial. So just signup and enjoy the services.
Message: I hope that you have enjoyed 'GetResponse Review: Best Email Marketing Software' article. However, if you want me to deliver more items, then please share my post. You can use Social Sharing Widget provided at the end of every post. After all, Sharing is Caring!