Grammarly Free Vs Premium: Are you passionate about writing? Do you really want a fine piece of content but really worried a lot about typos and spelling errors that usually happen?
Do you really want to have a perfect proofreader tool to help you in your writing? If you are going to answer YES for all of these questions, Grammarly is just the right option one can make in. Grammarly is actually a fully loaded app that promises uses to deliver the best grammar services and spell-check tool in the marketplace.
The tool really works tremendously and has made the writing tasks just like bread and butter. Now the point comes, what to choose between Grammarly Free Vs Premium. Well, this post will help you in understanding the differences between Grammarly premium and grammarly free version.
Online spelling checking, finding and editing grammatical errors, plagiarism checker and much more is there to enjoy on. In short, you can now easily improve your diction and style just by taking help of Grammarly tool.
You're going to get a Special & Official Grammarly discount as a reader of this blog on your purchase of Grammarly premium subscription, i.e., $9.91/Month only.
Grammarly Free Vs Premium: Detailed Comparison Chart
Features

Grammarly Free

Grammarly Premium

Cost

Free

7 Days free trial option with three payment options:

Monthly subscription for $29.95

Quarterly subscription for $19.98 per month and billed as $59.95 total

Annual subscription for $11.66 per month and billed as $139.95 total

Advanced Grammar, spelling and punctuation checker

Yes

Yes

Fixes writing style aka flow

No

Yes

Hedging language

No

Yes

Overused words

No

Yes

Sentence structure

No

Yes

Ineffective or weak vocabulary

No

Yes

Detects Wordiness

No

Yes

Impoliteness

No

Yes

Plagiarism Checker

No

Yes

Inappropriate tone or formality level

No

Yes

Insensitive or non-inclusive langauge

No

Yes

Genre specific writing style checks

No

Yes

Human Proofreader

No

Yes

Cross platform support

Yes

Yes

Browser extension

Yes

Yes

Real time checking

Yes

Yes
What is Grammarly?
Grammarly not only helps in writing some piece of content on Microsoft Word only, but you can easily integrate it into your Google Chrome to help you in editing emails, blog posts, writing assignments and various other tasks. It is, in fact, one of the most used software application that has made it quite easier to write a fine piece of content very conveniently.
You really don't need to think much about the punctuation marks, spelling mistakes and grammatical errors, as Grammarly is there to help you in all. It is a handy tool that has made the life of writers and authors much easier for them.
The tool is being available in the marketplace in two different versions: Grammarly Free and Premium.
Where the free version of Grammarly is available for each and everyone, one can easily extend the limits of Grammarly as the premium one by opting for the paid ones. Grammarly Premium is better in different ways than that of the free version and ensures users to eliminate each and every mistake from the piece of content.
If you are skeptical about getting Grammarly to your web browser, here we are with the straight forward comparison between the free and premium version of Grammarly for you. Along with providing a detailed review, pros, and cons of the both, we will also try to provide you the comparative details of both so that it would get better to distinguish and select the best one for you.
Review of Grammarly Free Version
As we have mentioned you earlier that the free version of Grammarly is available for all. All of us can easily access and use it without any hassle. This free tool includes various basic features that can even help you in driving an extremely fine piece of content and these are:
Grammarly Menu
Whenever we opt for a software application; Menu is one of the foremost things we often look for. Comprising of the complete layout of the front page, one can easily enter the menu of the application by clicking on its home page. Go to My Grammarly option and then search for the Profile section to get the complete information to this wonderful app.
If you want to know about the different plugin options of the same for different browsers, you can tap on the Apps section for exploring it. On the Apps section, you can easily find MS Word Extra, Premium and much more to choose in. however; Logout option is also there for all those who are willing to leave the main menu page of Grammarly.
If you wanted to explore the world with some extra information; here is the detailed one for you.
My Grammarly: This section of Grammarly includes the links to get connected with the existing documents that you have edited previously. Whenever one selects this option he/she is being asked to get connected with the previous document or willing to start up with the new one.
Profile: This section of Grammarly is actually being categorized into three different sections: Personal dictionary, language preferenceand account details. Where personal dictionary enables users to add words into your account, language preference is being usually used for selecting a particular language from the provided and account details includes the basic information associated with your account.
Apps: This section of Grammarly menu provides you the idea of apps delivered by Grammarly previously.
Grammarly Editor
The free version of Grammarly is a handy tool that offers users endless and a variety of things without forcing them to upgrade their tool for the premium on. As the name describes this section of Grammarly includes various sections where you can easily upload and download your document for further changes.
Start Assistance option is also there to help you in setting up the goals of your tool and to look after its performance as well.
Set Goals: It is one of the intuitive tools of Grammarly that let the tool know about the content you are going to write about. You can easily use this tool for setting up the domain to make it available as per the professional level.
Performance: One needs to have a maximum of 30 words in a particular document to check the performance of their content. You can easily use this tool to check out the readability and score of your content.
Grammarly is actually one of the finest and handy tool options for all those who are willing to remove the spelling mistakes, punctuation errors and grammatical errors from their content and emails. The tool actually comes up with 25 premium alerts.
The tool is actually more aware than another spellchecker due to the presence of an advanced AI system that detects the mistakes very precisely. Moreover, you also don't need to worry about the privacy of your content as 256 bit AES & SSL/TLS is also there to help you out in the same.
Grammarly Free Version Features
Grammarly free
is one of the best and handy options for all those who are really not interested in spending their money on purchasing some professional tool. Yet free but this tool is quite impactful and can help you in removing the grammatical errors, spelling and punctuation issues amazingly. In fact, if you are looking for a free and impactful tool for
improving your writing skills
; this tool is really a great value for money.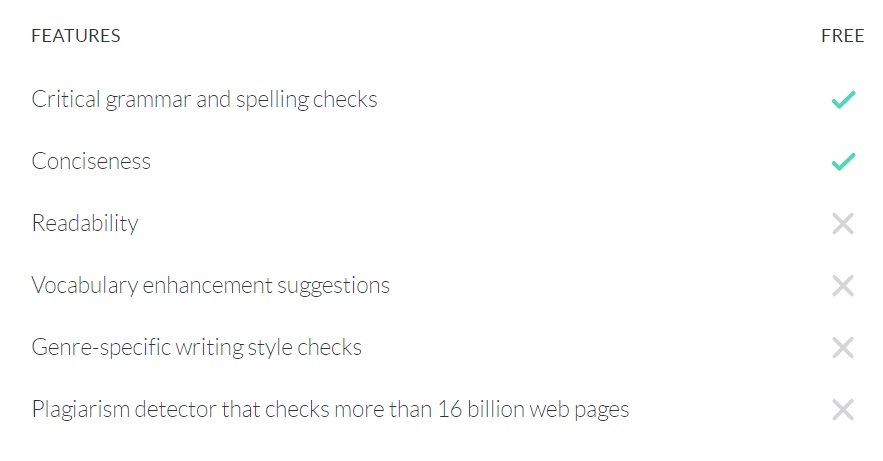 Features are the mirror that makes it easier for the users to know in deep about some specific tool. And to make it more conversational for you, we are here with the basic features of Grammarly free.
Grammarly free is a great tool that comes up with amazingly improved artificial intelligence that makes it quite easier to detect the various grammar errors, spell checks and punctuation checks for you.
The tool comes up with an inbuilt browser and MS Word Integrationwhich means that you can easily use this tool for any of your content formats effectively.
The tool comes up with a personal dictionary that makes it quite easier for the users to find out the best alternatives of overused words.
Grammarly free includes 256-bit AES & SSL/TLS encryption for your documents to be modified.
Grammarly free offers accessibility of one account per one user
Grammarly free is also available for mobile users.
Grammarly Free Version Pros
Grammarly Free offers you accurate suggestions about the different spell checks, punctuation checks and grammar checks made
Finest tool one can choose to meet their writing goals
Readability metric is also mindblowing
Easy integration with various web browsers and devices
Seamless integration with Microsoft Word
Mobile-friendly interface
Great backup option for previously reviews documents
Multiple language support
Grammarly Free Version Cons
Offers only basic Microsoft Word usage feedback for the users
Does not offer any style suggestions for the users
No advance formatting option is there for the users
Review of Grammarly Premium Version
As the name describes it well,Grammarly Premium is the advanced and paid version of Grammarly app. Where Grammarly Free version offers you the experience of enjoying unlimited and seamless experience of usage of some basic tools,Grammarly premium is the one that will take you towards the tour of some advanced features just by paying a small amount for that.
If we talk about the features, the premium version of Grammarly includes features like:
Grammarly Menu
The menu option of Grammarly free and Grammarly premium is much similar to each other. The main thing that differentiates the two is that it is being present on the left-hand side corner of the menu along with premium tag and subscription in the premium option.
Grammarly Editor
Just like Grammarly Menu option the Editor option of Grammarly premium is much similar to the free version. The only thing that differentiates both here are some hidden premium features. It offers you the facility of selecting the domain name from different options such as academic, technical, creative, business and casual.
Grammarly Premium Tools
Well along with having various similarities between the menu and editor sections of Grammarly free and premium versions. We have come up here with the functionality of tool with some additional premium tools such as:
Two alerts for grammar: tense of words and modifier words
Three alerts for punctuations: wrong punctuation, incorrect commas
One convention alert: norms
Two alerts for formality
Two alerts for conciseness
Five alerts for clarity
Three alerts for vocabulary
Plagiarism
Proofreader
It is another additional feature of Grammarly that you are not surely going to get in free tool. One can easily make use of this tool to get full insight into your work.
When it comes to the premium version of a tool, the level of expectations raise up automatically. Where the premium version of Grammarly offers you an easy spell check and grammar check, premium version is the one where you can well manage the style, vocabulary, and plagiarism of your content.
In addition to it, the Grammarly premium also helps the users to week out the overused words and hence makes your content look more clean, clear and consistent.
Moreover, the tool also makes it quite easier to find out the inappropriate tone of informal words. It is one of the most versatile tools that not only help you in making a creative piece of content but also makes it easy to write for business executive emails and other professional writings.
You can now easily identify the ineffective words being used there and weak verbs and can also proofread the entire content for review as well.
Grammarly Premium Features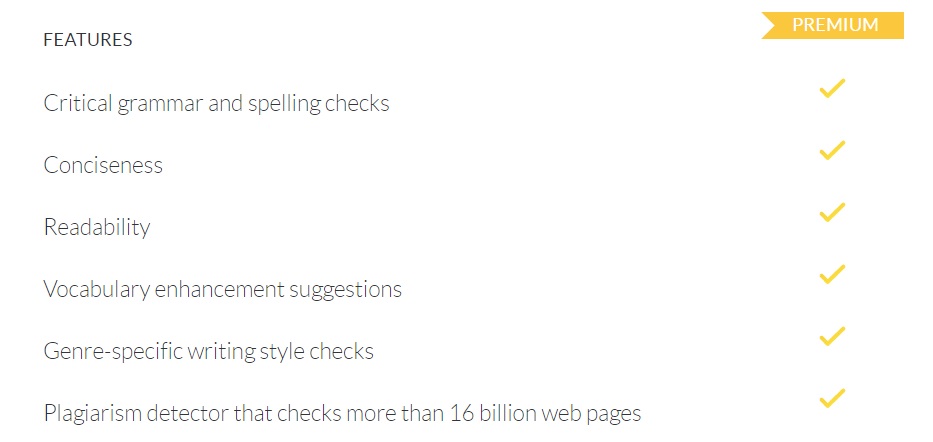 Grammarly Premium is the advanced and paid version of the Grammarly tool where users are free to enjoy variously hidden and advanced features like:
Users are free to enjoy the human proofreading here just by spending out some extra cost on it.
The tool comes up with inconsistent style checker that you can use for improving the writing style of yours.
The presence of built-in plagiarism checker makes it quite easier to find the duplicity of content if have any.
One can easily check out the ineffective and inconsistency of the content through tone and formality level checker.
Grammarly Premium tool offers advanced style suggestions for the users to make use of perfect words and sentence structures over there.
Grammarly Premium Pros
Grammarly premium is a great style checker with advanced style suggestions and sentence structure
Tone, vocabulary and formality level checker for improving your diction
Helps in creating clear, sharper and consistent content
Built-in plagiarism checker for speedy publishing
Human proofreading tool
Grammarly Premium Cons
Repetitive suggestions
Focus mainly on blog posts, and email writing
Addictive tool
Grammarly Premium Discount SPECIAL
After reading this comparison if you plan to buy the premium subscription for Grammarly then use the below link to make your purchase. You'll get 15%+15% (Additional special discount for Tips2secure.com readers only).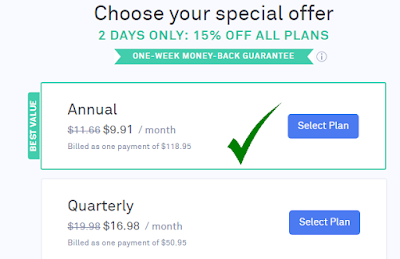 Additionally, if you opt for yearly plan then it will cost you $9.91/Month only. You will get a special welcome message as a Tips2secure reader on Grammarly's homepage.
Grammarly Free Vs Premium: Which one is Better?
Whether we talk about Free or Premium version of Grammarly tool both are quite efficient tools one can use for improving their writing skills. Both of the tools are perfectly designed to remove all the grammar errors, spelling errors and punctuation errors perfectly from the piece of content.
But if we talk about the difference,Grammarly Premium services offer facilities likewriting style correction, identification of overused words, sentence structure correction, alternative vocabulary, document tone, and plagiarism. Users are absolutely free to choose the tool as per their preferences.
Both of the Grammarly tools i.e. free and premium are quite efficient for improving your writing skills. If you are not so good at grammar but are quite passionate about writing, you can make use of these tools to have a fine piece of writing in hand. It's just about a few clicks only and your writing will take care of at every notch by this wonderful tool.
From finding out the ineffective words to change the voice of the article, you can make everything possible here. It is really a great suggestive tool to take care of your essay without wasting too much time and money on it. Plagiarism is one of another major obstacle in the field of professional content writing.
Grammarly Premium is embedded with the plagiarism checker tool that makes it easy to find out the duplicates if any being present there on your content. The tool is quite genuine and easy to use and you can easily check its functionality anytime you want.
You may like to read,
Grammarly Vs Ginger – A Detailed Comparison Review
Grammarly vs Whitesmoke [Detailed Comparison]
9 Best Proofreading Software: Unbiased Review and Tips
ProWritingAid VS Grammarly – Which One is Better?
Conclusion
Grammarly has emerged as one of the leading grammar and editing tool that really have impressed millions of professional and armature writers over there. It is a handy tool that works exceptionally good for the college-going students.
Offering you an extreme of spell check, resolving of grammar issues, pronunciation correction, style management, typos removal, and much more things are there that have made this tool famous among the people of various generations. People love it just for the feature it offers at such an affordable price tag.
Everything here is coming up in a surprise package where one can easily enjoy the extreme of writing experience very conveniently. The best thing about this tool is that it comes off two various options. It's absolutely your choice whether you are going to opt for the free or paid one.
Where free comes up with the perfect blend of various basic features, premium is the one that takes the users to the unlimited countdown of writing. One of the best things that most of the users loved about Grammarly is that, no one is absolutely forced here to opt for the free of premium versions.
It depends on users only which option they are going to choose on. You can easily go through the various features of both the tools and can select the best option for you depending upon your choice.
For making it much easier for you, we have tried to provide you a detailed review along with features, pros, and cons of both of the versions of Grammarly tool. However, a detailed comparative table study is also there for you to get in deep with this wonderful tool.
Message:
I hope that you have enjoyed 'Grammarly Free Vs Premium – Does Grammarly Premium Worth It? (30% OFF)' article on
Tips2secure
. However, if you want me to deliver more items, then please share my post. You can use Social Sharing Widget provided at the end of every post. After all, Sharing is Caring!