Dofollow backlinks
are very necessary to rank a website in a short span of time.
Dofollow links
allow google (all search engines) to follow them and pass link juice to linked websites.
I am listing here 10 High PR (2-6) dofollow backlinking sites that will help you to get real links for your blogs with "dofollow" attribute.
Go for only those sites who come under your blog or website niche, or it might be considered as spam.
PR is dead now, but still backlinks from High PR sites are very imoprtant for the rank of websites. In simple, if those sites got PR that means they were of high quality and good DA. Is not it?
Also, it does not mean that you should forget nofollow backlinks. Yes, it is true that Nofollow backlinks do not pass link juice to websites but it is still useful for the DA of websites (i.e., updated by Moz).

Examples of Dofollow links and Nofollow links Attribute:

Dofollow:

<a href="http://www.google.com/" rel="dofollow">Google</a>
(It is a link with dofollow attribute that means it will be crawled by search engines and they will pass link juice to this site. It will also be accessible by readers and humans).

Nofollow:

<a href="http://www.google.com/" rel="nofollow">Google</a>
(It is link with nofollow attribute. It means search engines will not crawl this URL but it will be accessible by readers and humans).

Read in detail here,
What is Dofollow and Nofollow Links in SEO
How can I check that the links I am getting are Dofollow or nofollow?

To check the links are dofollow or nofollow, there are two easy methods:
1. By Inspecting element (or by viewing source code).
2. Using browser extensions for this purpose.
I will discuss the second method in this post as it is quite easy and can be performed even by newbies.
To check the links attribute, here you have to download a extension to your Internet browser. This extension will let you know automatically about the links are nofollow or dofollow.
Click here to download the extension.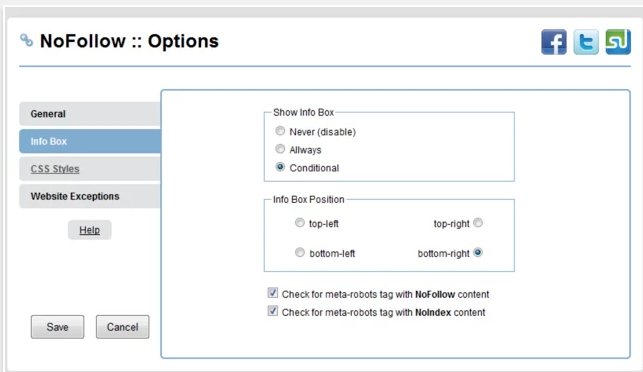 After downloading the extension, make it active. Now if you search any web page on the Internet, this extension will help you to notify the attribute of links.

How does it notify?
The extension I have suggested in this post, highlights the links with Nofollow attributes with a red colored box. You can check it in below screenshot.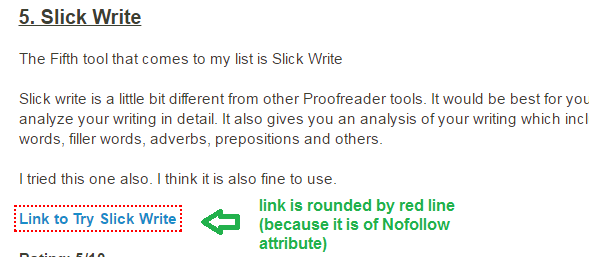 If the links are not outlined or highlighted with red color means that link has dofollow attribute.

It not it interesting?

Why have I discussed this extension in this post?
To be honest, there is a reason behind discussing this extension before writing the list of Dofollow backlinks sites.
If we search the same term related with "Ho to get dofollow links" or "Dofollow link sites" then we get result in hundreds claiming that they have the list of dofollow sites.
But in reality, that all are fake. 95% of those sites provide nofollow links on the name of dofollow. Users are also trapped in their words becasue most of them do not have the proper knowledge of how to identify a link whether it is dofollow or nofollow.
Here, now you are aware of how to check the links attribute and so you can check the list of mine, before using the links that I am going to share in this post. You can easily be notified with the help of that extension whether the sites in my list are of dofollow or nofollow attribute?
I am damn sure, you will love my list. As I always update real and genuine things on Tips2secure, to complete this list of 10 real High PR dofollow sites, it took 5-6 days.

Let's start the list now;
#1

http://www.citizenside.com/

PR 5







#2

http://theclassical.org/
PR 6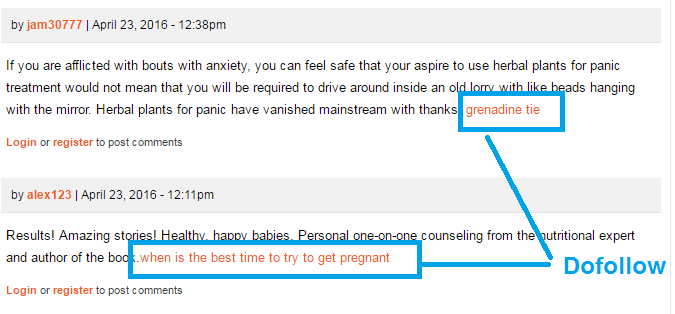 #3

http://www.lilo.org.uk/
PR 2






#4

http://www.sancb.org.za/

PR 2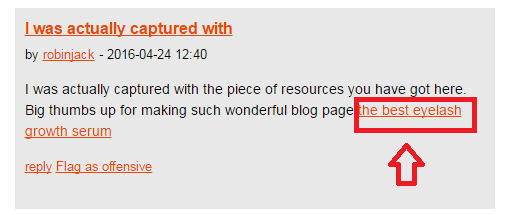 #5

http://www.budgettravel.com/

PR 3






#6

http://www.studyabroad.careers360.com/

PR 4






#7

http://www.cmsimple-styles.com/cmsimplestyles/?Feedback

PR 5






#8

http://mri.developer.dynamicweb-cms.com/

PR 4






#9

http://icecreamdenver.com/
PR 3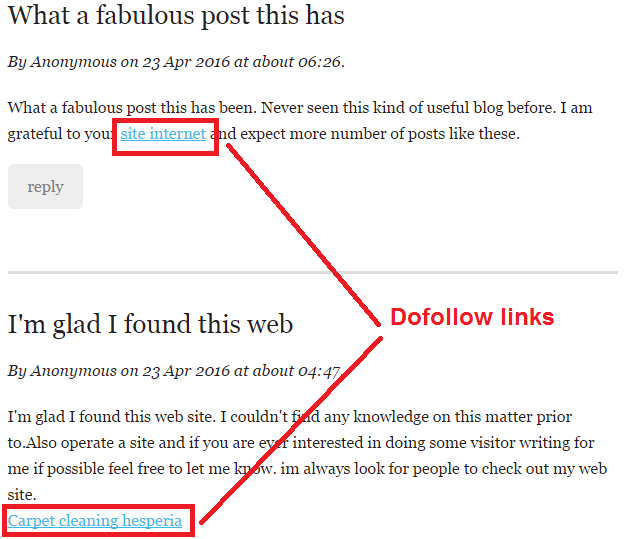 #10

http://theunderdome.net/

PR 2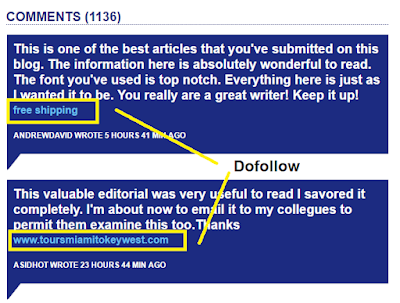 I have done with the list of 10 real and genuine dofollow links sites.
1. All above given sites are English language websites.
2. All have good PR and DA.
3. All are personally tested and checked by me before listing here.
4. All the images shown in this post are the screenshots taken by me.
5. All above given sites are safe to use. None of them are penalized by Google or any other major search engines.
Did you like this list?
Do you want to have list of some more genuine dofollow sites?
If yes, then simply become the subscriber of this blog. All of our subscribers will get list of 5 sites every month directly in their Email ID's.
To subscribe this blog via Email, you can enter your email in the subscribe via email box given at the bottom of this page. Then after verify your email address and you will become the subsriber of Tips2secure.
As a subsriber you will be benefitted in other many ways also. You will get some secret tips and tricks directly in your email that I can not share on this blog publicly.
Well, now let me come to the point.
If you are thinking to work on the above given sites then you might be also thinking of after how many time we start getting results? Am I right?
No doubt, it's a good question and everybody wants to have answer of this question.
Generally, it is said that this type of link building takes months to start giving results. But I do not think like so. If we use and follow some strategies then it might be ranked faster.
It will also depend on the crawl rate of your site and the site from you have gotten a backlink.
Here, I would like to suggest you some points that will help you in getting results fast.
So, follow below given points:
1. First of all, all of the sites listed above are of good quality and rank so you need not to worry about their crawl rate.
2. You will have to think for your site's crawling rate by search engines.
3. For this, you can use
Pingomatic
and
Pingler
services to ping your blog to all major search engines.
5. The next step you should follow, is to fetch your blog homepage using the tool "Fetch as Google bot". You can use this tool by logging into your
Google webmasters account
.
6. Share you blog on your social profiles. It gives signals to search engines to crawl the site faster.
(Above six suggested points are not verified but still I recommended you because I have been using the same steps for last 1 year).
So guys, now it is the end of this post. I hope you have enjoyed it and this post might help you in your blogging and
SEO of your websites
.
If you have any question or doubt then please do not feel shy or hesitation to ask your queries to me. You can use below comments box to share your suggestions, complaints and queries. I will reply and act up on your advices.
Also, if you have enjoyed this post then do not forget to share this post with your friends on social profiles. You can share this post on social profiles using below given social sharing buttons.
Message: I hope that you have enjoyed '10 Real High PR Dofollow Backlinks Sites List' article. However, if you want me to deliver more items, then please share my post. You can use Social Sharing Widget provided at the end of every post. After all, Sharing is Caring!