Choice of Hosting is very hard for any person when it comes to blogging and website development. There are lots of companies who are ready to provide you hosting services.
But…some of them are having very high prices with good or not bad quality.
There are some other companies who are relatively new companies but when we compare them with big brands and their quality, support, and prices…then new companies are providing better hosting services to website owners.
So it is quite obvious to make choice one from above two categories. I was also one of you guys. I have done some good research on the different web hosting companies for one of my niche blogs. I came to know some new brands in the web hosting world. Some of them are really good. One of them is Hostinger. After its usage, I am fully satisfied with their services and thus, I am going to write an in-depth review of Hostinger which is the cheapest hosting for bloggers and web developers.
So let's start…
Quick Introduction of Hostinger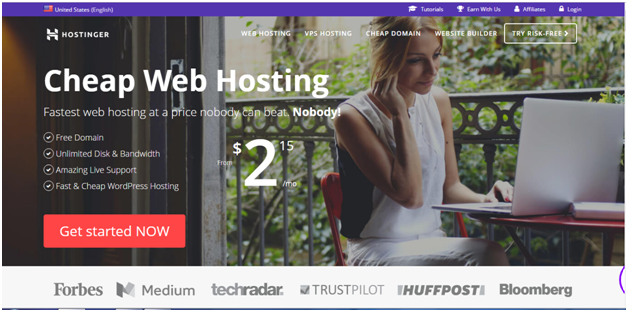 Hostinger is a hosting provider where you can host your website starting from as low as $2.15 per month. Hostinger providers all support in very cheap price. Hostinger is a hosting service for any kind of website. It does not matter which platform you are using for your site. Hostinger can equally work on WordPress, Joomla, Drupal or Magento. The biggest advantage of Hostinger is that it provides you 10 GB space whereas other hosting providers only give you 1 GB space.
Best Features of Hostinger
1. Cost Effective Hosting
Hostinger is one of those web hosting services which you can really afford for your blogs and business if you are just starting out. The plans which are offered by Hostinger is quite affordable for any newbie in the world of blogging. In the cheap plans, the service which you get is amazing. So it is advisable to go with Hostinger in the starting face of your website.
2. Support PHP, MySQL, and FTP
Most of the WordPress, Joomla, Drupal or any CMS site need PHP, MySQL, and FTP Support. In the current time, PHP, MySQL, and FTP enabled hosting are like braking your bank but when it comes to Hostinger, they provide support of PHP, MySQL and FTP at an affordable price. So everyone can start their online business easily.
3. Free Domain Name and SSL Security
Do you want to save more money?
If yes then go with the Premium Web Hosting package of Hostinger as you will get Free Domain Name in the package too. Nowadays, Google is becoming stricter about website security and that's why Hostinger is also providing Free SSL Security with Business Web Hosting plan for your domain. So you really don't need to pay anything for domain and SSL certificate if you choose the plan wisely.
4. Unlimited Web Hosting
In most of the plans, Hostinger provides Unlimited Web Hosting. In unlimited web hosting, you will get unlimited SSD disk space and website bandwidth that will cut your cost again. You can easily cop up with your traffic boost due to the unlimited nature of Hostinger web hosting. Your website will rank high in the search engine as you are getting unlimited disk space so your site loading speed will be fast for sure.
5. Easy & Cheap Website Builder
You don't need to be technically strong in order to make your site. Hostinger provides you easy and cheap website builder with its plans. You just need to drag and drop controls. With website builder, you can easily save your lots of money which you might spend on development of your website. You can easily design your site with its pre-designed templates in its plans.
6. WordPress Hosting
There is one myth related to WordPress that some of the WordPress sites are quite slow when it comes to speed of the site. You can get rid of slow loading speed of your WordPress site if you choose Hostinger of hosting. Hostinger provides cloud-based infrastructure, NGINX and Latest PHP7 support. Your website will load quite fast whether it is on WordPress or on other CMS. Good Site loading speed will give an extra boost to your search engine visibility.
7. Professional Live Support
Support is really necessary for any kind of service. Hostinger is best when it comes to support customers. You will have one dedicated person whenever you will face any kind of issue with your website. Live support will be provided 24*7*365 in many languages. You can trust its support and quality for sure.
8. Server Status Checking
You can easily check server status by going Hostinger Status (https://status.hostinger.com/). Most of the time, you will see 100% as the status which is amazing for any web hosting.
Comparison of Hostinger with Other Web Hosting Providers
| | | | | | |
| --- | --- | --- | --- | --- | --- |
| | | | | | |
| | | | | | |
| | | | | | |
| | | | | | |
| | | | | | |
| | | | | | |
| Instant Account Activation | | | | | |
| | | | | | |
So from the above comparison, all I can say is Hostinger is the best hosting service in its plans.
Hostinger Review ~ Pricing
Let's see plans of Hostinger Now ☺
Hostinger provides 3 plans for your website.
Simple Web Hosting: $2.15/month
Premium Web Hosting: $3.49/month
Business Web Hosting: $7.95/month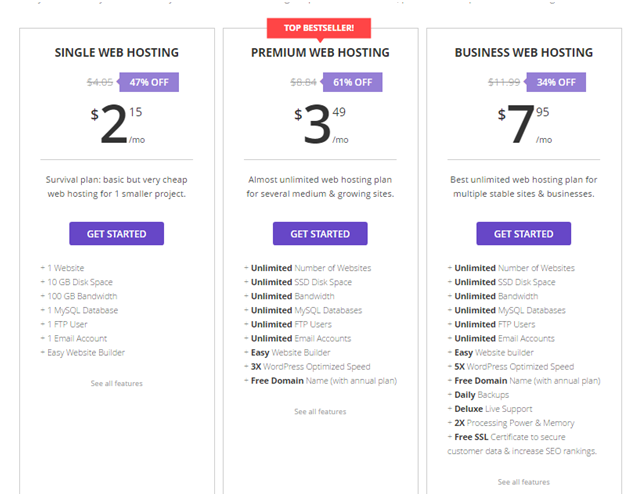 Final Words
Free Domain, Free SSL, Unlimited SSD Space and Optimized web hosting for any site are the core feature of Hostinger which you guys can get at very cheap price. Not all hosting providers can give such amazing service. So think twice before you go with another hosting provider. Hostinger is the best choice for your site if you wish to save money and get the best service.
Uptime and Support of Hostinger stand them out of most of its competitors in web hosting. You will get lots of services in very less money.
So what are you waiting for?
What are your thoughts on Hostinger web hosting? Have you tried them? If yes then do share it in the comment box below…
Message:
I hope that you have enjoyed 'Hostinger Review – Top Rated Best Cheap Web Hosting Provider' article on
Tips2secure
. However, if you want me to deliver more items, then please share my post. You can use Social Sharing Widget provided at the end of every post. After all, Sharing is Caring!