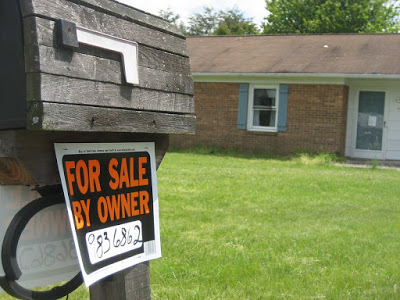 Source: Flickr
Selling a home is a complex and expensive process to undergo. Many people are aware of some of the costs associated with selling a house but are unaware of the extent of these costs. As a result, many home sellers are woefully underprepared to deal with house selling costs, something that could have a major effect on the house selling process. Sometimes home sellers can't afford certain aspects of the selling process, stalling the sale of the home. This can be potentially disastrous, especially if you want the home to be sold quickly. That's why understanding all of the costs associated with the home selling process is so important, as it allows sellers to be better prepared. Typically there are three areas of house selling costs: pre-sale costs, selling costs, and post-sale costs. So how much do these three areas actually cost sellers? Let's bust out the home selling calculator to see just how much sellers must pay to sell their home.
Pre-Sale Costs
Before the sale is even started, there are still plenty of costs that the seller must deal with. To start, the seller must repair and renovate old and outdated portions of their house. These bad portions can greatly reduce a home's value, forcing the seller to spend money to fix it. This cost can vary greatly depending on the number of repairs needed, and their extent. In some cases, it could cost the seller thousands of dollars to repair and renovate a home. In addition, the seller will have to pay for a wide range of inspections. First, the home will have to be appraised so that you can price it on the market. In addition, buyers will likely want you to have the home inspected to ensure that it is structurally sound. These inspections could be costly, and it's something that the seller should definitely consider before entering the selling process.
Selling Costs
The actual process of selling the house has costs associated with it as well. First, a seller must pay utilities at the home they are selling. Even though they are likely not living at the home, the seller must still have utilities available. This is so things like lighting and appliances can work during tours of the home. In addition, the tours themselves need to be paid for. It's the seller's job to pay for the organization and marketing of all home tours and showcases. This also includes any advertisements that you may have to pay for. Advertising and marketing your home can be quite expensive, especially if you're marketing on big-name websites or real estate magazines. In addition, if you're home doesn't sell quickly, then you will be paying for utilities, tours, and advertising for a considerable amount of time. If sellers were looking for a reprieve from costs, they won't find any in the middle of the selling process.
You may like to read,
Xtend and Climb 785p Telescoping Ladder Review & Guide
A Quick Guide to Remote Stand-ups
Small Business Opportunities Worth Checking out
Post-Sale Costs
Even after the sale is agreed upon, there are likely still massive costs that the seller must deal with. One of the biggest costs that a seller will deal with is the commission from their real estate agent. A real estate agent will likely charge a percentage of the money you earned from selling your home, something that could cost you a lot of money. Real estate agents definitely do a lot and bring a lot of value to the home selling process, but there's no denying that they're quite costly. You could attempt to avoid this cost by completely forgoing a real estate agent altogether, but this could make the selling process extremely difficult and stressful for you. In addition, the seller of a home may have to deal with closing costs as well. Closing costs can be the responsibility of either the seller or the buyer, but in certain agreements, the responsibility falls on the seller. As a result, the seller is on the hook for paying the closing fees, something that could cut into profits from the sale. In order to avoid this, try to negotiate for the buyer to take care of the closing costs associated with the sale, allowing you to take home more pay.
Message: I hope that you have enjoyed 'How Much Does it Cost to Sell a House?' article on Tips2secure. However, if you want me to deliver more items, then please share my post. You can use Social Sharing Widget provided at the end of every post. After all, Sharing is Caring!