Yeah! You've got a great app idea that you want the world to see. Fantastic! I like it. But?
Will people use your app? Will they like it? Will your investment pay off? Of course, as we all know all these pre-development jitters are often the same regardless of whether it's your first time for developing an app as a startup or an experienced pro? Let's face it, it would be great if you could make a bit of money from your vision.
But could you imagine after all the hard work, a lot of investment, time and efforts simply give your app away – for Free!
Let me Welcome to you in the world of mobile app development where the stakes are always high but the rewards can be beyond your imagination, even when you are not charging a single bug.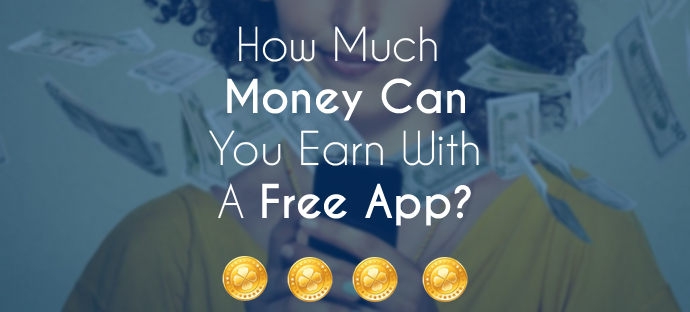 We all know that great free apps such as; Candy Crush, snapchat and Instagram are all worth millions and haven't once charged for downloads. So how exactly have they done it? And more importantly, how can you do the same?
You may also like to read,
Candy Crush Saga –Trick to Get Extra Lives
How to Remove Candy Crush Saga Notifications from Facebook Friends
The study shows that free apps get far more user downloads than paid apps. The Mobile & app market has grown
The mobile market has grown largely over the past few years and industry experts predict continued growth. In 2014 80% of internet users own smartphones. With such impressive numbers, it's no wonder why entrepreneurs alike are trying to get a piece of this modern day white gold rush. If you're new and looking to enter it or just have a really cool idea for an app, then keep reading this blog.
I know as a mobile app marketing expert one of your first questions is likely to be profit related. Right! An app will take plenty of money, time and effort and you want all this work profitable rewards. The following overview of cellular app earning potential should give you a clearer picture on how much your app can earn.


From Where to start?


Choose Right Platform:
First of all and foremost, you need to decide what platforms you want to develop your app on. Yes, it's true this can greatly affect your earning due to platform popularity. For this, I am here rating platforms based on the percentage of app developers earning $ 5000 or more per month on their apps.
And the leader comes in this category known as Apple's iOS platform with over 25% of its developers earning over $5k per month. And second player Android is also a well-regarded platform with over 16% of its app developers earn over $5,000 per month in revenue.
I will strongly suggest you to avoid platforms include Blackberry OS and Windows mobile platform. Because Blackberry lacks market value and its parent company RIM has seen its earnings and spotlight in the market diminish year by year. Windows has strong corporate backing from Microsoft but lacks overall market popularity among cellular end users.
You should read,
3 Simple Steps To Create Your Own Android App For Free


Why consider apps for The Earnings:
Statics and prediction show that estimated global revenue more than of $25 billion in 2014 and an estimated total global revenue of $46 billion by 2016, mobile apps are big business. Nowadays with the increasing interest rate of the user on video games are notable for their high earnings sources.
You can check there are some big earning ranked apps like "clash of clans" generating $1,118,457 per day in revenue.
"Candy Crush saga" earns $884,676 per day through in-app purchases. If you are not interested in game designing there are other categories with impressive and massive earning.


For example:
Apps like iSteam ($0.99 app) earnings of over $100,000 within one month. Joke app iFart is another simple app that earned over $1, 00,000 in just 2 weeks.
There is many apps example you can see that are earning a good amount. And if you are thinking developing your app then you should pick the right platform that works best for you and an agency that helps you how you can earn money from your app contact us to chat.


Other Platforms beyond Smartphone:
SmartTV
Video game consoles
Smart watches
Now apps are starting to come out from the world of smartphone and now integrating into smart devices market like smartTV, watch and video game console. However, the most popular apps used on Smart TVs are ones that are best suited for the platform and already have a very large, existing user base such as Netflix and Hulu. Convincing users to download your app on Smart TVs could be difficult but if it works well on the platform then it could be a powerful companion tool earn money.
Similarly, video game consoles such as the Playstation 4, Wii U and Xbox One have their own app stores. Particular apps can be found on each platform such as Netflix, Youtube, Hulu, and Amazon.
Another platform to pay attention in the apps market and growing slowly to is smart watches. As a relatively new device, their current numbers are small, with only about 9% of internet users. However, with popular companies such as Samsung, Sony and more recently Apple entering the market, it is one to watch for in future growth opportunities.


Follow these model to generate more revenue:


The freemium upsell Model
First you must give free offer at no cost involves basic features, and encouraging them to upgrade to access richer functionality for a subscription or one-off fee. This type of model has become popular in the app marketing; free features are always a powerful marketing tool and attract a user base without expending single dollars on costly ad campaigns or sales efforts.


In-app purchases Model
In 2014-15, 6 out of the top 10 Mobile apps were free and using in-app purchases model to generate revenue. Good examples of in-app purchasing models are game apps. We know that Games often charge users to unlock steps (such as levels or characters, gems or coins) to generate revenue. You can also set in-app purchases model in your app. Of course this model works best for high quality, addictive apps with a loyal user base.


Adverts Model
With the increasing of smartphone users, mobile ads are now more successful than desktop ads. Correctly adverts can offer a good source of income for your app. Companies will pay money to be featured in your application.


Author Bio:
Ashish Sharma is a Key Account Manager, looking after Marketing Strategies and building new business tie-ups at WeDigTech – Mobile App Development Company in India. Focused on helping enterprises StartUps from domestic to MNCs.
Message: I hope that you have enjoyed 'How Much Money Can You Earn With a Fee App?' article. However, if you want me to deliver more items, then please share my post. You can use Social Sharing Widget provided at the end of every post. After all, Sharing is Caring!