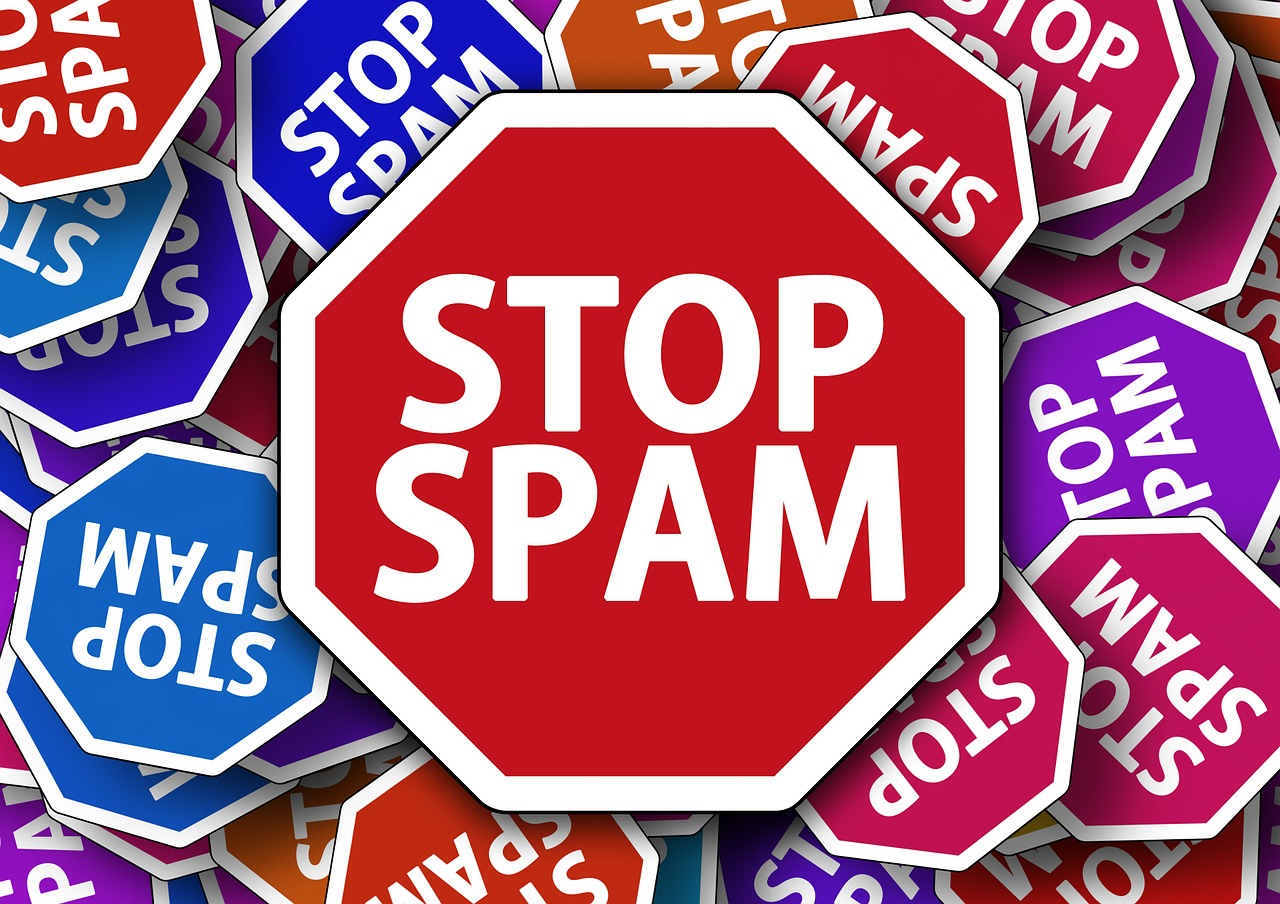 Are you also one of those willing to prevent from getting spam form submissions? If your answer is yes then we are here to help you out. There are available that are usually automated with the ports.
However, now it has become quite simple for the users to build wordpress contact forms just with the help of
WP form products
and following few steps along with prevent spam when can also improve the quality of the lead generation as well. Here in the below section you will get to know that you can build a spam free contact form without using captcha.
How to build a spam free contact form without using captcha
If you build a spam free contact form in Word Press without using captcha then your experience while using wordpress will never get disrupted and also feeling the forms will become easy and complex free as well.
Why should you avoid using captcha?
There is a major reason behind that. If you what to protect your website and make it easy for the visitors to fill the contact form properly it is important for you to stop the spambots. Stamp what is basically form field that can only be answered by humans. This field is called captcha. In CAPTCHA, you need to enter specific characters of text in the box. The Custom CAPTCHA add-ons work differently as compared to others.
In this, the fields get created in just such a manner that the user needs to solve some mathematical problems. The CAPTCHA basically irritates the users and decreases the submission rates of forms. Usually, users do not want to waste their time while answering irrelevant questions. And sometimes it becomes common that people get in element or difficult questions that lead to more irritability for the users.
Adding an invisible recaptcha checkbox to the forms
Step 01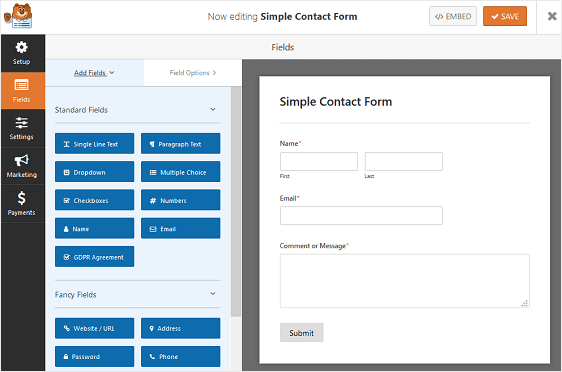 First of all you need to create a contact form in Word Press. For this you need to install and activate the WP form plugin. After activating the WP form plugin you can easily create a wordpress contact form. It's upon you that you want to create a simple contact form or a multi set form in Word Press.
Step 02
Thereafter, you need to configure the recaptcha settings within the wordpress. In order to complete this step you need to go to the WP forms and then scroll towards settings and then select and hit on the recaptcha tab. from there you need to select and hit on invisible recaptcha option so that you can add invisible recaptcha to the contact form.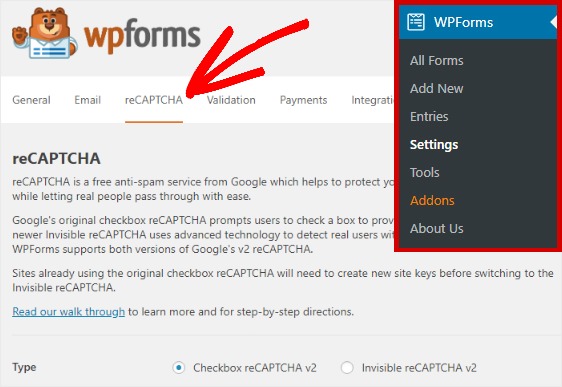 Google provides the service of recaptcha to help you in handling the security of your site. This is a free service however, to use it is important to have a site key and secret key as well. Just by visiting the Google's recaptcha setup page you can easily generate both of the keys.
Thereafter you need to scroll towards the admin console button given at the right corner of the page. Sign in by using your Google account and then register your site for recaptcha. In case your registration is already completed then a different screen will appear.
All you need to do is to hit on the plus sign and then register a new site again. Complete the credentials by entering the name of the website. By entering the name, it will become easier for you to identify the website whenever you need it.
Thereafter you need to select the type of the recaptcha you want to add to the website. Select the invisible recaptcha option available and then add the website domain. Finally hit on the submit button so that you can save your site.
Within seconds, a new page will appear along with the site key and secret key for your website. Must copy both of the keys and go back to the settings page in WP forms.
While completing the process must take care that you have selected invisible recaptcha version 2 for type. Then paste the secret keys and the site key under the recaptcha settings. Again hit on the save settings so that all your changes can be stored easily.
You may like to read,
Step 3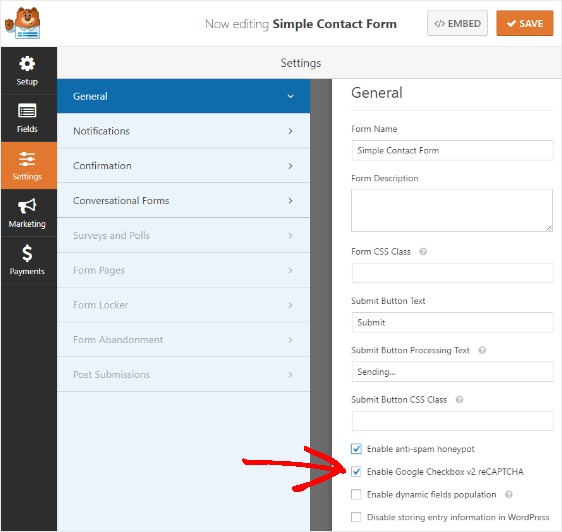 Finally you need to enable the invisible recaptcha on your contact form. To enable it you need to go to the settings section and then scroll towards the general tab. Now it on enable Google invisible recaptcha checkbox and then hit on the save tab.
Conclusion
With the help of this procedure it will be easy for you to secure your website. After completing this process if anyone tries to submit a form on your website then Google will automatically determine that it is a human or a spam bot. Additionally, the users will not see any sort of CAPTCHA box and they can easily submit their form without having any problem.
Message:
I hope that you have enjoyed 'How to Build Spam-Free Word Press Contact Forms?' article on
Tips2secure
. However, if you want me to deliver more items, then please share my post. You can use Social Sharing Widget provided at the end of every post. After all, Sharing is Caring!