Today security is a significant concern, so there are different ways to make it possible. WordPress has introduced hCaptcha to make the website secure and spam-free. This free alternative can be integrated with WPForms v1.6.4.
WordPress has already introduced built–in spam protection, but some users need additional security, and for them, hCaptcha is the best. The current cytopathic services are updated with the introduction of hCaptcha, and it is very simple to integrate into the WPForms.
What makes hCaptcha the best alternative for security?
Today security and protection are a must for websites, so WordPress has introduced additional protection through hCaptcha. The best part is this tool is free of cost, and no one is required to pay a single penny to add this extra security. This captcha service would ask simple questions to ensure whether the one accessing the site is human or robot.
This tool works on AI technology and can identify that the users are human or not. The plugin is the perfect alternative to Google's reCAPTCHA and gives complete privacy to the site. Moreover, hCaptcha is working with GDPR and CCPA regulations and so integrating with the form will help block spam and bots.
How to Create Multipage Forms in WordPress
How to connect WPForms and Sendinblue in WordPress
How to set up hCaptcha in the WPForms?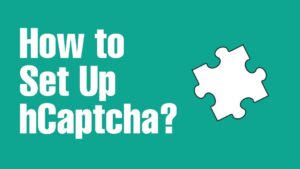 WPForms has introduced hCaptcha for all its current users and has made it easy to integrate with the website. So, let's have a look at how to incorporate hCaptcha in the forms:
In WPForms, there are many options, and Captcha is one of them. One can select either hCaptcha or reCAPTCHA to add security against spam and bots. Integrating hCaptcha would give a professional look on the front end of your form along with added security.
WordPress has also introduced Captcha in the form builder. It would make it easy to add extra details once hCaptcha is enabled.
Once you select CAPTCHA from the Fields option, there are choices in the form builder itself. So, click on the hCaptcha button and access all the settings to enable the form's service.
The form has fields like First name, last name along with email and message. Thus, submitting this form will enable hCaptcha.
Enabling the hCaptcha will add extra security to your WPForms and fulfill all your website's needs.
If you are looking for a free tool that can add extra privacy and security to the WPForms, go for hCaptcha. Once the option is enabled, it is very easy to integrate hCaptcha in the forms. We are working to make it easy for developers to create a secure website and introduce more such features and tools. The free service by hCaptcha WordPress is the perfect alternative to block all types of spam and add extra security.