We know that there are many bloggers and web owners who are making daily hundreds of dollars using Adsense Ads on their blog and websites. At the same time, some bloggers have a large number of visitors and pageviews on their blogs, but still they hardly earn some cents in a day. But why? There are are lots of reasons of low Adsense CTR.
CTR:

CTR in Google Adsense refers to Click through rate. CTR is the percentage of impressions that led to a click.
Formula to find out CTR in Adsense
CTR: Number of Clicks/Number of Pageviews
CTR is always low in Tech Niche Blogs
Now, I would like to tell you about the reasons why CTR is low in tech niche blogs. Firstly, tech related blog niches also have majority of viewers and readers dealing with some type of tech trends. Tech persons are fully aware of Adsense ads and they don't take any interest in Ads to click and simply ignore that.
Secondly, Interest based ads in Adsense ads.
Interest Based Ads in Adsense,
Interest-based advertising enables advertisers to reach users based on their inferred interests and demographics. It also allows advertisers to show ads based on a user's previous interactions with them, such as visits to advertiser websites.
Example,
Suppose, few days ago, you made a search for Iphone's. Now you are searching for something else in Google, and Google send you to any website for your queries, where AdSense is monetized, then you will see the Ads of iPhone not related with that website's niche.
How Interest based ads lower Adsense CTR?
Readers are not able to see the relevant ads on your website. Moreover, what reader was searching in past does not be more valuable the result of past searches at present. We know well, when we search for anything on Google, mostly we get a particular answer or some solutions for our queries at that time. We don't wait till long for that solution, then why we take any interest in past results or Ads related with that terms showing on Bloggers website.
My Personal experience with Interest Based Ads on Blog Tips2secure
Tips2secure is a tech related blog, but Ads displaying on this site were of Matrimonial sites, Sell old/new Goods advertisement and many more like that. Think, visitors of this blog who are here for blogging or SEO tips, would take any interest in that type of Ads. Answer is 'NO', and that's why always Adsense CTR was 0.20-0.50% only. Last month, I updated my first earning report from Tips2secure, where I mentioned that I have not earned a lot from Adsense and I did not mention Adsense earnings in that post. But after solving this issue, I'm getting better results in Adsense, and getting 2%-5% of CTR and will post Adsense earnings soon in my upcoming Income reports.
Deactivate Interest Based Ads in Adsense to Increase CTR
1. Login to your Adsense Account.
2. Navigate to Allow&Block Ads
3. Under User-Based Ads, you will find Interest Based Ads, deactivate that option.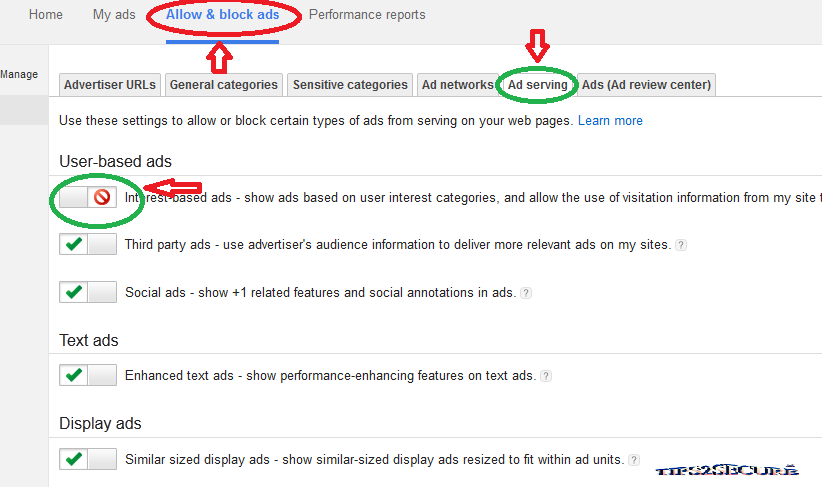 4. That's all, you have done.
If you don't have Adsense account and facing problems in getting approved then go through this post 7 Easy Steps to Get Google Adsense Account Approved.
Conclusion

Higher CTR with high CPC will make your earnings bigger in Adsense. But never do spam to increase your CTR or CPC. If you are still facing the lower CTR after making above given changes, then let me know through comment box. I will personally check your blog or websites and let you know about specific issues or changes need to be made on your blog.
Message: I hope that you have enjoyed 'Increase Adsense CTR on Blogs by Deactivating Interest Based Ads' article. However, if you want me to deliver more items then please share my post. You can use Social Sharing Widget provided at the end of every post. After all, Sharing is Caring!