Have you written any article? Are you worried about the grammar of that article? Did you ever feel if you had any Instant grammar checker free online tool then you would do better?
If the answer of any of the above question is yes then I can say that you are at the right place. In this post, I am going to show you the best professional grammar checker tools which help in finding the Grammatical errors instant and by which you can improve your written article drastically.
We are all human. Some people know very good English while some only knows a little English. The communication which happens in the world right now is only taking place in English. The written English skill is very important in today's world. If you can write and convey your message in English with the proper words then you can do anything in this world. Human skills are prone to error and one may not be perfect in English. So there are chances that while writing any important article or document, you may use wrong grammar in it. This will spoil your impression in the professional environment.
So In this post, I am going to show you 5 Best Instant Grammar Checker Tools which will help you to improve your written article very fast. With the help of these tools, you can even improve your English writing skill.
1. Grammarly – The Best Instant Grammar Checker

Grammarly is the first tool which I prefer when it comes to improve articles and solve the grammar errors in it. I am a huge fan of this tool. This tool is widely used by many people to improve grammar in articles.
The best thing about this tool is that you can even use the Google Chrome extension of this tool which is Free. With the help of that extension, you can improve your grammar while writing anything on the browser.
There are two versions of Grammarly are available. The first version is free and the second version is paid. If you want just basic functionality like error correction, improvements in grammar then you can go with the free version of it. The paid version is for the people who want more functionality like vocabulary enhancements, plagiarism checker etc.
I am using this tool since 1 year and I am quite happy with this tool. If you are going to give a try to Grammarly then you must read these articles.
Grammarly Review 2017: Is this English Grammar Tool Worthy Really?
Grammarly vs Whitesmoke [Detailed Comparison] – Which one is Better?
2. Spellchecker

English vocabulary is very wide. It is not possible for human being to remember each and every word and its spelling. We make many mistakes while writing the spellings. We often make the mistakes while writing then or their etc.
To write error-free spelling, we need some tool which will assist us to write correct spelling. So in our list of Instant Grammar checker, we have listed spellchecker at two. Spellchecker is one such tool which will show the incorrect spelling in the article and then with the help of that tool, you can correct them also. This is also the Free tool to use.
3. PaperRater Proof Reading tool

PaperRater is the best professional grammar checker tool to check the articles online. PaperRater is website based tool which you can use to check the grammar errors in your article. You just need to copy and paste your article into PaperRater and then PaperRater will check the article. Once this tool checked your article, it will give the complete report of your spelling errors, grammar errors, suggestion of word choices etc.
This is the best tool to check the research paper. When you submit your article to this tool, you need to give the educational level of the writer. This tool checks the article according to the educational level of writer and gives the complete report. This tool is used to check the variety of document type like resume, lab report, easy, thesis etc.
4. After The Deadline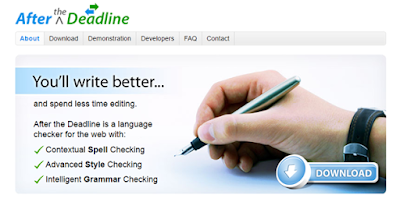 AfterTheDeadline is the open-source platform which is made by automatic. After the deadline is used a variety of platform. You can use WordPress plugin to use this tool into your blog post. There are extensions available on the Google Chrome and Firefox which will let you correct your English article into the browser itself.
After the deadline tool is used for contextual spell checking, advanced style checking and intelligent grammar checking. If you do not want to use any plugin to correct article then you can use the developer's website. All the developer has created the online platform named polish my writing. In this online tool, you just need to copy and paste your article to correct and improve the articles.
5. Ginger – Instant Grammar Checker Tool Online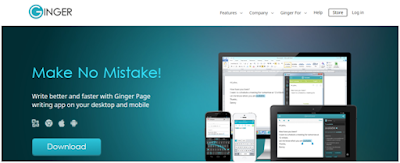 Ginger is also a well known tool for proofreading and error correction. The tagline of Ginger is Make No Mistake. Ginger follows this tagline strictly and allows you to improve your articles at very large scale. The best thing here is Ginger provides Google Chrome extension as well. You can even use Ginger on your phone.
Ginger provides the same features as other grammar checker tool but the some of the features which Ginger provides are really interesting. Ginger gives you the sentence rephrase by which it will suggest you the various ways in which you can write the same sentence. Ginger is also having in-built dictionaries and Text to Speech module which you can use.
I have published post on comparison of Grammarly and Ginger you should read that also. Below is the link to read that article.
Grammarly Vs Ginger – A Detailed Comparison Review 2017
Final Words
There are many people whose English writing is not very good but due to this amazing online grammar checker tool, they are writing very good English. So if your English is not good then you do not need to worry about it. Not all can be master the English language but all can know how to use the tool and improve his article.
English writing plays a vital part in the day to day life. If your writing skill is not proper and convincing then you will not be able to work in professional environment. So I strongly suggest you write as much as you can and use the above-mentioned grammar checker tool to proofread your articles. The more you proofread your articles, the better they become.
If you like this article on 5 best grammar checker tools then do share it with your friends and help them to improve their writing skill. I would like to hear your favourite tool which you are using in your day to day life. So feel free to comment.
Message: I hope that you have enjoyed '5 Best Instant Grammar Checker Free Online [Professional Checker 2017]' article on Tips2secure. However, if you want me to deliver more items, then please share my post. You can use Social Sharing Widget provided at the end of every post. After all, Sharing is Caring!