According to the networking equipment, the number of connected objects in the world will cross 50 billion mark by 2020. In 2012 the number of objects connected to the internet was 8.7 billion. Internet of Things is already a big phenomenon and is the future of all technology.
But it is not a recent phenomenon. The term was coined by Kevin Ashton, in a presentation in 1999 where he used the term "Internet of Things" to describe RFID technology connected to the internet. Let's take a look at the history of Internet of Things.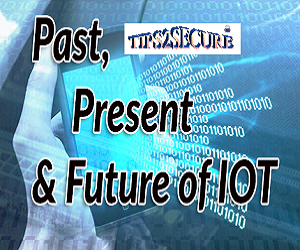 History of Internet of Things (in chronological order)
The technology used for IoT, communication devices were created in the 1800s. Devices like telegraph, radio and fax machine were developed to make communication over long distances easier than the existing post system.
Nikola Tesla envisioned a world of wirelessly connected objects. Each object communicating to each other to work in collaboration would make humanity a super organism. To quote, "When wireless is perfectly applied the whole Earth will be converted into a huge brain."
The World Wide Web (WWW) was proposed. Tim Berners-Lee was the man to propose it.
The first connected devices were toaster and drink machine. This was in 1990.
In the mid 1990s the popularity of the internet soared. Experimental devices were created. For e.g. the Trojan Room Coffee Pot in 1993, the inTouch Project in 1998, and in the same year Mark Weiser's Stock Market Water Fountain.
In 1999, Kevin Ashton coined the term "Internet of Things" for connected RFID devices.
LG announced plans for the first Internet Refrigerator in 2000.
In 2002 Ambient Orb was released. Ambient Orb displayed information like Dow Jones, personal finance and weather information collected from the internet.
In 2005, The UN mentions, for the first time, "Internet of Things" in the Internet Telecommunications Union report.
Then in 2008, IPSO was launched for the promotion of Internet Protocol (IP) for connected devices.
The available IP addresses in IPv4 were termed ineffective to handle the rise in the number of connected devices and a new protocol IPv6 was announced. IPv6 allows 340 undecillion IP addresses; which is enough to assign a unique IP address to every atom on the Earth's surface for 100+ Earths.
Recently in 2013, Intel launched the "Internet of Things Solutions Group".
The Present
The modern lifestyle is unimaginable without the internet. The current generation is connected 24×7 to the internet with different devices. The various e-commerce platforms can be the best examples to target and connect the customers in today's world.
The emergence of smart homes is probably the most significant step towards a world of interconnected objects. You can control the lights, temperature and various appliances with your mobile phones.
Cars and homes now have features like keyless entry. The use of mobile phones to lock and unlock doors is also making its way into our lives. Sensors in a house can inform the users if there is a device that they forgot to switch off before leaving. This technology can also be used to check if all doors and windows are locked or not.
Fitness trackers are embedded in your mobile phones and smart watches which connect to the internet to suggest the best way to achieve your fitness goals. For patients, devices embedded in their body can track their health and send real-time data to their doctors.
Devices like Google Glass have been designed to make your life much faster and much more convenient keeping you constantly connected to the internet. You can pull information from the internet with a wink and get the information displayed on your glasses.
The future
The future has a lot in store for consumers. Connected devices can track habits and predict what the user wants and deliver according to it.
Smart homes would operate almost automatically, tracking presence to turn on/off devices in different parts of the house. These Smart homes will be capable to perform routine tasks like wash clothes, turn the lights off in the night; turn them on when the light is dim. Doors and windows will be automatically locked when there is no presence detected in the house for a certain time, just like cars.
The virtual assistant of the future will be capable of tracking your personal activities and learning your behavior to make your life better.
Medical assistance will become much more efficient as all of your health data can be sent to your health care professionals. Sophisticated algorithms will be able to predict any serious condition and alert you and your healthcare provider so they can either prevent or be ready to treat you as soon as they can. Time is a very critical factor in medical emergency and the more data the doctors have about your condition the more chances of treating you effectively will be there.
Also read,
Author Bio:
Misha holds a Master degree in Marketing and bachelor in computer application. She works as a content & marketing executive at
SoftwareSuggest
. She likes travelling to hill stations and reading novels. Follow her on
twitter
.
Message: I hope that you have enjoyed 'Past, Present & Future of IOT [Internet of Things]' article. However, if you want me to deliver more articles then please share my post. You can use Social Sharing Widget provided at the end of every post. After all, Sharing is Caring!.