If you are planning to buy Kajabi, and looking for Kajabi reviews then you're here at the right place. In this Kajabi review post, You'll learn all about Kajabi features, Kajabi pricing, Kajabi Next & My kajabi, Kajabi vs Clickfunnels and Kajabi vs Teachable.
After reading this Kajabi review, you can easily decide whether you should buy Kajabi or not. We've clearly mentioned all the pros and CONs as well of this platform to help you choose the best platform for your business needs.
There are many tools and techniques which are generally needed by every user to build a successful online business.
One such tool is Kajabi which can be recognized as an all in one platform that makes it easy to create online courses, building landing pages, designing the perfect websites and launching marketing campaigns. This platform gives the user everything he needs to create a market and sell his digital products.
What is Kajabi?
Kajabi is a marketing platform through which one can sell and deliver products information online to everyone. It is a great and very big platform for videos, audios and text documents and they are delivered through templets like a video squeeze page, membership area and sales page for marketing the content and all this used for delivering the product. Andy Jenkins and his team are information marketers and they know and have experienced to judge as what problem does the marketers face and add great features in it according to its situations.
In the year 2010 Kajabi was launched with various tests and these include John Reese, Jeff Walker, Mike Filsaime and Andy's own video Boss launch. Through Kajabi you don't need to look on any other special media in addition as it is a platform which runs through off cloud hosting. Through Kajabi people are allowed to watch prelaunch videos and certain times in the presentation. Kajabi allows releasing of content in membership as it is based on time delay. Members are given the access monthly, weekly or to any duration.
There are various pretty community management tools that are available in Kajabi too. These tools help members to judge whether members comment just comments or question or answer. There is one more interesting function it has and that is not allowing people to download videos files for a certain period of time.
Also read, Kajabi Vs Teachable- Which one is Better
Kajabi Review (Products & services)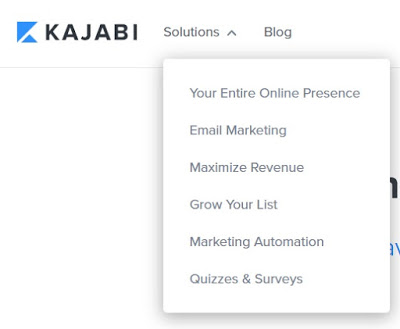 Kajabi is a platform that constitutes various products and services to provides numerous features t their customers. These products and services are
1. Pipelines
This product of Kajabi provides an easy string of landing pages together.
Features
Easily string together landing pages
Email sequences
Offers
2. Pipeline blueprints
This product provides automated marketing campaigns and also provides automated built templates.
Features:
Build out entirely automated marketing campaigns with the click of a button
Pre-build templates
Can handle product launches, sales campaigns, webinars and much more
3. Landing page builder
This helps in creating any beautiful landing page in few minutes only by choosing a template, adding personal copy and sharing with others.
Features:
Can create a beautiful landing page in less time
It is possible by choosing a template and adding own copy
It enables the user to start sending people to their new page after building a landing page
4. Gorgeous landing page templates
This product allows the user to pack between different templates according to their needs and can make changes according to desired situations.
Features:
User can pick any landing page template that suits their needs and can customize it as they like
It allows the user to create any type of landing page which includes sign up pages, thank you pages, webinar pages, download pages and many more
5. Custom forms
These forms provide some custom fields to that customer can understand their audience better and these forms can be used for different purposes.
Features:
It can create forms with custom fields to collect visitor data
It allows the user to understand their audience better and start speaking directly to their needs
These forms can be used on landing pages, on websites, and even inside the products.
6. Product Theme
This platform not only helps in selling the content but also helps in selling the entire learning experience and aesthetic their content is packaged in.
Features:
Content selling
Learning experience
Aesthetic content is the seller.
7. Fully Mobile Responsive
This platform provides products that are easy to use and look great on any device. All these products of Kajabi are mobile responsive.
Features:
Kajabi is a product which is easy to consume
All the themes under it are product themes
Themes are beautiful on computers, phones, and tablets.
8. Video Hosting
It provides flawless videos to the customers anywhere at any time without any help of anything else.
Features:
Video can be uploaded
Encoding and delivery of video
Provides flawless and speedy view
Kajabi Next Versus My Kajabi
Kajabi next is much advanced as compared to Kajabi as it is a platform that can help the users to share their expertise by creating their own courses. It can also be called as successor of Kajabi which is designed to be a sleek, more innovative way to sell the knowledge online and is very easy to use.
There are many reasons why Kajabi next is better than Kajabi. These are:
Kajabi next allows the students for one-time payment for their courses.
Kajabi next has been designed as a mobile responsive.
It was designed to be optimized for use on any device.
Audio and video lessons work best on Kajabi next.
It also allows its users to add any attachments including documents, PDF's audio files, etc. to supplement their courses.
Users can build their own courses as they want to.
Kajabi VS Teachable

There are many differences between Kajabi and teachable which are as follows:
1. Amounts of products that can be created
The major difference is the number of products that can be created as using teachable the user can create as many products as possible while with Kajabi it depends on the plan that the user has.
2. Market place
Kajabi offers a market place to sell the course which allows the user to gain the exposure of product and services while teachable do not offer anything like this.
3. The Free Plan
Kajabi offers a 14-day free trial offer only and not a free plan while teachable offers a completely free plan. It requires no credit card to sign up. Getting the free plan helps in getting started at no cost until it can afford to move to a paid plan.
4. The cost
Kajabi is approximately three to five times costlier than teachable. The teachable basic plan starts at $ 39 while the Kajabi basic plan starts at $ 129 per month. When it comes to pro plan teachable pro plan starts at $ 99 per month while the Kajabi pro plan starts at $ 389.The teachable premium plan starts at $ 2999 while Kajabi premium plan starts at $ 8628 yearly.
5. Students
Kajabi determines the number of students one can have all together while teachable can let the user have unlimited students. Kajabi has various plans that offer 1000 students at the basic plan, 10000 students at the pro plan and unlimited students at the premium plan.
6. Apps
Kajabi does not provide an app to access faster and easier courses while teachable provides many apps.
7. Trial offers
Teachable does not provide any free trial offer while Kajabi provides a 14 days free trial offer.
8. Landing Pages, Webinars and more
Kajabi provides higher cost and no lifetime free plan without any extra cost. Kajabik platform is designed in such a way that it is all in one solution and that's why anyone doesn't need any third party integrations. The reason is that it includes landing pages webinars and advances email. It is very cheaper to have an all in one solution to pay for the third party services while all this is not available in teachable.
9. Transaction Fees
Teachable has to have two different transaction fees depending on the plan. Kajabi has no transaction fees they only charge you $ 129 per month and a monthly fee is more than enough.
10. Training
This is one of the most difficult parts of a successful online course business. Under it, a proper kind of guidelines is needed along with the process. It also provides a profitable teacher. This will show us everything. Teachable provides a course called the profitable teacher which shows the users how to develop course idea, creation, of course, launching and marketing it while Kajabi goes a step further by providing Kajabi university which shows everything a user may need to grow and run a successful business.
You may like to read,
Kajabi VS Clickfunnels

Kajabi and Clickfunnel both provide many advantages and features to their users but there are some differences which can make the user change their decision. These differences are:
1.People
As users of different platforms have great difference. Similar is in the case of Kajabi and Clickfunnel. Kajabi has basically designed for digital entrepreneurs. This platform is more suitable for those users who sell monthly membership sites, coaching, online courses, and many other digital products. While Clickfunnels provides a wider net as it includes funnel for physical products also. Both platforms also have a great difference in the ability to build online courses and membership sites. This is because many users might those to use them as a front page builder and may go with something like Kajabi on the backend as the digital product delivery system.
2.Products
Clickfunnel revolves wholly around creating a robust funnel. It does not comprise of any additional resource, template or training for creating any kind of digital product while Kajabi is totally different from Clickfunnel as it helps the entrepreneurs to create digital products by acting as a content delivery system. Kajabi also provides many online courses and membership sites along with many small products such as mini-courses, ebooks, etc. Every product comes in a pre-built template and can help the user to build the perfect product faster as usual.
3.Purpose
The main purpose of Kajabi is very simple. It is basically built for those users who seek to provide an easy solution at one platform especially online influencers, educators and infopreneurs. This platform is very easy to use, navigate and understand. Clickfunnel helps the user by providing a clear cut more sales approach. This platform also provides an opportunity to custom coding and an option to be more tech-heavy as it deals with the physical product as well.
Kajabi pricing (Kajabi Review)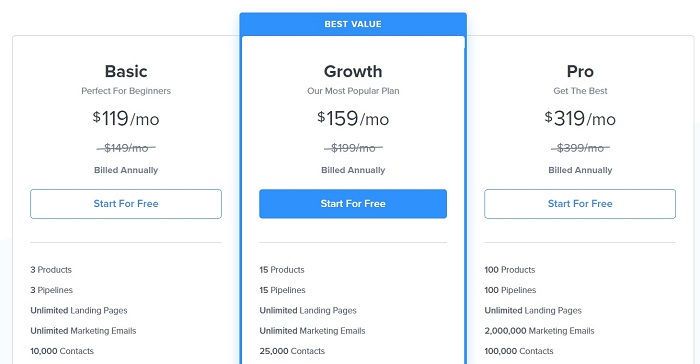 Pricing strategy for Kajabi starts from $ 119 per month and it also offers a 14 days free trial to its users. It also provides an offer of subscription to users and its pricing strategy comes in three tiers. It depends on the users of the Kajabi whether they want to be billed monthly or annually as if they go for annual billing they can save up to 20% on the total amount.
Its three pricing tiers are as follows:
1. Basic: It provides an offer of $149 per month for its basic plan while $119 when billed annually. This offer includes 5 products, 10,000 marketing emails per month, 1 admin user, 1000 students, 1 site and 25 pipelines.
2. Growth: This plan starts up at $199 per month billing while it is available at $159 per month if it is billed annually. This offer provides 100 products, 25,000 marketing emails per month, 5 admin users, 10000 students, 3 sites and 100 pipelines.
3. Pro: It's premium plan basically starts at $399 per month and is available at $319 per month if it is billed annually. This offer includes access to unlimited products, 100,000 marketing emails per month, 25 admin users along with unlimited active students, 10 sites and unlimited pipelines.
Kajabi Features & Advantages
1. Website Creation
A website is one of the most important assets. Kajabi helps entrepreneurs for the knowledge commerce for functioning as a hosting and website creation. Under it we have a configuring navigation menu, designing email templates we have and constructing static pages.
2. Landing Page Optimization
Lead generation has to have one of the most Challenges which needs knowledge Commerce brands to overcome it. To perform this we need a landing page which can tailor to our target audience preference and needs.
3. Online Course Product Management
Kajabi provides us with four online course product management and these are Mini-course, online course, and Evergreen Training. As their blueprints are mostly similar to each other. Let us give a close view to all of them.
4. Mini-course
This course help in generating a short course that helps users to focus on a specific topic. Their core component includes what will be discussed.
5. Online Course
It is a beefed up version of mini one. It will help us to cover up a broader topic and then help us to a structured lesson in categories and modules.
6. Evergreen Training
As it can look like evergreen training and online look too much similar to each other in terms of applications. But both covers a different subject. The evergreen training product blueprint allows dripping feed course.
Evergreen training use cases
It is a weight loss program software
Under it, there is a cooking online course under which new recipes will come each week.
It is a self-help development program.
7. Other Features
Under it, email marketing is set.
Sales pipelines to automate are created under it.
Under this people can manage and monitor subscribers under it.
It includes integrating with third-party applications.
A Few Disadvantages of Kajabi
There are many advantages of using Kajabi too which can be ignored. Some of the disadvantages of Kajabi are given below:
Cost: This platform is comparatively costlier than other platforms as it includes very high monthly fees. This high cost of Kajabi makes it difficult to be used by students in comparison to other platforms.
High thinking: this platform includes high thinking curve than any other similar platform. This platform required the user to think in an innovative and creative way in very less time which sometimes becomes very difficult by the user.
The third party: It required a third party service for handling EU VAT. This is one of the major disadvantages of the Kajabi over its numerous features and disadvantages which make it useless by its users.
Limited control: this platform provides less control over the site design and hence users find it difficult to make changes to their website which they find as a major limitation of being using Kajabi.
Kajabi Reviews (Conclusion)
Kajabi is one of the best platforms for creating a course out there but it can be better in many other ways too. This platform not only focuses on sales and marketing but also on course creation.
Kajabi has the potential to create an online course which creates no confusion and overwhelming for first-time course creators. Every feature of Kajabi helps the user to save their time and efforts while getting superb results that can help the users to engage with any kind of audience.
Kajabi is a platform which is full of content marketing and it helps everyone to sell content online easily ink the market to anyone.
There are various tools which are required in Kajabi and these are as follow. A course creator which helps in converting the content into the digital products, a website needs to show off the stores of digital products, a sale tool is required to make the getting paid to make the content easy, a landing page is required to make the audience grow, email marketing is also required as to leads into customers and many other things.
Message:
I hope that you have enjoyed '
Kajabi Review 2020 – Is it Better than Clickfunnels?
' article on
Tips2secure
. However, if you want me to deliver more items, then please share my post. You can use Social Sharing Widget provided at the end of every post. After all, Sharing is Caring!