Kajabi and teachable are two platforms that allow the user to market, sell and deliver various information to the customers through various online modes. Both the platforms have their own significance but many differences too. This report is based on finding several differences on the basis of their features, pros, cons, pricing and many other things.
What is Kajabi?

Kajabi.com is a platform that allows the user to market, sell and deliver information products online. It helps the user to host the content such as audios, videos, text documents, etc. This platform also provides proven templates such as sales page, video squeeze page for marketing the content and it also provides a membership community area to deliver the actual product.
The founders of this platform include Andy Jenkins and his development team. They are basically information marketers themselves. Also, they have experience and they know what problems can be faced by the marketers. That is why they have added some cool and unique features for some typical conditions. Read our exclusive blog post on Kajabi review to know more about this tool in detail.
What is Teachable?

Teachable.com is a cloud-based platform designed with the purpose of selling online courses, train employees or teach online. Teachable is basically a learning management system. It is an online platform that provides an area to content creators so that they can create an online course and upload them on Teachable.
It is very similar to an online classroom. It is probably the closest that user can get to find a platform which is friendly for the beginners but at the same time, it is equipped to help them to run a successful online course business.
Kajabi Vs Teachable: Features Comparison
Both Kajabi and teachable have numerous features which have been defined as below:
Kajabi Features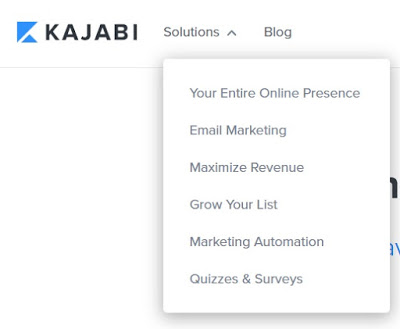 Kajabi is designed for those people who want to make money selling content online. It is a good option for quickly getting content up and beginning to market and sell. It is specifically designed for individual pieces of content than structured courses and providing a broad set of marketing tools for sales success. On Kajabi homepage, users will find many options such as "sell your knowledge; get up in minutes, everything under one roof" etc.
There are many other features also such as:
Customizable branding
Video hosting
File management
Automatic notifications
Drag and drop interface
Third party integration
Compliance management
User import
Messageboard
Multi-currency
Along with these features, Kajabi also provides application integration, activity dashboard, discount management, lead generation, lead capture, landing page templates, custom forms, and email tracking.
Teachable Features

As it is super easy to use, it provides many advantages to those creators who want to create and sell an online course. These features are:
Build a beautiful course website quickly
Create and deliver the engaging course
Market and sell courses
Kajabi Vs Teachable: Advantages
There are many different advantages of using these platforms and both the platforms have their own specifications.
Kajabi Advantages
The advantages that users get after using Kajabi are as follows:
Cloud hosting
Ability to time the release of email opt-in boxes on squeeze pages
Users can delay revealing the buy now button
Allows to drip feed the release of content
Community management tools
Teachable Advantages
Teachable also provides numerous advantages & tutorials to its users as it is powering over 20000 courses and also helping instructors process over $ 100 million worth of sales. Its advantages are as follows:
Super easy to use
Powerful sales and marketing features
Zero updates and maintenance
Reasonable and flexible pricing
Professional course delivery
Handles EU Digital Goods VAT Tax
You may like to read,
Disadvantages: Teachable Vs Kajabi
There are some limitations also which make the user to not using them.
Kajabi Disadvantages
Issues with testing
Costlier than any other platform
Third party integration for handling EU VAT
Limited control
Teachable Disadvantages
Limited site themes capability
Doesn't support advanced quiz features
Limited native support for gamification
Doesn't integrate directly with many third-party solutions
Kajabi Vs Teachable: Pricing
There is a huge difference in the prices of both platforms.
Kajabi Pricing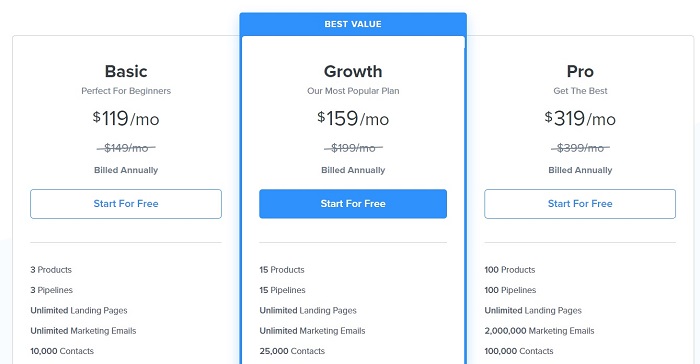 Kajabi provides its users with three plans that are as follows:
1. Basic plan – This plan starts up at $ 119 per month and includes 3 products, 3 pipelines, unlimited landing pages, unlimited marketing emails, 10000 contacts, 1000 active members, 1 website and 1 admin user. It also does not include any transaction fee and provides webinars and events and ready to use a template along with assessments and chat supports.
2. Growth plan – This plan starts up at $ 159 per month which includes 15 products, 15 pipelines, unlimited landing pages, unlimited marketing emails, 25000 contacts, 10000 active members, 1 website and 10 admin users. It also does not include any transaction fee and webinars and events along with ready to use templates. It also provides 24/7 chat supports, assessments including quizzes and surveys, ability to remove Kjabi branding, automation, and an affiliate program.
3. Pro plan–
this plan starts up at $ 319 per month including 100 products, 100 pipelines, unlimited landing pages, 2000000 marketing emails, 100000 contact, 20000 active members, 3 websites and 25 admin users. This plan also offers expert academy along with Hero University and no transaction fee, webinars and events and ready to use templates. This plan also provides assessments which include quizzes and surveys and 24/7 chat support. Automation, ability to remove Kajabi branding, affiliate programs and theme editor are some other features of this plan.
Teachable Pricing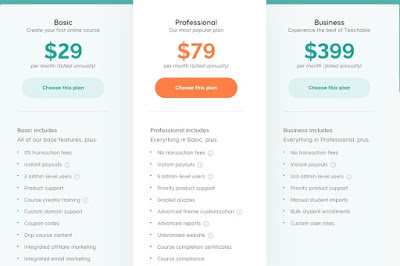 Teachable provides there user three paid plan along with a free plan. These are as follows:
Free plan: $ 0 month
Basic plan: $ 39 per month
Professional plan: $ 99 per month
High volume: $ 299 per month
All the pricing plans provided by teachable including the free plan offers the users unlimited video hosting, courses, students and bandwidth in addition to some essential features like quizzes and discussion forums.
All plans also include unlimited videos, unlimited courses, unlimited students, unlimited hosting, integrated payment processing, student management, discussion forums, basic quizzes and no fees on free courses. Teachable also charge 5% transaction fees on the basic plan while there are no transaction fees on its professional plan.
Kajabi Vs Teachable Comparison
Both Kajabi and teachable differ in many ways. Here are some differences between each of these platforms:
1. Amount of products they can create
Teachable provides a platform which can help the users to create as many products as possible. But Kajabi allows only limited products as per the plan the user has. With the basic plan, the user can create 5 products, with pro plan user can create 100 plans and with the premium plan they can create unlimited plans.
2. Market place
Kajabi provides a marketplace to sell their course in. with a proper marketplace; the user can gain exposure to their products and courses while this facility is not provided by teachable.
3. The free plan
Kajabi does not offer any free plan. It only provides 14 days free trial offer while teachable offers a completely free plan. It provides this offer without any requirement of the credit card to sign up. The free plan provides an opportunity for the user to get started at no cost earning extra income on the side.
4. The cost
There is a huge cost difference between the two platforms. Besides teachable free plan, Kajabi is approximately three to four times the cost.
5. Students
On the basis of the plan, Kajabi determines the number of students that the user can have all together. Kajabi offers a below-given a number of students depending on the various plans.
Basic plan – 1000 students
Pro plan – 10000 students
Premium plan – unlimited students
While teachable provides an area for an unlimited number of students.
6. Landing pages, webinars and more
Kajabi is a platform that provides all in one solution to its users. This requires to have no other third-party integration. This is because Kajabi includes everything from doing webinars, landing pages to advance email while this is not available in teachable.
7. Apps
Kajabi does not have an app. It does not offer an app to its user to access their courses faster and easier. Both teachable and Kajabi have mobile sites but teachable provides an app for their use which makes them easier to sell or market their courses online.
8. Trial offers
It becomes difficult for the people to check out the course provided by a platform sometimes. This problem can be reduced by providing a free trial offer to get people interested in corses. This is available in case of Kajabi while teachable do not provide so.
9. Transaction fees
When it comes to transaction fees both platforms have many differences. Teachable charge transaction fees per sale as a way to compensate for the lower priced plan. It basically depends on the plan as:
Free plan – 10% plus $ 1 per sale
Basic plan – 5% per sale
While Kajabi does not charge any kind of transaction fees as it is already charging high monthly fees which are more than enough.
10. Training
Teachable provides a course called The Profitable Teacher. This course shows the user everything the user needs to know about developing a course idea, create a course, to launch it and market it. But this is available only with the professional plan. While Kajabi offers a step further called Kajabi University which shows the user everything they need to know to grow and run a successful online course business. This is available for the users when they sign up for any of the plans.
Message:
I hope that you have enjoyed 'Kajabi Vs Teachable- Which one is Better (A Detailed Comparison)' article on
Tips2secure
. However, if you want me to deliver more items, then please share my post. You can use Social Sharing Widget provided at the end of every post. After all, Sharing is Caring!