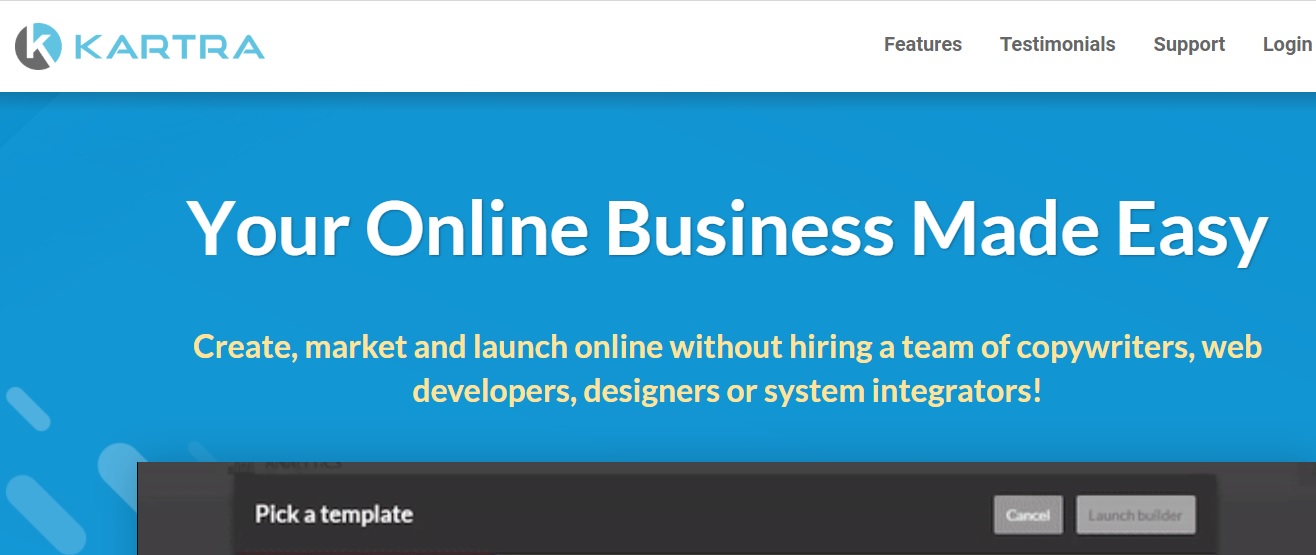 In this post, we are going to add our honest Kartra review. There exist many platforms in the market, which helps the businesses indirect as well as indirect way. They make their work easier and quicker.
Kartra
is one of them that is rising up high as a competitor to already existing other platforms. It is coming up as a competitor of
Clickfunnels
,
Kajabi
, Infusionsoft and Leadpages. Use of the right platform is very necessary for every business and it depends on several factors.
What is Kartra?
Kartra (https://home.kartra.com/index) is a collection of some tools that are required by businesses to run their business online. All the tools are integrated into one platform. The founders of Kartra were Mike Filsaime and Andy Jenkins. They launched a high-quality platform. Kartra basically is a page builder, sales funnel builder, and marketing automation platform. It is very different from other platforms. This is because it is based on the whole package approach.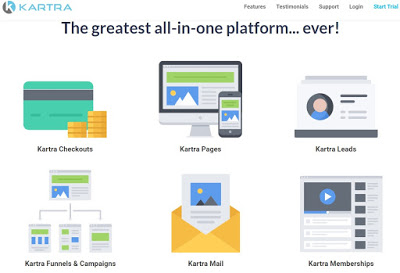 It is an all in one platform that provides several features to its users such as sales pages, landing pages, online courses, email system, payments and membership site at one place only. It helps the people to manage the businesses easily by providing them all the systems at one place. It also makes the tracking of marketing goals easier as it provides all the systems including landing pages, courses, videos, and others at one place.
Kartra Review (Products and services)
There are many products and services that are being provided by Kartra to its users to make their working easier. It provides all the products and services at one place only and hence is very beneficial for the people to manage their business. These products and services have both pros and cons which are as follows:
1. Kartra Funnel builder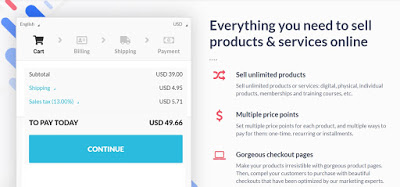 This product helps the people to build sales funnel by drag and drop option provided by the Kartra. They can drop any object into a canvas and hence makes the creation of sales funnels very easy.
Pros:
It is very easy to create and set up a funnel with the help of drag and drop option provided by it.
By tracking the flow of the funnels, the user can get a clear picture of the journey of the customer
It provides split tests to optimize open rates and conversions. It also provides an option to set up a percentage on this.
It provides many other advanced features for the product such as testimonials, calls to actions, countdown timers, videos and many more.
Cons:
In the beginning, it is not made clear by the Kartra whether the user needs to link steps with the yellow arrow as there are no instructions shown on the page.
2. Kartra Email marketing

Inside Kartra a user can create email campaigns and email broadcasts very easily. Kartra's email builder makes it easy to create a custom email with the help of various options available like header images, testimonials, buttons, videos, and call to actions, etc.
Pros:
The users can easily save email templates to make a consistent look and feel.
The users can easily customize the emails with custom headers, images, and fonts to provide a personality to the communications.
It has the ability to broadcasts with several categories.
It also segments the email list so that people can receive tailored communications based on their behavior.
It provides recommendations to email the list based on open rates and click-through rates.
Cons:
Kartra has its logo on the bottom of each email. This leads to a break in deals many times. This is because it denotes that Kartra puts its own brand before the needs of the customers.
3. Kartra landing pages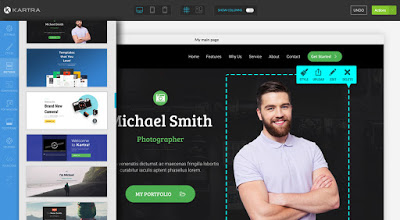 These pages can be organized in the say way as a user arranges its own pages into various categories. This becomes easier when the user has to find a page quickly. For example, the categories can be made such as "thank you pages", "payment pages" and many more. Kartra has a ton of high converting pages from which users can choose the best page and easily customize them.
Pros:
The page builder is very easy to use. User can easily build a page, name it, and publish it and get a page up which can run very quickly.
The user can use drag and drop options on the pages also.
The user can even add videos on to the pages with the help of YouTube or Kartra.
It is very easy to create a sales page and link it with the checkout pages.
Cons:
It does not save the content automatically. It creates an issue if the browser gets disconnected.
Kartra does not label the font or line height of the text.
Every time a user creates a page with Kartra he needs to fill a form and go through a series of steps before the form is completed.
4. Kartra Payments and products
Kartra has many products and payment functionalities that can help the users to create a variety of products to suit any type of product such as e-books, online courses, and others. Every time while creating a product certain steps have to be followed. It includes the naming of product and configuring payment processing.
Pros:
It provides with an option of a one-time payment, recurring payment or a limited number of installments.
It is very easy to customize how people make use of products of the Kartra.
Tags can be created quickly and specific communications to those tags can be delivered.
Cons:
To create a product several steps have to be followed.
5. Kartra Courses and memberships
It is the best platform to deliver the courses and memberships. It has its own membership portal management system to deliver courses and memberships. It makes the delivery of the content and managing of the content very easy. Kartra provides a range of elements that people can add to their posts. These elements include headlines, text, image, videos, audio playlist, divider, download box, and many others.
Pros:
It provides many content styles that can be used with the help of drag and drop option. These styles include text, headers, audio playlist, and videos, etc.
The user can organize and manage the courses into modules by using the categories in the sidebar.
The user can show the list of their courses with the help of this platform.
Cons:
The membership builder does not have as many customization features as the page builder has. It provides a limited amount of font styles to choose from.
Kartra Review (Advantages)
There are many benefits that the user gets from making the use of Kartra. It is a platform that provides its users with various advantages by providing all systems in one platform. Some of its advantages are:
1. Extensive support for new users: the enrolment process is the first advantage of Kartra. A user has to access to its extensive training program when it becomes a member of the Kartra. There is a support portal and academy training platform to get the answers to the question that helps the users to get their issues solved quickly.
2. Unlimited customization: Kartra not only offers pre-built funnel templates but also offers pre-built sections. This allows the customers to easily mix different components and more customization to the users. This helps them to create something that can fully represent their brand. Kartra also provides a clean and professional vibe that their marketing funnels have. This provides more help to the funnel builders of the Kartra.
3. Affiliate marketplace: Kartra offers affiliate marketplace to its users that helps them to browse marketplace depending on their personal interests and business. They can choose any product or service to promote. The users can earn commission not only with the own products of the Kartra but they can go for earning money by promoting any other product of other users.
4. More pricing packages: Kartra software was built with the purpose of offering a variety of marketing tools at a reasonable cost. Hence, even the basic or starting up plan provides access to the users for all its features. It does not mean that the users get more access to the functions by paying more amounts. It guarantees more leads by purchasing higher packs. This system helps the users to promote the fact that users need more money to be more successful.
Kartra Review (Disadvantages)
Along with the numerous advantages, there are some limitations that the users of the Kartra generally face. They come through certain limitations of the Kartra that are as follows:
1. Don't educate much: Kartra does not provide much training to the users. They have to go through some of the tutorials before starting for the platform. It also provides limitations for integration options and webinar services.
2. Sales oriented services: Kartra is a business management tool and hence does not have essential depth tools for sales oriented services.
3. Technical terms: Kartra helps the users to manage their business significantly but there are some technical terms which may be difficult for an average person to understand.
4. Pay more as grow: Kartra pricing does not favor the growth of any business. This is because users have to pay $ 1 for testing the software. The users have to pay more as their visitors, contacts or funnels grow more and more. They need more membership sites, emails, etc. as the visitors of the Kartra grow.
Kartra VS Teachable
There are many areas where Kartra and teachable differ from each other in their functionalities. These differences make the users decide which one is better.
Kartra allows the users to put together full-blown sales funnels. It allows them to sell anything with many desires. The customers can sell eBooks, courses, coaching, video tutorials, high ticket offers, and membership offers.
Kartra focuses on marketing in different ways. While teachable seems to put a massive focus on creating and selling beautiful courses. This is one of the biggest difference between the two.
Another difference is that teachable is more suitable for teachers and courses while kartra is more suitable for marketing and funnels.
Kartra provides a 14 days trial offer at $ 1 while teachable offers a free plan for its users.
Kartra basic plan starts from $ 99 while teachable basic plan starts from $ 39.
Kartra VS Clickfunnels

There are some differences between the platforms in the form of functions and operations. Below are some key differences in the functioning of both platforms:
1. Goal differentiation: With the help of clickfunnels, a business can build their funnels in sequential order. It helps them to follow a straight forward process while Kartra does this in just opposite order. It builds the funnel in reverse order.
2. Webinar funnels: clickfunnels help the business by providing evergreen webinar functionality but this feature is not provided by Kartra to its users.
3. Basic plan functionality: Kartra basic plan starts from $ 99 which provides its customers with inbuilt automation software and affiliate management platform while clickfunnels basic plans start from $ 97 and do not provide any feature like this.
4. One time offer pages: Kartra offers various on time offers to their customers to bring them to different pages while in case of clickfunnels they can see all the one time offers irrespective of what they buy inside.
5. Autoresponder integration: customers can easily integrate the favorite email services with the help of clickfunnels. They do not need Zapier for integration purpose but they need to make connections with Zapier if they are using Kartra.
6. Experience: Kartra lacks experience in front of clickfunnels. This is because Kartra is new in the market and it does not provide with all the goodies that are being provided by the clickfunnel. Customers of Kartra hardly get any access to the same goodies which they can get from clickfunnel.
Kartra Pricing
As Kartra is all in one platform that includes modules for most marketing automation tasks including email autoresponder, sales funnel builder, landing pages and a whole lot more/ everything is included in the price of the Kartra and it helps the user to save all of the expenses. Here we are going to have a discussion about the plans with different pricing. Hope, it will be helpful for all the seekers who want to use in the future.
1. Starter plan – $99 per month and includes contacts up to 2500, 15000 emails per month, 100 pages created, 20 products, 2 helpdesk portals, 1 custom domain, 20 dynamic follow up, 50 GB bandwidth per month, unlimited page visits, 100 automatics, and 2 membership sites.
2. Silver plan – $199 per month and includes contacts up to 12500, 125000 emails per month, unlimited pages created, unlimited products, unlimited helpdesk portals, 3 custom domains, unlimited dynamic follow up, 125 GB bandwidth per month, unlimited page visits, unlimited automation, and unlimited membership sites.
3. Gold plan – $299 per month and includes contacts up to 25000, 250000 emails per month, unlimited pages created, unlimited products, unlimited helpdesk portals, 5 custom domains, unlimited dynamic follow up, 200 GB bandwidth per month, unlimited page visits, unlimited automation, and unlimited membership sites.
4. Platinum plan – $499 per month and includes and includes contacts up to 50000, 500000 emails per month, 100 pages created, unlimited products, unlimited helpdesk portals, 10 custom domains, unlimited dynamic follow up, 500 GB bandwidth per month, unlimited page visits, unlimited automation, and unlimited membership sites.
5. Diamond plan – $699 per month and includes and includes contacts up to 100000, 1,000,000 emails per month, unlimited pages created, unlimited products, unlimited helpdesk portals, 10 custom domains, unlimited dynamic follow up, 600 GB bandwidth per month, unlimited page visits, unlimited automation, and unlimited membership sites.
You may like to read,
Kartra is one of the greatest all-in-one platforms ever. It allows the users to sell products and services online with the help of secure and gorgeous checkout forms both credit card and PayPal payments. It provides an option of drag and drop page builder with numerous professionally designed templates. It also provides the users with ultimate flexibility and it is fully mobile optimized.
It allows its users to build their leads, prospects and customers database. They can organize them in theme groups via lists and custom tags. It provides a multi-page funnel flow to convert visitors into leads, leads into customers and finally customers into recurrent clients. It also enables the user to create live or automated email marketing campaigns to communicate and engage with the user base.
Hence on the basis of all the details, it can be said that besides some limitations of the Kartra, it is a very useful and best platform for all those who want to grow their business online and deliver the content, course or training materials with the help of professional experts and without much stress.
Message:
I hope that you have enjoyed 'Kartra Review 2020 – Kartra Pricing, Features, Pros & Cons' article on
Tips2secure
. However, if you want me to deliver more items, then please share my post. You can use Social Sharing Widget provided at the end of every post. After all, Sharing is Caring!