Whenever it comes to choose the best platform for building sales funnels then we get confused in choosing the best one according to our needs. In this post, I am going to compare Kartra Vs Clickfunnels which will help you in choosing the best platform.
What is Clickfunnels?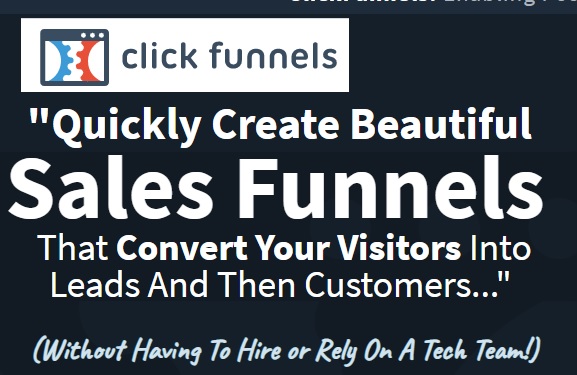 Clickfunnels
is a tool which was founded by the Russell Brunson within 90 minutes. It was built with the purpose of helping those entrepreneurs who find converting a business website or paying a web designer to get a good website up and running very difficult or expensive. This platform helps them to create a more sales making website in a very easier, less expensive and conductive way. The invention of such a platform helped them to become stress-free and adding more value to the lives of the customers. It also helped them to make more money.
Whats is Kartra?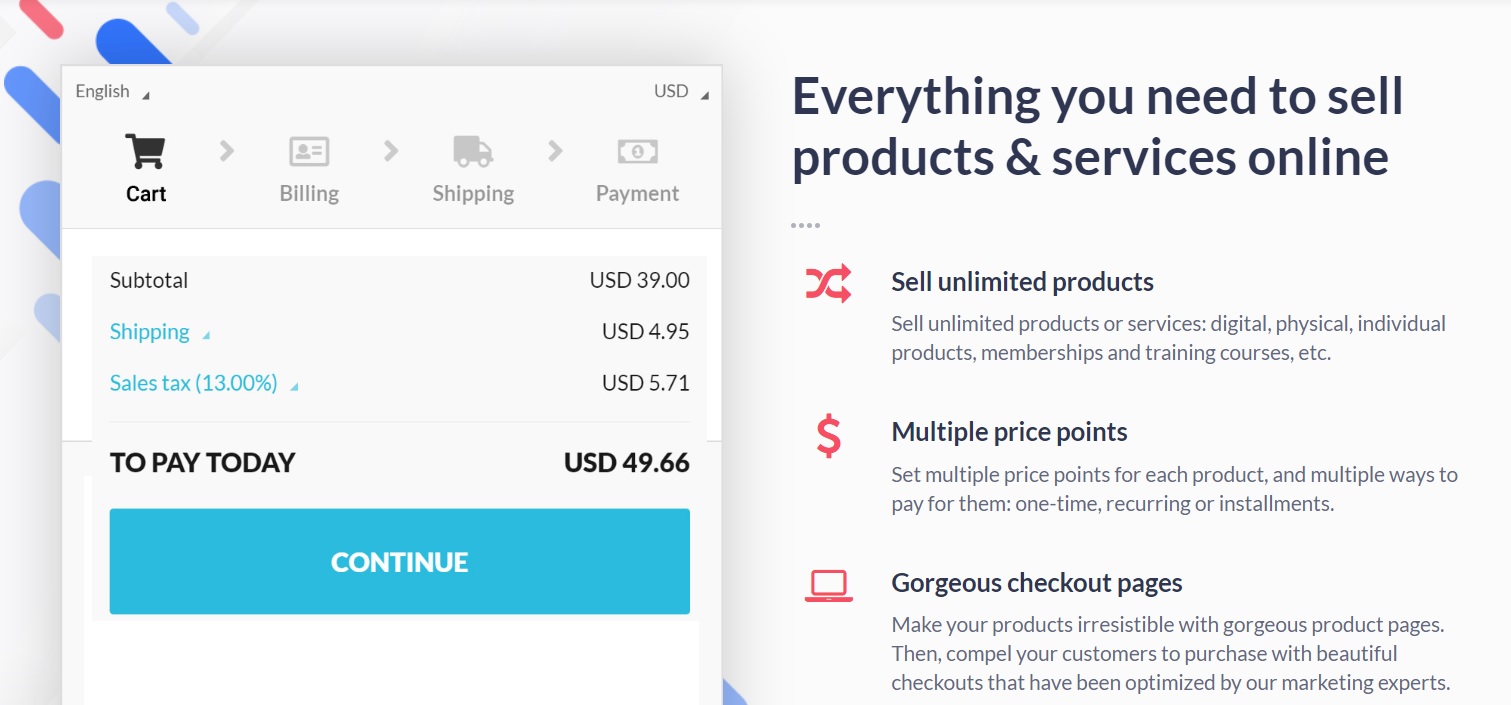 Kartra is used for building sales funnels and has been created just a while. It is basically used in the e-commerce space to set up stores. This platform has been re-launched in the form of all in one platform for online business owners. It was founded by Andy Jenkins and Mike Filsaime who were good marketers. As this platform is new in the sales funnel thing, still, it has gained a lot of attention from many users in the few last weeks.
Kartra Vs Clickfunnels : Comparison Table
Clickfunnels helps the
users to build sales funnels quickly.

It gives a lot of
creative space to the users that they want to do within the funnel.

Clickfunnels build the
funnels in simultaneous order

Kartra builds the funnel
in reverse order.

Clickfunnels gives due
importance to its customers

Kartra main focus is on
the user instead of the customers

Clickfunnels offers
14-day trial offers at no cost.

It charges $ 1 for a trial offer of 14 days

It provides limited
features to the users depending on the pack they buy

It offers unlimited
features to the users irrespective of the pack that they buy. Higher pack
only leads to higher growth.

It provides only two
plans- a basic plan and enterprise plan

It provides five plans
which include a basic plan, gold plan, silver plan, platinum plan, and advanced plan.
You may like to read,
Builderall Vs Clickfunnels (UPDATED) – Which One is Better?
Best Typeform Alternative for WordPress
Teachable vs Udemy – A Detailed Comparison
Landing Page Optimization: Craft A Landing Page That Converts
Kartra Vs Clickfunnels : Features
There are numerous features of both Kartra and Clickfunnels that makes the users use them. Some of the characteristics of both platforms are given below.
Features of Kartra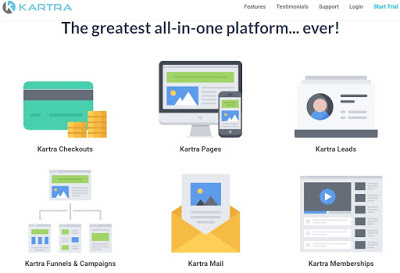 Full-featured product carts
Email marketing with powerful automation
Rich opt-in forms builder
Complete affiliate management
Beautiful, high converting marketing pages along with landing pages
Rich membership sites with multiple pricing tiers
Video hosting with pre and post-CTAs
Full helpdesk portal with live chat support
A true all in one platform
Funnel templates built by renowned marketers
Unique features
Significant money savings from the consolidation of features
Features of clickfunnels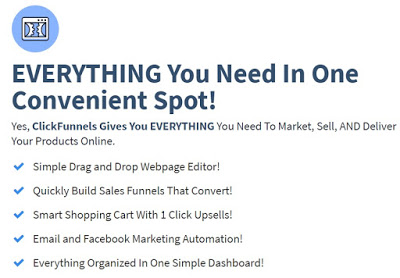 Funnel template blueprints
Good visual drag and drop editor
Nice selection of page templates
The Clickfunnels affiliate programs
Dashboard for monitoring business KPIs
API connectors
Communication management
Membership database management
Pre-built funnel templates
CRM and email autoresponder
Design landing pages
Campaign analysis
Kartra Vs Clickfunnels : PROS
Both the platforms have some pros that help the users in many ways. Some of the pros of both Kartra and Clickfunnels are given below.
Pros of Kartra
1. Extensive support for new users – the first advantage of Kartra is its enrolment process. When a user becomes a member of the Katra it has to access to its extensive training program. To get the answers to the question there is a support portal and academy training platform that helps the users to get their issues solved quickly.

2. Unlimited customization – Kartra offers pre-built sections rather than only offering pre-built funnel templates. This allows more customization to the users and they can easily mix different components. This helps them to create something that can fully represent their brand. This provides more help to the funnel builders of the Kartra. Kartra also provides a clean and professional vibe that their marketing funnels have.

3. Affiliate marketplace – Kartra offers its users with an affiliate marketplace. This helps the users to browse the marketplace depending on their personal interests and business. They can choose any product or service to promote. The users can earn commission not only with the own products of the Kartra but they can go for earning money by promoting any other product of other users.
4. More pricing packages – the building of Kartra software was done with the purpose of offering a variety of marketing tools at a reasonable cost. Hence, even the basic or starting up plan provides access to the users for all its features. It does not mean that the users get more access to the functions by paying more amounts. It guarantees more leads by purchasing higher packs. This system helps the users to promote the fact that users need more money to be more successful.
Pros of Clickfunnels
There are many benefits to using clickfunnels. These benefits include customizations, mobile support, and great integration.
Clickfunnels provides users with inbuilt templates that vary according to the requirements of the business. The templates can be customized easily hence web pages can be made with the help of drag and drop editor.
The users can add dynamic lists as well as content to them. This helps them to make the appearance and feel of the marketing sites better. This also helps in converting web pages into mobile responsive pages. This helps the customers to access their websites from the devices they have. The app also provides support for a different resolution.
Kartra Vs Clickfunnels: CONS
There are some limitations of both the platforms.
Cons of clickfunnels
1. Basic plan: one basic limitation of Clickfunnels is the limited number of pages, funnels, and visitors that are provided on the basic plan. The users are not allowed to make use of affiliate management tool and inbuilt automation tool on the basic plan of the Clickfunnels.
2. Video hosting not supported: it does not provide the functionality of hosting the videos ion side the Clickfunnels. The users can host the videos outside the platform such as youtube, Wistia, Vimeo and many more. After that, the users can use them inside the funnel. This offer is provided b Kartra as they provide a certain amount of bandwidth to host the video files.
Cons of Kartra
Don't educate much: Clickfunnels helps the user to teach about funnel building and internet marketing. They provide many actionable lessons to provide amazing life-changing experiences. Clickfunnels provide tons of training sessions to know how it works while to make a search on the working of Kartra there is a need to go through a few tutorials.
Pay more as grow: Kartra pricing does not favor the growth of any business. This is because users have to pay $ 1 for testing the software. The users have to pay more as their visitors, contacts or funnels grow more and more. They need more membership sites, emails, etc. as the visitors of the Kartra grow.
Kartra Vs Clickfunnels: PRICE Comparison
Now let's have a look at the pricing structure of both the platforms.
Clickfunnels Price

It offers a 14-day trial offer for the users to test out everything when a user signs up for Clickfunnels. They can decide on the basis of the trial whether the software is for their use or not.
Start-up plan at $ 97 per month
This basic plan offers 100 pages, 20 funnels, 20000 visitors an unlimited number of contacts with 3 custom domains and every feature except the backpack and actionetic's features.
Enterprise plan $ 297 per month
This plan suits those businesses that have larger needs in terms of visitors, funnels, etc. this provides an unlimited number of funnels, visitors, domains and pages. It also allows the user to have access to the inbuilt autoresponder and affiliate management platform.
Kartra Price
It offers five different pricing options to its users after charging $1 for 14 days trial period. These five offers are as follows:
Starter plan – $ 99 per month for 2500 contacts
Silver plan – $ 199 per month for 12500 contacts
Gold plan – $ 299 per month for 25000 contacts
Platinum plan – $ 499 per month for 50000 contacts
Advanced plan – $ 699 per month for 100000 contacts
It also offers a 33% discount for an annual subscription for its users. It offers 40 % discount for 2 years subscription on any package of Kartra. It provides limited features to its users from its starter packs to higher packs. These features include contacts, emails per month, products, created pages, helpdesk portal, and custom domains, follow up sequences, bandwidth size, automation, and membership sites.
Differences between Kartra and clickfunnels
There are some differences between the platforms in the form of functions and operations. Below are some key differences in the functioning of both platforms:
1. Goal differentiation: it means the way in which a business build out their sales funnels in both the platforms have some differences in them. With the help of clickfunnels, a business can build their funnels in sequential order. It helps them to follow a straight forward process while Kartra does this in just opposite order. It builds the funnel in reverse order. It means everything is laid out step by step inside the Clickfunnels. Clickfunnels builds everything from the initial front end of the funnel while Kartra starts from the end of the funnel to the front of the funnel.
2. Webinar funnels: webinars are a crucial part of the launching of a product and marketing as a whole. It helps the business to earn more and make their future in online business but the best one is an evergreen webinar that converts on autopilot. Clickfunnels help the business by providing evergreen webinar functionality while this feature is not offered by Kartra.
3. Basic plan functionality: Kartra starts from the basic plan. Any business can get the Kartra inbuilt automaton software and affiliate management platform in the $ 89 plan while such features are not available in Clickfunnels in the basic plan of $ 97 also. It is offered in its enterprise plan only.
4. One time offer pages: Kartra offers dynamic one-time offer pages that can help the business to take their customers to different pages or offers. It is highly dependent on the purchase made by the customers. In Clickfunnels it does not matter what the customers buy inside the funnel, they can see all the one-time offers of the Clickfunnels.
5. Autoresponder integration: the customers can integrate their favorite email marketing services directly without making any use of Zapier with the help of Clickfunnels while they will need to make connections with Zapier to use other services in case they are using the platform Kartra.
6. Experience: as Kartra is new in the market and hence this platform lacks many of the goodies and the customers would hardly get any access to the same goodies while Clickfunnels offers all the goodies to their customers.
Conclusion
To grow a new business it needs to create more customers by generating more sales. Clickfunnels is driven by lots of sales. It helps the businesses to turn their vision into reality. It provides convenience, efficiency and helps them to convert their prospects into customers and hence increasing their sales. Kartra is also an amazing tool but on comparing with Clickfunnels it is founded that Clickfunnels lays more emphasis on sales and helps to drive more customers. Hence on the basis of the comparison, it can be said that Clickfunnels provides much more benefits to the user against Kartra.
Though there are some limitations of Clickfunnels still it provides more advantages and benefits to the users over the use of Kartra. When it comes to pricing Kartra is much better than Clickfunnels but except it, when it comes to collecting leads, boosting sales and increase lifetime value, Clickfunnels is far better. It also comes with a 14 days trial offer without charging any cost from the users and hence making it better.
Message:
I hope that you have enjoyed 'Kartra Vs Clickfunnels (UPDATED) – Which One is Better?' article on
Tips2secure
. However, if you want me to deliver more items, then please share my post. You can use Social Sharing Widget provided at the end of every post. After all, Sharing is Caring!