Internet is full of opportunities. There are high chances that if you are reading this post then you are looking for a chance make some extra money. So let me tell you about Kimia.mobi, if you are an affiliate or webmaster (you own a site) or if you are interested in media buying, this is one of the platform by which you can make a good amount of money with in mobile and/or desktop traffic.
There are many ad networks, affiliate plans etc available nowadays, however there are only a few that can be considered reliable and efficient, due to their technology, exclusive offers, account management and industry experience, Kimia is this network.
We feel it's worth doing a complete review on our blog.

Kimia is a fast growing online advertising company, focusing on eCPM performance for mobile and desktop traffic. They base their market difference in that they are a premium network that only partners with top advertisers and top publishers.
From their latest reports they say that they have more than 150M clicks and generates over 250k conversion events daily, on CPA/CPI/CPL/CPM basis, focusing on mobile/desktop entertainment products, as well as sweeps, rewards, dating, forex, nutra, health & beauty.
Founded by mobile industry veterans, privately funded, Kimia is an independent, owner-managed company and from their Linkedin and website we can deduce that Kimia is made up of an international team of more or less a 130 professionals who speak a range of languages, English, Spanish, French, Italian, Russian, Portuguese, Dutch, Arab, Hindi and Mandarin.
With their main headquarters in Madrid, Spain, they also have offices in Mumbai and Singapore.
The name "Kimia" roots back to the Arabic Al-Kimia. Historically it relates to the concept of transmutation, and to the art of turning common metals into gold.



Most Important Features when considering working with Kimia.Mobi
1. Kimia.mobi works over 1.000 active advertisers
2. Kimia is not only limited to one type of monetization model. It offers various business models including CPA, CPL, CPI, and CPM.
3. Kimia originally specialised in mobile, however it also accepts desktop traffic and offers, on all verticals.
4. Kimia is always stable and generates revenue for their partners, even through market fluctuations.
5. The account managers at Kimia are very dedicated to their partner accounts. They give detailed advice to their partners about how to set up the best strategy, how to interpret stats etc.



How does Kimia work for each specific partner?

Kimia For Affiliates
Kimia is testing 1000 campaigns at any given time. Once they test it on performance and competitiveness, they approve it. Only top 20% of them are published on Kimia.
The ad network of Kimia monetizes all geos and all mobile traffic. The best part of it is that they focus on quality while monetisation.
Kimias KPIs for Webmasters
➢ They work on CPM
➢ Kimia uses inhouse technology for ad management.
➢ They offer SEO safe ad codes.
➢ They have dedicated account managers as well as an in-house compliance team.
➢ Worldwide coverage
➢ 100% fill rate
➢ High monetizing ad formats: Mobile Pops, in addition to traditional banners, interstitials, and redirects
➢ Maximize profits with our carrier filtering technology
➢ Additional revenues to your current monetization platforms (Adsense, 3rd party ad platforms)
➢ Real time stats
➢ Timely payments
➢ Our top 10 publishers each get paid more than $ 100.000 per month
➢ Our top 25 publishers each get paid more than $ 1.000 per day

Kimia for Advertisers
If you are an advertiser and looking for the opportunities to promote your product or service, Kimia is your network. They bring you good volumes of quality users.
Kimia allows you to set your goals, and they then work to deliver those results.
Features of Kimia Advertisers
➢ Kimia motto: Set your goals, we will deliver the results
➢ They have a global market.
➢ The technology which Kimia uses is world class. Bring high volume and quality users to your top products
➢ The account managers are the real asset at Kimia. Giving advertisers insight to the markets.
➢ Kimia shares benchmark data with premium advertisers.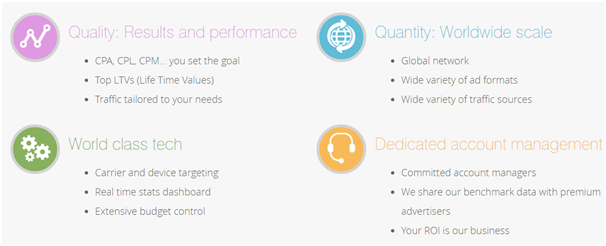 Kimia.Mobi Vs PropellerAds
Let's Compare Kimia.Mobi with one of its competitor to know more about it.
Interstitials, Display
banners, Sticky banners, Mobile pop-under, Mobile pop-up, Slide-in,
Notification bar, Interstitial, Redirect / Direct link, In-video,
Notification push-up, Leading app

Mobile Size banner,
on click ad, in-banner video, Slider

carrier, device, geo
location, demographic

Targeting by User's Browser
From the above comparison you should have a clearer idea of what Kimia offers and their features. It is indeed a great ad network for affiliates, webmasters and advertisers.
Reviewing their KPIs they mention that their top 10 publishers each get paid more than $ 100.000 per month and their top 25 publishers each get paid more than $ 1.000 per day. So it's worth trying them out.
We have had experience with many ad networks in the past and we are strongly recommending you to try this network. The help you receive from the account manager at Kimia is invaluable and focused to your specific needs.
All you need to do is a simple 2 step signup process through their website Kimia.mobi, then start monetizing all your traffic!
If you like this post then do share it with your friends and let them know about this great ad network. Let me know your experience with Kimia via comments.

Message:
I hope that you have enjoyed 'Kimia.Mobi Review: Best Ad Network for Webmasters in 2017' article on Tips2secure. However, if you want me to deliver more items, then please share my post. You can use Social Sharing Widget provided at the end of every post. After all, Sharing is Caring!