To increase your blog traffic, the business people search for the right marketing solution. With the help of the right marketing solution, they can make some money from home itself. If you want to derive more traffic to the website, you must use credits that you earned via visiting advertisement or else you need to pay money to promote on the other market place. While I am searching for the right online marketing solution, I come across leadsleap reviews, which help me a lot to collect exact detail.
Leads Leap launched in the year 2008, and it starts as an auto surfing site. But now it is out as the second version with a lot of the chance and reward for their members. From the reviews, I give the right ideas and profound insight into this site to get the best views of how it works and other benefits. It is one of the effective solutions for bloggers and other markets. This platform assures me to deliver great ideas to make more money as a free and upgrade member. To gather true information about this platform, the user needs to consider leadsleap reviews that hold a lot of ideas and knowledge to make use of excellently.
What is Leadsleap?
The Leadsleap (https://www.leadsleap.com/)platform is specially designed for advertising. Additionally, it assists to lead generation site. Recently this website upgrades with the new special features that work better on your site to hit great traffic. On using this platform, you can make money by merely sharing revenue for both upgraded members and free members. It allows business people to promote ads-free up to 4000 websites and other members. You can get training about how to advertise exactly to meet results so you can put your ideas into practice to achieve positive results. It helps to create more than ten levels of leads to develop for a lifetime of free ads from the Leadsleap platform.
How to use Leadsleap?
Around 8000 marketers and bloggers are using leadsleap to derive great traffic and also meet their business to the next level. It provides an excellent revenue share and lead generation system for bloggers and another marketer. This system allows making money in three-way such
Develop respective business complete free with the help of the Leadsleap network site
Blogger applicable to promote up to ten levels free of cost, which gives a hand to meet high traffic.
People can feel free to use at home and acceptably make more money.
Feature of Leadsleap
Leadsleap is the newest tool for generating leads
It has extensive training available for members
It has a larger inventory of articles related to the leads and boosting the sales
Generates leads by sign up new members for free ads
It has a spam-free downline communication system for free
They can eliminate ad viewing timer and other advertising websites
You can join for free or get premium membership plans
It is the most preferred advertisement network for generating leads
Why should use Leadsleap?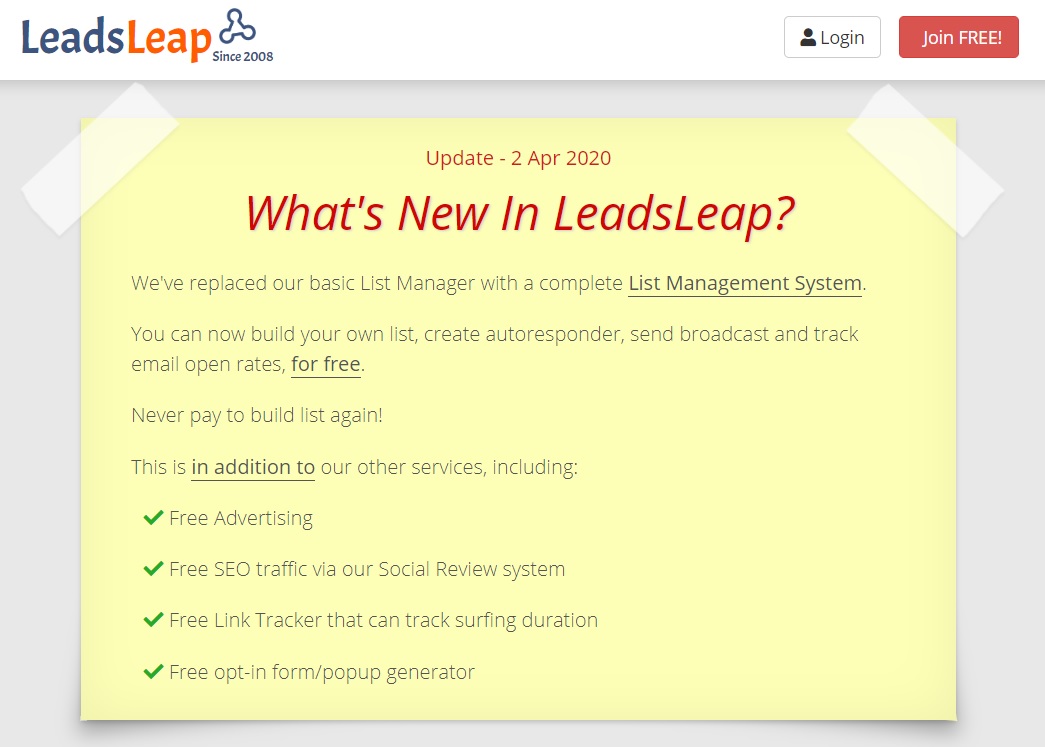 1. Advertise to Leadsleap members instantly
If you want to boost the traffic level, you can advertise to Leadsleap members. It is completely free and one can click to view ads. So, it will earn more credits when they view your ads. The longer they surf ads the more credits you earn.
2. Easily advertise to the world
By using the Leadsleap software, the products can be advertised to worldwide. It creates the best impressions when your products reach millions of people. But, the credit goes to Leadsleap software. The lead generation tool will help you to get quality traffic forever.
3. Get search engine traffic easily
One of the main reasons to use Leadsleap software is generating search engine traffic. It must include product reviews and getting traffic easily. Leadsleap operates a search engine optimized via a social review directory.
4. Get multiple leads into thousands
Leadsleap software allows you to get more leads for the first time. So, a user may use this as their favorite tool to generate leads for their business. It gives nearly 3000 to 10000 followers at each level.
Leadsleap review – Benefits and disadvantages
This is the foremost online marketing network. Users can easily earn money by surfing ads and promoting. You can easily monetize your website for free. This is a free marketing tool to boost your business effectively.
Pros of Leadsleap
This site is having good stability
Unlimited referrals are allowed. Through this, you can able to earn a lot.
Members from all over the country can able to join this site since there are no membership restrictions.
There are no earning restrictions provided for any users.
You can able to surf the possible ads as you require more than 3 minutes per ad. Here no surf restrictions are provided.
Free marketing tools and unique advertising products make the leadsleap to stand unique from other sites.
Cons of Leadsleap
Ads are compulsory. At least you will receive 10 ads per day
A high minimum payout is required. You must have at least 10$ in your account.
It will work best on making more money via an online niche
The upgrade price is a little bit high
Is Leadsleap Scam or Real?
Leadsleap is not a scam one and it is completely a new concept. There are more scam websites are available, but Leadsleap is very promising and providing great features. In case you are a beginner, it is the best idea to join this site. But you have to very careful in investing the amount even though it is not a scam. As it is new, you can only invest in fewer amounts. After started earning money, you can able to upgrade to pro features from the amount that you have earned. This process will reduce the risk and at the same time, you can know about internet marketing. So, if you are a beginner, then absolutely you can go with it.
Conclusion
From the above mentioned, you can able to gather the complete details of Leadsleap. As it is the best advertising platforms online, easily you can earn more money by surfing ads. Definitely, you must try it.
Message:
I hope that you have enjoyed 'LeadsLeap Review- Is Leadsleap Scam or Legit Ad Network to Earn Money?' article on
Tips2secure
. However, if you want me to deliver more items, then please share my post. You can use Social Sharing Widget provided at the end of every post. After all, Sharing is Caring!