In our smart series of reviewing the best VPN providers, today again here I am with one of the best VPN service providers. No doubt, I have reviewed so many other VPNs on this blog, and you have enjoyed their services too, but the VPN I am going to review today is slightly different from them and in short this VPN is providing better services than other VPN providers in the low cost.
Not only at the low cost but today you will get an additional discount of 20% OFF on your purchase which is valid only for the readers of this blog. I have added that discounted link and LiquidVPN Discount Coupon at the last of this post, so keep reading!
So the VPN I am talking about is LiquidVPN.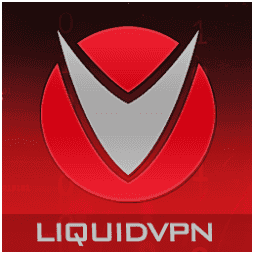 LiquidVPN is a US based VPN software which offers robust security features, enhances speed and is a user-friendly app at a good price. Unfortunately, it is available at very few server locations at present.



What is a VPN (If you don't know what a VPN is in actual)
VPN allows people in countries with restricted access, to be able to access the same content as Americans. In today's world, this technology is one of the easiest ways to bypass content blocks and access all of the sites and services. They also are a great way to protect against security threats from hackers due to an encrypted tunnel that keeps the user's information safe.



Little more about LiquidVPN

Today, LiquidVPN is the most robust VPN and is a very strong option for those who are very much privacy conscious and want to stay anonymous with extra security functions. The company is well known for the performance, design, and features of the VPN but lacks huge network because of the smaller outfit.
LiquidVPN has some genuinely exciting and unusual products. The 'Modulating IP' technology is the real deal that keeps changing your IP address continuously, which makes it very difficult to track your actions on the internet. Along with this LiquidVPN also offers 'custom VPN client' which can be customized with increased functionality using downloadable scripts. It also has many other features like no usage logs policy, use of shared IPs and amazing encryption standards, all of this at a very low price.
The Signup Process
The signup process for LiquidVPN is very easy and simplified. It only requires your name and email address.
Though you will have to give some basic information to set up an account, there will never be any record of what you do online. LiquidVPN is very adamant about never logging any of their users' data.
It supports Windows, Mac and Android.
Setup and interface
Setting up LiquidVPN is a very easy process. Just download, install, log into both desktop and mobile and you are good to go. The main page displays your IP address, topology, and VPN protocol and connection time.
You can also filter servers by region, by just clicking on the location pin. It will bring out a list of servers that can be differentiated by time and location. The remaining settings can be opened using the cog button at the top. Support and feedback are also just beside.
The mobile app is also very easy to use and is similar to the desktop version except for the Liquid Lock.
Premium Features of LiquidVPN
1. Many features of LiquidVPN make it the unique among other competitive VPNs. The first feature that makes it different from others is the choice of three different types of IP addresses:
Shared IPs. These are normal for most VPN providers. They offer the fastest download times, which is best for streaming and torrenting. The IP address that you are assigned is also used by hundreds of other people, which adds to the anonymity.
2. LiquidVPN makes apps for Windows, Android, iOS and Mac. While Linux and other operating systems will need to use a third-party VPN app to connect.
3. Private static IPs also are known as dedicated IPs. Here, you are assigned your own IP address and it never changes. These IPs are best for apps and websites that are IP-sensitive, like online banking and gaming.
4. Another feature is Liquid Lock. It is available only for the Windows and Mac desktop subscribers. Liquid Lock works as an internet kill switch and a firewall. With this, all internet traffic will be halted if your connection to the VPN server drops or is weak. This prevents your real IP address and location from being seen by any website.
5. The firewall feature of LiquidVPN Lock cuts off a device from the internet entirely except for the traffic that is going to LiquidVPN's servers. Users can easily whitelist specific IP addresses and allow LAN traffic in the settings.
6. It operates its own DNS servers which the users use when connected, but you can also specify custom DNS server addresses in the settings.
7. There are 10 different VPN ports to choose from, which are handy for applications that require port forwarding. Port switches, Bandwidth and server switches are all unlimited. Liquid VPN does not limit BitTorrent traffic or P2P filesharing. It works well with US Netflix.
8. LiquidVPN does not limit Bittorrent or P2P.
Modulating IPs
The unique feature of liquid VPN is 'Modulating IP connections,' which varies the public IP addresses from which your data is being sent and received. It might change as many as 100 or even more times in a single session. It depends on the number of people using the service; the more IP addresses will be used, the more often it will change. This unique idea of Liquid VPN makes it stand out in comparison with other VPN providers and deserves an applaud for this innovation
Modulating IPs is described as the 'most anonymous' method of using the services by LiquidVPN. It is a shared IP that modulates from IP to IP which makes it more anonymous and secure than a normal shared IP. It works best in maintaining the anonymity of the user as this system uses shared IPs.
While there are many advantages of the IP constantly changing, there is also a disadvantage. Many websites that have high IP security or use cookies may freak out. But his should not be such a big issue.
Smart Streaming
You can stream all USA and UK based contents using their any of VPN servers.
Servers of LiquidVPN
LiquidVPN has a total of 40 servers, with locations all around the world. All of their VPN servers run on dedicated servers with 1 or 10 Gbps network connections. Though it is not a huge network, but it is definitely enough to get you access and to handle their customer load.
Also, Liquid VPN is far behind the race when compared to other VPN service providers. Liquid VPN has laid down a very strong foundation and is expected to expand as the top-tier VPN providers soon.
Speed
They also provide unlimited server switching and allow users to switch between servers in North America, Europe and Asia.
It's hard to judge the speed of a VPN as it also depends on your connection quality, network available and a number of other factors. But after performing a lot of tests on LiquidVPN and comparing them with other VPNs, it can be said that the speed of the LiquidVPN is very impressive and is the best so far among all other VPNs. The speed tests were done empirically and were repeated a number of times from different servers, and it beats all other VPNs in all terms. Its performance was very consistent but also went volatile a few times. The results are very impressive. It is one of the fastest VPN ever.

Privacy policy
Liquid VPN is a network transport provider. It does not provide resources or host content, does not monitor or log anything the subscribers do on their network. Also, they do not police the network in any form.
It never keeps any usage logs. It does not log browsing history, IP addresses or traffic data. Bandwidth usage records are the only connection logs.
Security
LiquidVPN impresses us immensely with its security setup. It is one of the few providers that utilizes forward secrecy that protects past sessions against future access of secret keys and passwords. For every session, they generate a new private key. Every 30 minutes keys are renegotiated between you and the server.
It keeps minimal metadata logs which include only your last logged VPN, the total number of logins and bandwidth used.

Website
The website of LiquidVPN is decorative with animations and a video that describes Modulating IPs and has a lot of information on it laid out very nicely. It explains the various options available in a secure manner but is a little confusing to navigate.
You can check your subscription settings, change private details, etc. There is also a Blog section with some fascinating articles. LiquidVPN's website and app have no advertisements of any kind other than the product they sell. They seem to be very honest and have an upfront marketing style. The website is well-organised.
Tutorials
There are many tutorials and enough material available for LiquidVPN setup and usage. Many installation guides are available for users facing issues with the Liquid Viscosity VPN client.
LiquidVPN has great service features and characteristics and is one of the most promising entrants in the VPN industry. It is perhaps the best VPN software we have seen so far.
Plans and Pricing
There are 3 different plans which LiquidVPN offers: SideKick, Road Warrior, and Ultimate. The difference in these plans is the number of devices that can be connected at a time and of course the price.
| | | | |
| --- | --- | --- | --- |
| | | Per Month on a Yearly plan | |
| | | | |
| | | | |
| | | | |
The Ultimate plan can be used in a small office or is also ideal for a household. The prices are very reasonable and cheaper than many other such VPN providers and are best suited for subscribers who are budget-minded. All the above LiquidVPN's plans come with completely unlimited bandwidth. You never have to worry about hitting a service limit or finishing your data usage.
Oops! have I missed anything?
Ohh! Yes, as I have already promised my readers that they'll get a 20% Off discounted coupon and Link. So let me add that Coupon and link at first before discussing more on LiquidVPN.

Here is the link,
Discount Coupon Code:
TIPS20
This coupon is valid for all the packs and subscription (Monthly/Annually). I have applied this coupon for Annual subscription in the below-given screenshot.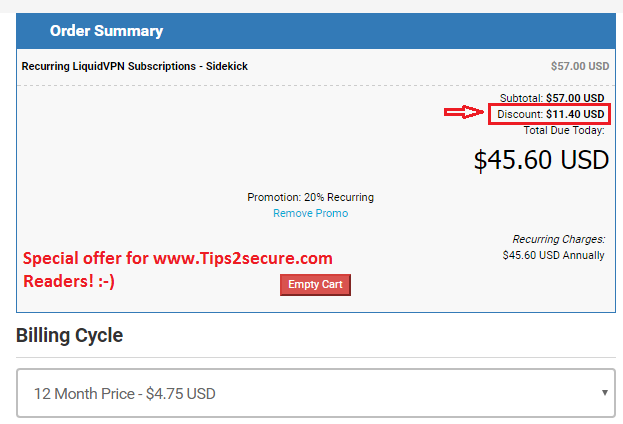 7-Days Money Back Guarantee
There is no free trial for this VPN, but it comes with a 7-day money back guarantee and has a great refund policy. If you are not satisfied with the services, you can get your money back within 7 days or before you use 5 GB of data, whichever comes first.
Payment Methods
The company accepts all kinds of credit or debit cards, cash, PayPal and many cryptocurrencies as well.
Customer support
Customer support is provided in 3 ways, either by a ticket system, e-mail or live chat. However, live chat is only available for a few hours and is not open all the time. But you can always use e-mail which is 24/7 support system or open a ticket of trouble for your queries. The answers to the questions asked were prompt and informative with very fast responses.

Message: I hope that you have enjoyed '[Review] LiquidVPN: One of the Best VPN Service Providers [20% OFF]' article. However, if you want me to deliver more items, then please share my post. You can use Social Sharing Widget provided at the end of every post. After all, Sharing is Caring!