Is MageNet the Best Contextual Ad Network to Monetize a website ?
From the day, I started blogging; I started thinking about how I can monetize my efforts.
I've tried quite a few ad networks before I came across MageNet. In this article I'll provide you with a detailed review of this monetization platform.
Before I start I'd like to tell you one thing – if you have applied for Google AdSense, and didn't get the approval – MageNet is an amazing platform for you to start earning real money. Unlike ad networks – what matters here is not traffic, but the quality of your website and its DA/PA parameters.
So, are you ready to have $$$$$ in your pocket?
Is MageNet a perfect platform for monetization for beginners and pros?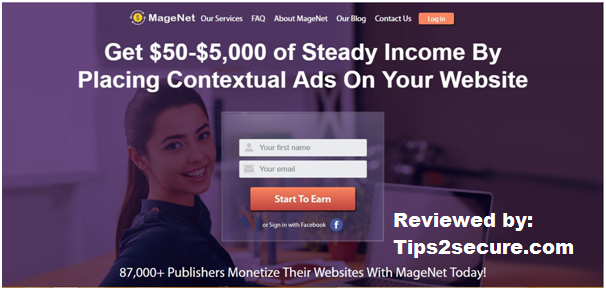 These guys have been in the monetization business for quite a while now, so they are legit. They have 6281+ reputed clients and over 1mln websites in their platform.
But the competition doesn't mean that you won't earn. Like I've said before – if your website is good – you'll make money right from the start.
How MageNet works?
This platform works on the contextual links only. No banners or pop-ups. You'll be earning for placing advertiser's links on your website. That's it. And the best part – you don't even have to do that manually. They have a plugin that integrates with the most popular CMSs, including WordPress.
How will I earn?
You will get a commission every time an advertiser's link is successfully placed on your site.
How does registration work?
It's pretty simple and doesn't require much technical knowledge. This is why I'd recommend this service to the beginners.
The process goes something like this…
You can join this platform without paying a single penny. Yup! You heard it right. It's free of cost to join this platform. After joining, you need to submit your website URL and they will review it within a week.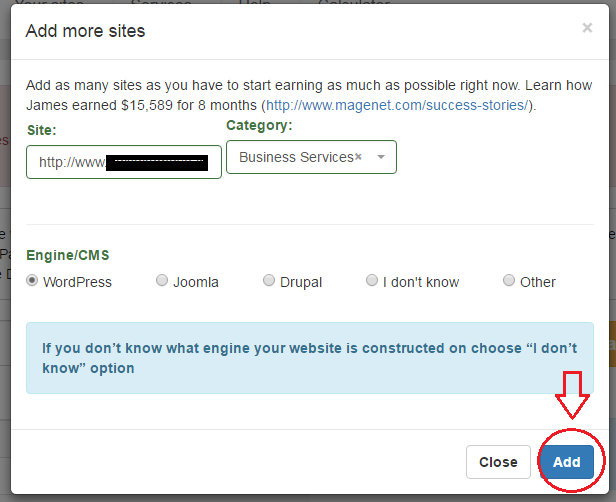 They will let you know how many DA/PA30+ pages you have on your website. Now multiply the number of DA/PA30+ pages with 15 and this is the amount you will get by the end of the month. For instance, your website has 150 DA30+ pages.
So, by calculation, you will get $2250 at the end of the month for link sales at MageNet.
If you don't have DA30+ pages, but your website is in the right niche and you take good care of its design and content – it's alright.
There is a website Earning Calculator on the website that will help you in estimating the amount that you can earn in a month with your website.
Here is the screenshot where I calculated the earnings on Tips2secure.com using their website earning calculator tool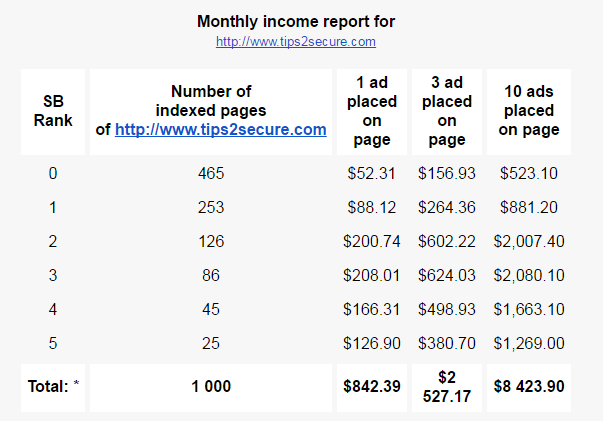 What will my earnings depend on?

As stated above, your earnings will largely depend on your website parameters (DA/PA), your niche, your domain zone and the overall quality of your website.
In my experience, niche websites tend to earn more here than general topic sites. In terms of GEO – websites hosted in Australia, Indonesia, France, Germany, Mexico and other popular locations (apart from the US) also perform better here.
How are link prices determined? How will I get paid?

The best thing about this monetization platform is that you can set the price for every link as per your convenience. You will get monthly payments via PayPal.
What are contextual links?
Contextual links are not malicious for your blog. These are the links which is not considered harmful by Google. MageNet plugin inserts the links and the surrounding text on your pages to look as natural to search engines as possible.
You may like to read,
You can decide which pages of your website you'd like to use for placing backlinks. MageNet will find DA10+ pages and ask you to insert links in the content. So, as they are contextual links, Google won't consider them bad links. So, you are very much safe with MageNet in terms of search engines.
Can I control the sold links?
You can have total control over the links you want to place. It is one of the best features of MageNet. You can block the sites which you think are not good and you won't get any links from them. You can also block a particular keyword.
So, what are you waiting for? Give it a try and get $$$$$ every month in your pocket. This is a good platform to start with.
I hope you will have good experience as well as good monetization with this platform. If you have already used this platform then let us know about your experience via comment section and feel free to share this article with your friends.
Message:
I hope that you have enjoyed 'Magenet Review: Why Is Magenet Best Contextual Ad Network for Your Website?' article on
Tips2secure
. However, if you want me to deliver more items, then please share my post. You can use Social Sharing Widget provided at the end of every post. After all, Sharing is Caring!