I have read many articles on the ways to earn $5000 from Fiverr. If you search in Google, 'how to make money on Fiverr', or 'how to earn with Fiverr', you can find lots of articles and ebooks who claim that after reading their tutorials one would be able to
earn that much amount
.
Trust me, for a newbie, that all are the waste. No doubt, one can earn 5 to 6 figures income on Fiverr but not from the first day. But how? I will explain all in this post.
I am focusing on making your first $5 from Fiverr. Once you make your first sale on Fiverr, you will get $5 as your earnings (only $4 after the deduction of fee).
If you would be able to make your first sale then nobody can stop you to make $500.
Fiverr was founded by Shai Wininger and Micha Kaufman in 2009, and is headquartered in Tel Aviv, Israel. It provides two sided platform for people to buy and sell a variety of digital services typically offered by freelance contractors. Services offered on the site include writing, translation, graphic design, video editing and programming. Fiverr's services start at $5, which is what the company's name is based on and can go up to thousands of dollars with Gig Extras.
What is 'Gig' on Fiverr?
Each service offered is called a "Gig".
What type of services I can sell?
A Good question to ask before signing up on Fiverr. You can sell anything (services) that you want to sell. You can sell your prayers and blessings also for dollar 5. Yes, I said you can sell blessings and prayers also on Fiverr to earn money.
A gig that I found last week on Fiverr with title, "I will pray for your girlfriend". Check the Gigs shown in below image and I am sure, you can't stop your laugh after knowing these Gigs.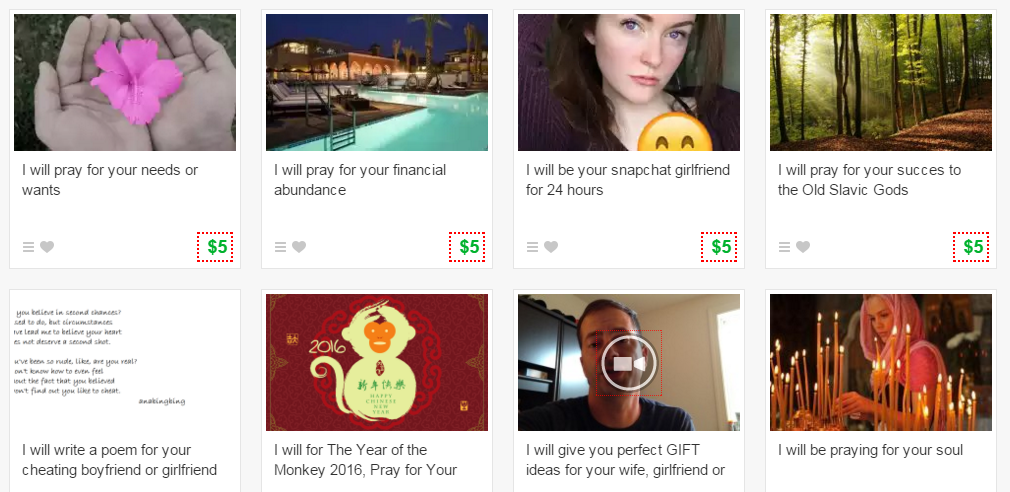 You know what, some of those Gigs are making $100 a day almost without doing anything.
But here I won't recommend you to do the same. You should sell your skills. Sometimes it's hard to think of something to sell. I did some research and brainstorming to come up with some things you could offer.
If you are painter then you should offer the services of painting.
If you are good at writing then you should sell your writing skills.
If you are a blog designer then you can offer blog designing services.
If you are a teacher then you can offer classes.
If you are a logo designer then you can offer logo design services.
If you are a singer then you can sing a song for your buyers.
If you are a dancer then you can sell your dance videos or show live dance for your buyer.
You can also offer;
Handwriting services (thank you notes, greeting cards, etc.)
SEO help
Edit articles or blog posts
Write resumes and cover letters
Write product descriptions
Help people get Facebook or Twitter followers
Create video advertisements
Help troubleshoot website problems
Help people set up their websites
Translation
Interpretation
Transcribe audio files
Help people brainstorm – come up with ideas
Create PDF files
Get rid of computer viruses, malware, and many more other stuffs.
Here are the some gigs people offering to sell for Dollar 5.
Now I will proceed for the Starting steps on Fiverr (A Complete Beginner's Guide)
#1 Creating account on Fiverr
The very first step is to create your account on Fiverr. Visit
www.fiverr.com
and click on Sign up.
There you can find three options to create your profile, by using email, by using your facebook account and by using your Google account.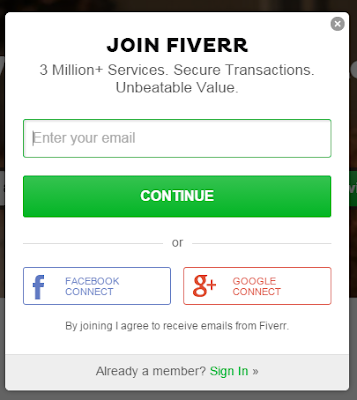 #2 Create a Gig to sell your services
To create a Gig:
After you login, place your mouse over your username and click Selling > Create a Gig.
Note: If this is your first time creating a Gig, place your mouse over your username and click Selling > Start Selling and then Create a Gig.
STEP 1: Overview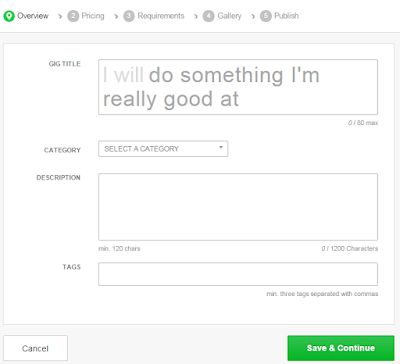 In the Gig Title field, write a title up to 80 characters.
Your title should be short, clear, and to the point.
In the Category drop-down menu, select the appropriate category and then subcategory for your Gig.
In the Description field, write a description of your Gig up to 1,200 characters. Be as detailed as possible so buyers will be able to understand if this meets their needs.
In the Tags field, add a minimum of three words or phrases that best describe your Gig.
Click Save & Continue.
STEP 2: Pricing
In the Delivery Time drop-down menu, select the amount of days it will take for you to complete your Gig.
In the Included Revisions drop-down menu, select the amount of revisions you include in your Gig.
Adding Extra Fast Delivery
You have the option to deliver your Gig extra fast and charge accordingly.
To set Extra fast delivery:
In the My Gig Extras section, select the Extra fast delivery checkbox and indicate how many days and how much money you will charge.
Note: If you select Extra fast delivery, the amount of days for the extra fast delivery cancels out the amount of time you indicated in your extra services.
Adding Extras
The number of extra services you can offer depends on your status; see Fiverr's Levels. These fields are optional.
In the Add Gig Extras section, fill out your unique customized Gig extra. To add more extra services, click Add Gig Extra.
Note: For each extra provided, select the checkbox and fill out your extra service description. Make sure you select the amount of days it will take you to complete and for how much money.
Adding Revisions and Source File Pricing
You are able to better control requested revisions, while maintaining the buyer's right to request revisions by defining your modification pricing. You can also charge for the use of your source file deliveries.
To set revisions:
In the My Gig Extras section, mark the checkbox next to Additional Revision.
Select the number of extra revisions, the cost, and duration per each modification.


To set source file pricing:
In the My Gig Extras section, mark the checkbox next to Source File.
Select the amount you charge for the delivery of your source files. If purchased, you cannot deliver your work without uploading the source files.
Note: The Additional Revision and Source File pricing features are available in certain categories only.


If you provide a product, you can charge shipping fees.
Select the checkbox, and select how much you charge to a specific country and then to everywhere else.
Note: If you have multiple orders enabled, you can select how much you charge.
Click Save & Continue.
STEP 3: Requirements
Tell your buyer what you need to start the order. You can define instructions for your Buyer as free text, a multiple choice question, or a file upload.
In the Requirements #1 field, enter the details of your requirement.
In the Answer Type field, select either Free Text, Multiple Answer, or Attached File.
Note: If you select Multiple Answer, answer fields will be displayed. Fill out the multiple choice answers you want the buyer to select. You also have the option to allow more than one answer.
If you require the Buyer to provide the information you selected, mark the Answer is mandatory checkbox.
Click Add.
When finished defining your buyer requirements, click Save & Continue.
STEP 4: Gallery
In the Cover Photos area, drag an image or click Browse and select an image.
Your cover photo should be in JPEG format, 1100 x 260 pixels, up to 2 MB, and you must own the copyrights.
Note: This field is optional. Only certain categories provide the option to upload a cover photo – see the list.
In the Portfolio Photo area, drag an image or click Browse and select an image.
Upload photos that describe or relate to your Gig. The photos can be samples of your work. Each image should be in JPG, JPEG, or PNG format, a minimum of 550 x 370 pixels, and up to 5 MB. The image should be owned by you. Do not use copyrighted images otherwise your Gig won't be approved.
In the Gig Video area, drag a video or click Browse and select a video. (This step is optional)
Click Save & Continue.
STEP 5: Publish
Publishing and Promoting Your Gig
Click PUBLISH GIG.
You will see various social networks in which you can promote your Gig. To promote your Gig, just click an icon and fill out the details.
Source: fiverr.com
Click Finish.
Important note:
As a new user, you can create up to 7 Gigs. Level 1 sellers can create up to 15, Level 2 sellers can create up to 20, and Top Rated Sellers can create up to 30 Gigs.
Managing orders is a crucial step of your success on Fiverr. Never disappoint your buyers. Always give your best to satisfy your buyers. Never try to cheat your buyer because you do like this even for a single time then you can lose all your reputation and may also start losing your buyers.
How I lose my buyers, if I do cheat my buyer?
Remember, Fiverr business and the success is totally depend on the buyers review and comment. Also, you can't comment yourself on your gigs or you can't ask anyone to give fake positive comments because only your buyer can comment after making the payment and delivery of work. So, never think to spam or cheat your buyer or Fiverr.
You will get success only if you make your buyer fully satisfy.
Never work for only money on Fiverr, always work hard to build your good reputation and to collect positive reviews from your buyers for your Gigs.
Secret Tips:
1. In starting, it may take some time to earn money on Fiverr but once you start getting positive reviews and comments then the number of your sales will be multiplied.
2. Always deliver your work on time. If you won't deliver your work on time then it will be highlighted on your profile and readers may lose trust in your services.
3. Always reply messages and queries on time. If you make your replies late then again it will put negative impact on your profile. It will show your average response time on your profile.
Once logged in, click the Dashboard icon.
Within the TO-DOS section, find an active order and click Deliver Now.
Within the Order page, you can click Deliver your work at the top or scroll down to the bottom and click Deliver Now.
To attach your delivery, click Upload Work.
Note: The single file limit is up to 100 MB. Your total files can add up to 150 MB. If you are not delivering a file, then you will be prompted to confirm that no file is attached.
In the 'DESCRIBE WHAT YOU'VE DONE' field, write a brief description of your delivery.
Click 'DELIVER WORK'.
I have delivered my work, but amount not credited in my account, why?
Fiverr takes 14 days after delivery to credit your amount in your account. It is a rule made by Fiverr to protect users against scam and fraud.
#5 My personal experience with Fiverr
I had created my profile on Fiverr, almost 2 months ago. I created 4-5 Gigs. That gigs are still active and one of my VA (Virtual Assistant) is managing my fiverr account.
I got my first order on 19th day. I was very excited and delivered my work before the delivery time. Then I created some other gigs but when I got my second order, I was not able to deliver so I cancelled that order from myside to manage my good reputation.
One more thing, I was not excited on getting the orders but I already had a plan to hire VA who would manage my Fiverr account. And he is doing good.
Trust me guys, If you would follow the given steps then you can also earn money from Fiverr.
I have an issue with an order, how can I sort out my issue?
If you have an issue with an order, you can use the Resolution Center to assist you.
To access the Resolution Center as a seller:
Once logged in, place your mouse over your username and click Selling > Manage Sales.
Click on an order you have an issue with.
Click the Resolution Center tab.
A solution will be provided based on your order status. For example, if the order is still in progress and you are having a hard time delivering the buyer's request, you may want to ask the buyer to mutually cancel the order.
#6 Getting paid by Fiverr
As I already told you that we get $4 for a $5 sale. Fiverr's commission is 20%. Also, the minimum payout is of $4. You can get your payments via Paypal.
#7 Additional Tips for Fiverr users
1. Only offer the gigs that can be completed quickly.
2. Create multiple gigs to increase the chances of you sale.
3. Offer an incentive for your repeat orders. It is not compulsory or any rule but you can do this to win the trust of your buyer.
4. Keep your response time low & make custom orders. It is an exclusive proposal that a seller can create in response to specific requirements from a buyer.
What does Seller Level mean on Fiverr?
Here are the requirements to qualify the levels.
#New Sellers
30 days active on Fiverr
Completed at least 10 individual orders
Maintain a 4 star rating and above
Have a low cancellation rate
Level #1
Completed at least 50 individual orders in two consecutive months
Maintain a 4.5 star rating or above
Have a low cancellation rate
Level #2
Maintain a high star rating (4.7-5 star rating)
Exceptional customer care
Have a low cancellation rate
Community leadership
Volume of sales
#8 Earn more & rank your Fiverr
If your Gigs rank better then you can also earn bigger. To increase your sales and rank your Gig, just try to deliver more and more impressions on your Gig. You can share your Gig on all major social networking websites like, Facebook, Google+, Twitter, Pinterest, Tumblr, Reditt, and other social sites. You can offer your Gigs by posting in socail networking groups. These steps are must at start. Once you start getting orders and manage your profile with Good and positive reviews then you won't need to promote or share your Gigs on social sites. If your Gig ranks on Fiverr then it will show your Gig at top in search results and you will get potential clients.


Conclusion
At last, I just want to say that you should always Avoid negative reviews by clearly communicating with your buyer, asking questions before completing the work, and stressing the importance of a 5-star review at the time of delivery. Try to deliver more than your gig advertised, if possible.
Message: I hope that you have enjoyed 'How to Earn your First $5 on Fiverr – Complete Guide' article. However, if you want me to deliver more items, then please share my post. You can use Social Sharing Widget provided at the end of every post. After all, Sharing is Caring!