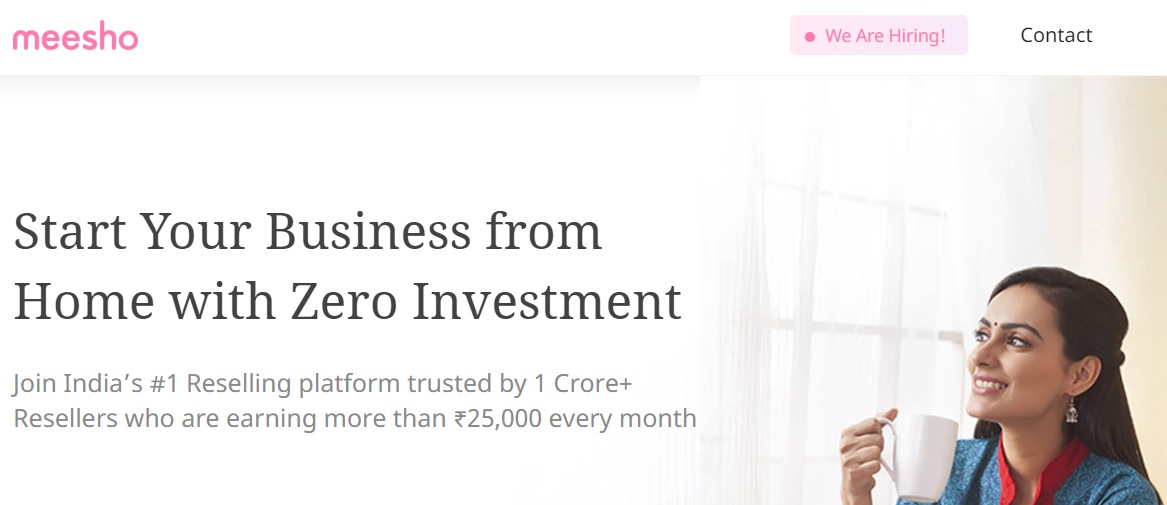 Do you want to start a business from your home with zero investment? Do you want to work less and earn more? Well, here is your wonderful option to make a mega profit. Well, here you'll learn and read Meesho Review, an app that deals in reselling business. In this Meesho App review, you'll get to know all about this reselling business model in India.
Meesho is the Number One Reselling platform used by more than 1 Crore Resellers. India's largest reseller platform has been accessed by people across the world for various reasons.
Meesho is the best reseller app in India for you to earn more than 25,000 Rupees every month. Specifically, there is no limit about the money you could earn using this reseller platform. When you are looking for a reliable way of earning a good amount of money then here is the unique option.
Meesho is the Top Notch application in android platform mainly enabled with added features to the maximum. Now you can easily earn money from your home with the use of the right strategy.
With Meesho, you could conveniently achieve better financial independence and it is helpful for all the aspects. Become a reseller with the use of the Meesho.
You could instantly achieve better financial independence using the Meesho in a much more efficient way. One of the best benefits of using the Meesho is anyone could easily resell with becoming a pro in the field.
What is Meesho (Best Reseller App)?
Meesho is one of the unique and best reseller apps in India, which is founded by the graduates from IIT Delhi – Sanjeev Barnwal and Vidit Aatrey in December 2015. Meesho enables individuals or small businesses to easily start the online store and connect with customers via social media such as WhatsApp, Facebook, Instagram, and many others.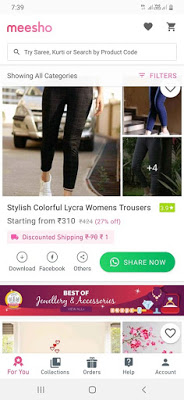 Having its headquarters in Bengaluru, the Meesho set higher visibility among people. Meesho was also selected as a Y Combinator in 2016 and become the part in the Google Launchpad.
The company also becomes the first startup for receiving better investments in Facebook and other social media. With constant updates, Meesho becomes the fastest growing e-commerce companies having its backup from Facebook and Naspers.
Meesho Review: The History Behind It
Meesho has been formed by Vidit Aatrey (CEO) and Sanjeev Barnwai. It all started with the incidental meeting of Vidit and Sanjeev with few small business owners and later discovered how social platforms work prominently with scaling the business.
Founders realized quickly that the innovative way for enabling the appropriate channel for small businesses to easily improve their marketing level.
Building the product for democratizing social commerce with enabling the better aspects would be an efficient choice. Resellers get higher experiences with prominently gaining best solution.
Lakhs of products across different categories have been hosted on Meesho. People could easily buy the products at the lowest price range. Meesho mainly has strict Rules and Regulations for the products.
The reseller who adheres to such rules and regulations could do business with the customers. Meesho mainly has gained massive popularity as the best way of earning money with the use of Android apps.
Meesho is filled with products of greater design, color, fabrics and price range. Therefore, it is a prominent choice for customers to get the best one.
With the use of Meesho, many numbers of people have been earning as well as achieving great success in a more unique way. People see a great result in following Meesho trends. Gain more independence and start earning more with the use of Meesho.
Who Can Benefit From Meesho?
People across the world like to earn more money from their home for their daily expenses. Meesho is a unique opportunity for them to easily get complete independence in earning more money. Below are those who could get benefit using the Meesho
Homemakers
Business People
Regular Employees
When you like to earn money through the app then Meesho is a perfect answer.

Live Your Dreams!
Meesho becomes the unique choice for easily living your dream with earning money. The core value of Meesho is to make the resellers successful in all the aspects. Team of experienced professionals is ready to work completely for your growth.
Now you could instantly start your business even without the use of any personal savings or loan. Of course, it is considered as the best option for easily adding more income for your daily expenses and easily enables high flexibility.
Spend more time with your family and earn more through Meesho.
Get Bonus up to 6,000 weekly which is a much more unique solution in a significant way.
With the use of trending in social media, business marketing becomes the finest choice.
Regular sharing on social media platforms become much more significant option.
How Meesho works?

However, Meesho helps one to make their business at the top extent. In addition to this, it works better and thus it involves more things to direct towards the dedicated mobile shopping app. It makes retail shopping boom at a good level and experiences a good solution for shopping. Customers even find out many things that involve carousels of products and ask questions accordingly. It is meant for taking part in payment by clickable URL along with the bank transfer for other systems.
Earn profits on every sale
If you understand Hindi, then watch this LIVE step by step guide video to understand how it works.
You can sell the wholesale products that involve the best choice to meet the requirements. It should not meet the changes concerning the app and works clearly. Looking for an app to earn money online?
Consider Meesho app that works perfectly and fits your requirement. One can even work from home and earn commission wise. It has a maximum profit margin on every order and weekly cash bonus rewards. It mainly targets on developing sales revenue and boost accordingly.
So, it is nothing but it helps many users grab fantastic opportunities as well. Every order has a profit margin that delivers an amazing solution for
earning money online by working
.
(Meesho Review) How to Earn Money in Meesho?
It is nothing but trusted app that delivers an awesome solution for working at Home with Meesho app with simple access. It mainly targets the part-time job that discovers a new solution for accessing with more results.

Anyone looking for a part-time job can use this app for a better experience. It works mainly on targeting your brands at the global level using the social media presence. With more profits gain for every order, you will get weekly cash bonus rewards and meetings.
At first, install the Meesho app and sign up with phone number
Browse popular wholesale products and get regular notifications about new products
Share these catalogs that include family, friends, and existing customer network
Earn once you post your products in the group
Collect payment from customers in your bank account or online wallet
Meesho adds profits margin on every sale and gets a weekly cash bonus
Get credits in sales
The customers can check out many products at a single click because of the massive response. You can post whatever brands may be familiar and reach globally. Therefore, Meesho represents good margin that invites many things to add effectively as possible. On every sale, users acquire maximum credits in taking proper limits. It involves lots of benefits by taking control over cash bonus on placing more orders.
1. Sell Chinese and domestic goods
Meesho helps one to earn money online due to wholesale suppliers. It quickly sells many products that involve the best solution for popular customers. It also ensures to make available of sourcing them directly from the wholesale suppliers.
The platform is also applicable for domestic and Chinese goods and manufacturers. They even get odds for posting their brands in the app. While using this platform, it stands the best solution and earns many things as quickly as possible. So, it comes to find out many collections within a single click.
2. Applicable for factory pieces and wholesale
On the other hand, it is suitable for one to make a perfect choice and discover a new idea. Some of the factory pieces have ideas regarding wholesale supplies suitable for your requirements. It then stands out the best solution for targeting your brands globally.
Customers can expect the lowest prices which is applicable for factory pieces and wholesale-retail collections. Getting the best quality products are likely to admire on accessing with more solution forever. It gets awesome arrivals that earning money online by connecting wholesale suppliers in the platform.
3. 100% satisfaction for resellers
One can get the highest range of money online by connecting on wholesale suppliers. It tends to focus on the customer's choice and begin to carry out many collections at a single click. Then, it provides awesome arrivals that give manufacturers a good choice. Keep your customers engaged with the best quality product is always delivering a fascinating approach. It takes care a lot by delivering 100% satisfaction to the customers.
4. Profits in reselling business
One can even get cash on delivery option when you use the Meesho app. It delivers quick results because it provides excellent retail business opportunities. Thus, it provides a safe solution that begins to care a lot by reselling business.
When placing an order, products, shipping seems to grab more features in supplying and delivering them to customers. Meesho is a very good way to earn money while sitting at home. It has a good role in taking part in earning money through Meesho.
5. Uses of Meesho
Many individuals are earning more income from the Meesho app. The good thing about this app is that it offers different categories to buy. By using this platform, you can refer the fashion and household products at Meesho to many numbers of people. Luckily, if they place the orders, you can become a reseller family of Meesho.
You need to wait for the orders to get successfully delivered to the people. Once the return period has completed, you will receive the commission. It is pleasing news for everyone that Meesho is still transferring Referral incentives or rewards to the resellers of every delivered order.
If you refer more numbers of Meesho products over different kinds of social media channels, you will get an excellent opportunity to earn more through the Referral Commission. Hence, it is an excellent way to earn cash from your comfort place.
How to use Meesho app?
The most impressive feature of this reselling app is that it involves convenient and simple procedures. It makes the process much easier.
It will grab the attention of boutique and shop owners, wholesale traders, beauticians, college students, housewives and even women entrepreneurs towards this app. These features also encourage them to use it.
It is pleasing news for everyone that you need not go to any business location. Instead, you can do your business from your house and earn more money. When you decide to use this app, you can look at the following procedures to learn how to use meesho.
The first step is to download the Meesho app either from the iOS app store or Google Play Store
After that, you can register your account by entering the required basic details
It will take you to the main page of Meesho app
It is the right place where you can find out the great collection of wholesale products including beauty products, jewelry, suits, surat sarees, Kurtis and much more.
Then you can begin sharing the products
It is highly advised to use the most leading social media channels or message platforms like Instagram, Pinterest, Whatsapp, and Facebook.
If you are doing this process continuously, you can get an idea of what kinds of products are cheap and trending.
The proper understanding helps you to share accordingly and get orders as soon as possible.
It is equally important to create an excellent customer base. By creating a reliable WhatsApp group, you can add all of the customers.
It is highly recommended to share the daily products
You can follow these procedures to do your business from anywhere or home with Meesho.
Meesho App Review: What makes it ideal for everyone?

If you have a dream of earning more money, you can benefit from Meesho app. It is because this app gives you a fantastic chance to make your dreams into reality. Here are key specialties of this app as follow:
1. Be independent and bold
Anyone can start the business without personal savings or acquiring loans. By doing this home-based business, you can add additional income to the family wallet without any difficulty. Most essentially, you can acquire the flexibility of doing your work without moving your chair.
2. Anyone can easily resell
Whether you are business individuals, professionals, students, teachers or homemakers, you are capable of becoming the top Resellers of Meesho.
It is well-known for having 1 billion active users every month. Luckily, this count continues to grow to new heights. It is the main reason why small businesses rely on WhatsApp for sales.
Meesho added some commerce features to this social media messaging app to let businesses for engaging with buyers and efficiently sell the products. The main aim of Meesho is to soothe the pain points of WhatsApp commerce by moving the buying experience to the committed mobile shopping tool.
It is the right place where people can easily browse a great range of products and asks questions to buyers before making the online payment.
Apart from that, Meesho alerts the sellers while potential buyers are viewing the store on this platform. It brings them an excellent opportunity to interact with their customers.
Facebook is used by many businesses for better customer acquisition. Meesho uses this same technique to increase sales.
Meesho App Review: Pros
An amazing platform to work
Co-workers are doing very friendly
Secure working environment
Very flexible
Lots of new things to learn
Business is growing quickly
Excellent pay
Wonderful work-life balance
A unique concept that is working
Smooth transition
Fantastic chance to explore ideas and grow experiment
Meesho App Review: Cons
The infrastructure needs to be improved
You may like to read,
Meesho Review: Benefits of Meesho App
In general, as mentioned above, the meesho is one of the leading and top notch reselling application where the reseller can able to grow and build their business in an most effective manner. Below, you can check out the benefits of meesho and how it will help the resellers.
The benefits of Meesho app are mentioned below:
Buy products at lowest costs
Grab popular products
Easy product returns
Choose high quality products
Most effective logistics support
User-friendly customer support
Payments will be made on time
COD – Cash on Delivery
Increasing the customer base
Providing discounts and offers
1. Buy products at lowest costs:
Sure you can able to buy the products via this app at very lower costs and can able to gain more benefits. The prices will be fixed based on the factory prices which have been sourced directly from the manufacturers and wholesale providers in a most extraordinary manner.
2. Grab popular products:
It is also to be noted that, meesho will help the users by making them to earn money via online via connecting them to the wholesale providers who were selling trendy products. The trendy products are Pom pom Sarees, Selfie kurtis, Silk Sarees, Surat Sarees, Home decor, Jaipuri bedsheets, jewellery, beauty products and much more products, which are popular among the customers.
3. Easy product returns:
Most of the customers will never be happy after they have received the product from online. It is due to the various. Sometimes they may unknowingly order some other products that they never thought to buy. For those kinds of peoples, easy product return option is available. With this easy return option, your customers will become happier.
4. Choose high quality products:
Basically, when you want to buy quality products, then sure you can choose this app. Generally, meesho app will undergo quality checking process. At that time, only quality products will be selected and it will be go to the next level. So, finally customers can only get the quality products from here.
5. Most effective logistics support:
The delivery and maintenance of your products will be taken care very safely and you no need to worry about the products.
6. User-friendly customer support:
Whenever you are having any doubt regarding this application, then sure you can contact the support team and the user-friendly experts will clarify your doubts. Sure it will be effective.
7. Payments will be made on time:
The reselling payments will be immediately made on your bank account after the business dealings got completed. You can also have the chances to grab more rewards and bonuses.
8. COD – Cash on Delivery:
Increase the trust and loyalty among the customers; you have to offer the cash on delivery option, when customer is going to order their products to you.
9. Increasing the customer base:
Increasing the customer base is one of the major processes in growing the business to the next level in a most effective manner. You can gain more customers by offering quality products.
10. Providing discounts and offers:
Through the discounts and offers, users can able to secure more money.
Basically, the application has been tie up with the top notch quality manufacturers and suppliers in an advanced manner. They will do the business only with the most reputed service providers, so that they can able to offer the high quality products on those apps. At one place, the resellers can able to access all those products. So, it is not needed to contact separately the differently procedures for their unique requirements.
According the most recent market trends, the resellers have been updated regularly in an enhanced manner. With the latest fashion wear, this reseller app will be updated regularly. It will be possible in clicking 'for you' section. Resellers will receive the notification based on the same and they will share those products via their network very effectively. It will help the users to place more orders and get more queries.
Message:
I hope that you have enjoyed 'Meesho Review 2020- Is Meesho Best Reseller App in India to Make Money?' article on
Tips2secure
. However, if you want me to deliver more items, then please share my post. You can use Social Sharing Widget provided at the end of every post. After all, Sharing is Caring!