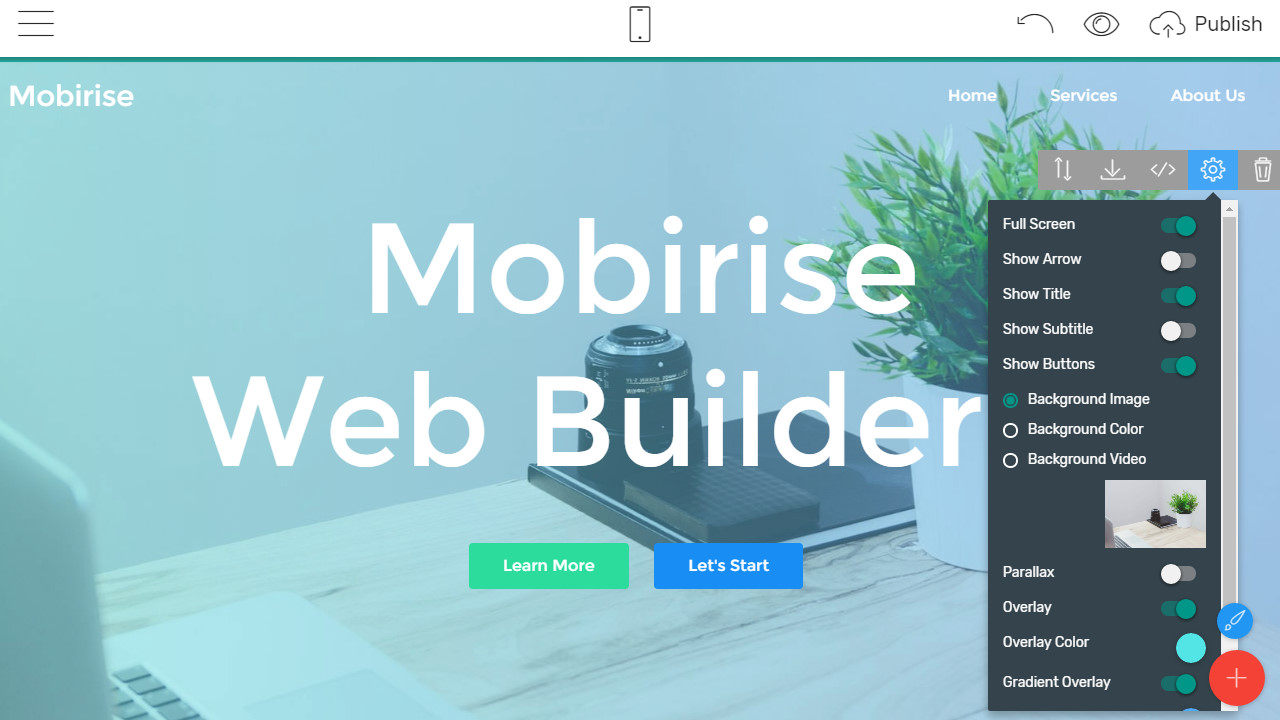 Building up a website is not so easy task to perform. On really need to be well aware of the tools and tricks to create and set up a professional-looking website. To make the task of website building much easier developers have been developed various tools known as website builders.
Website builders are actually a perfect solution for all those who are looking forward to a professional-looking website and that too without taking help of any professional for the same. It is the easiest way to set up a fully functional website.
One can easily find a wide range of platforms such offering simple drag and drop solution for the same, but is that so easy to find the right solution for you? Surely not. The process is quite tricky. We are here with one of the finest website builders for you and that is Mobirise Web Builder. The tool is really great and supports various powerful tools like Bootstrap 4 and Google AMP etc.
What is Mobirise?
Mobirise is one of the finest offline website building tools that has made it quite easier to create small and medium websites, landing pages, online resumesand portfolios on various platforms such as Windows, Android, and Mac as well. If you are looking for a best to money options for creating up mobile-friendly websites; Mobirise is the perfect tool to help on.
Mobirise has served to be a great tool for all the non-techies who want to earn money by creating professional-looking websites just by using drag and drop options. The best thing about this app is that it is free to use for both commercial and non-commercial usage. Just enjoy the option of play and plug by making use of a few clicks only.
Also Read: How to Get a Best Website DesignerHow to Get a Best Website Designer?
Here is a DEMO Video:
How Mobirise works?
Mobirise is fully embedded with powerful Bootstrap 4 templates framework structure that makes it quite easier to use and work on. As we have mentioned you earlier that it is an easy drag and drop solution specially designed for the newbies and non-techies. The working process is quite easier here. All you have to do is:
Create a new website and then pick up the themes you wanted to set here.
Make use of big red "plus" button to expand the blocks panel of your website and then drag the blocks over here as per your preferences.
Once done, now edit the content of each block just like a regular text editor.
Tap on the media elements and then insert your own image, video, and icon as per your preferences.
On the completion of the above process successfully; now tap on the Parameters Panel option and then select the appropriate options.
Read out the provided instructions very carefully and then tap on the "Mobile View" option in the website builder to go further with the process. It will offer a website preview for you. You can easily check the different contents of your website and its appearance on various devices.
Once done, publish the website to a local drive, FTP or Mobirisesubdomain as per your choice.
Pros and Cons of Mobirise
As we have mentioned to you earlier that it is one of the finest and free website builder app that have changed the aspect of website creation to a greater extent. To know about this wonderful tool further it would be quite efficient to know about its pros and cons in deep. We are here going to introduce you with the various shades of this tool. Please have a look:
Mobirise Pros:
Mobirise includes a very simple and intuitive interface that one can easily use through simple drag and drop options.
It is a completely free tool for both commercial and non-commercial usage.
Mobirise is fully equipped with full support powerful applications like Bootstrap 4 and Google AMP.
The tool serves as great support for the newbies and non-techies.
It is fully loaded with inexpensive add-on options.
Mobirise Cons:
Mobirise does not support any hosting services for developing websites.
The installation process sometimes gets too hard to go through.
The app does not offer a blogging feature to enjoy on.
Mobirise does not include any free code editor plugin option.
You may like to read,
Conclusion
If you are looking for one of the best and easiest solution for building up professionally looking websites, Mobirise is just the tool one can trust. Coming up with simple drag and drop option; the tool really has made it a matter of a few minutes only to create a well-functioning website. We have summed up above a true review of Mobirise. From the installation process to its pros and cons we have tried to sum everything. Hope this review will make it easy to get a clear cut idea about this wonderful tool.
Message:
I hope that you have enjoyed 'Mobile-Friendly Website For Free – Mobirise Website Builder Review' article on
Tips2secure
. However, if you want me to deliver more items, then please share my post. You can use Social Sharing Widget provided at the end of every post. After all, Sharing is Caring!