Facebook Marketing has never been so easier and time saving than before!! Thanks to Ninja Blaster marketing tool which is a complete package for social marketing and making your business viral in no time. Social signals have now become one of the most powerful elements of SEO that determines your ranking over the web. Driving Facebook shares and like and boost up your

website's SEO

and provide you an advantage over sites that lacks social sharing. Ninja Blaster is one of the superb ways to enhance your social presence over the most powerful search engines.
Knowing about Ninja Blaster
Ninja Blaster
is a superb social marketing tool that is built for social media promotion and brand enhancement over social media. Its major source to drive traffic is Facebook and Pinterest. The only thing you need to do is to purchase this package and start using it wide range of services. Just think about adding useful social signals to each post of your blog. It is definitely going to enhance your website's SEO.
Moreover, Ninja Blaster is a powerful tool for most of the businesses looking to promote themselves over Facebook &Pinterest. Ninja blaster allows you to post, schedule, or comment on different groups and fanpages on Autopilot mode. It is one of the best tools to go with if you are starting with
social media marketing
on Facebook or Pinterest.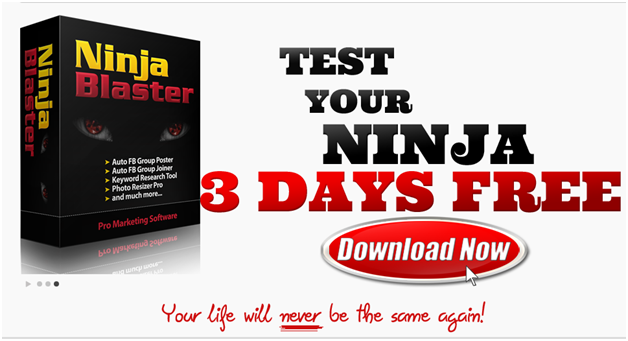 Top Features of Ninja Blaster
You must go through some of the versatile features of this tool and decide why going with this tool is one of the best ways to promote your business on social media.
Features

What is Offered?

Keyword Research & Suggestion

·

Good research of keywords.

·

Keywords list can be easily imported.

·

You get the best keyword suggestions.

·

You can find best longtail keywords.

·

It finds keyword suggestion from five search engines.

·

Things are done on autopilot mode.

Image Resizer & Optimization

·

Just a single click and image will be resized.

·

The process is fast and speedy.

·

A lot of bandwidth and time is saved.

Online Marketing

·

Facebook is unable to detect that you are using software for promotion.

·

Updation can be done on regular basis.

·

New features would be launched shortly.

·

It has award winning support.

·

You can use this tool free for 3 days and then decide whether to go for it or not.

Time Saver

·

You can start your business promotion anytime.

·

Results can be noticed instantaneously.

·

You can drive massive social traffic.

·

Your business goes viral in few minutes.

·

You can use as many Facebook accounts you want for promotion activity.

Email

·

Emails can be saved as .txt files.

·

FB emails can be scrapped.

·

Import in Gmail sender.

Brand Promotion

·

500 mails can be sent every hour.

·

Unlimited emails can be sent.

·

Easy promotions can be done.

CraigList

·

Unlimited mails can be scraped.

·

Emails can be exported as .txt files.

·

New leads can be generated easily.

Gmail

·

You get unlimited Gmail mails.

·

Emails can be saved as .txt files.

Pinterest

·

Pin the posts on autopilot.

·

Repin the posts and post new pins on autopilot.

Facebook Group Marketing

·

Posts can be done in different groups.

·

Groups can be selected to post in.

·

Schedule the post in the group and you can even set a time delay between every post.

·

Select the groups you wish to join.

·

Selected groups can be joined in one click.

Facebook Fanpage Scheduler

·

Pages can be updated in fix time frame.

·

Multiple posts can be scheduled.

·

Single click scheduler.
What Ninja Blaster the Best Social Marketing Tool?
However, Facebook has put in limitations on sharing rules, but Ninja Blaster takes care of it well. You don't have to worry at all if you have Ninja Blaster tool. It even resolves the Facebook account ban troubles that might be caused due to too much posting. Ninja Blaster is filled with good amount of features that are worth using. You can easily get the targeted traffic in no time to your post. Ninja Blaster has much more to offer to its buyers.
You may also like to read,

Best Keyword Research Tool: SEMRUSH
Ninja Blaster: Feature Highlights
1. The posts can be shared on infinite Facebook groups.
2. Ninja Blaster offers range of Facebook Page Administration & Automation services including page like, post commenting, status sharing, post scheduling and lots more.
3. Pinterest services was added in an update that includes sharing pin, bulk image sharing, and bulk pin poster.
4. Your social activity over Facebook &Pinterest is improved that is an healthy signal towards your site's SEO.
5. It searches related keywords from 5 different search engines for you.
6. Keyword related images can be downloaded and resized easily using this tool.
7. You get proxy addresses for high speed downloading.
8. You can builtCraiglist and Gmail subscriber list for generating good business.
Pricing of Ninja Blaster



There are three different options to opt for services of Ninja Blaster social marketing tool. You can choose to go with anyone.
1. Pay $9.95 for a month, utilize its services to fullest and then decide whether you wish to renew the package or not from next month.
2. You can choose yearly package too that will cost mere $59. You can renew it if you want to continue Ninja Blaster's service.
3. If you trust this software after the free trial and want to use it for lifetime then you have to pay only $97 for the lifetime access.
Final Words
Ninja Blaster is a fabulous social marketing tools especially built for Facebook and Pinterest promotion. The tool looks well into your promotion needs and ensures that you are visible over social media and even on search engines.
So why are you waiting?
Start martking today with Ninja Blaster
.
Message: I hope that you have enjoyed 'Ninja Blaster Review: Best Marketing Software For Internet Marketers' article. However, if you want me to deliver more items, then please share my post. You can use Social Sharing Widget provided at the end of every post. After all, Sharing is Caring!