Have you ever scammed by online earning programs that make false promises to pay huge earnings and change your lifestyle? Lolzz… I know more than 70 percent people had been scammed by these type of fake opportunities. You know why? Because when they show us their promises and income proofs, they all look genuine and real payment proofs which make us able to believe on their promises. Proofs which are shown by them of bank statements, Paypal account screenshots, Adsense earning reports and many more.
I bet after reading this post you can't stop yourself to share this post with others as you are going to know the real facts of how they are scamming people by showing fake payment proofs, fake statements and I will also show you the steps of how they create these type of fake reports.
Here in CASE 1, I am going to upload three images from Adsense account, first would be of real payment screenshot, the second would be of false payment proof screenshot with large differences and mistakes and the third one would be of perfectly designed fake payment proof, which you can't guess that it's fake one.
CASE 1
First Image
Payment proof screenshot of Google Adsense account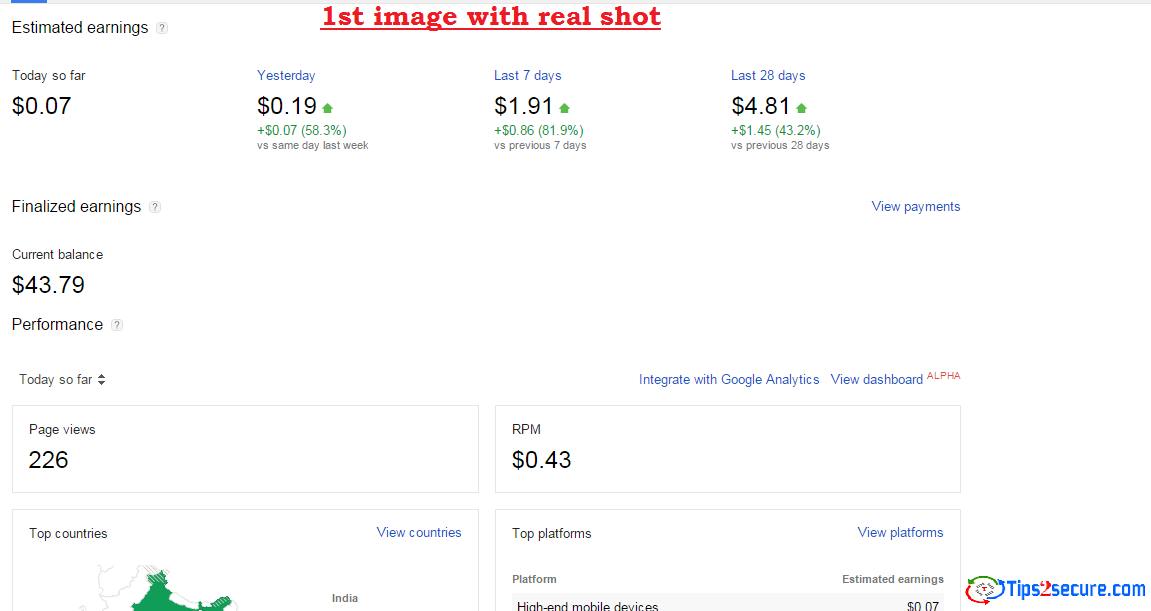 In this image, I took a screenshot of real Adsense account login, having earnings of $0.07 with 226 page views and RPM was $0.43
Second Image
Half edited image of Google Adsense payment proof screenshot

After observing 2nd image, you might laugh on mistakes did in this image. I did this mistake intentionally make you clear about how people are scamming you. Earnings are now jumped from $0.07 to $225, but page views are still 226. So, is it possible to earn $225 with 226 pageviews from Adsense? After observing the second image, you can easily understand this proof is fake.
Third Image (Perfect Editing)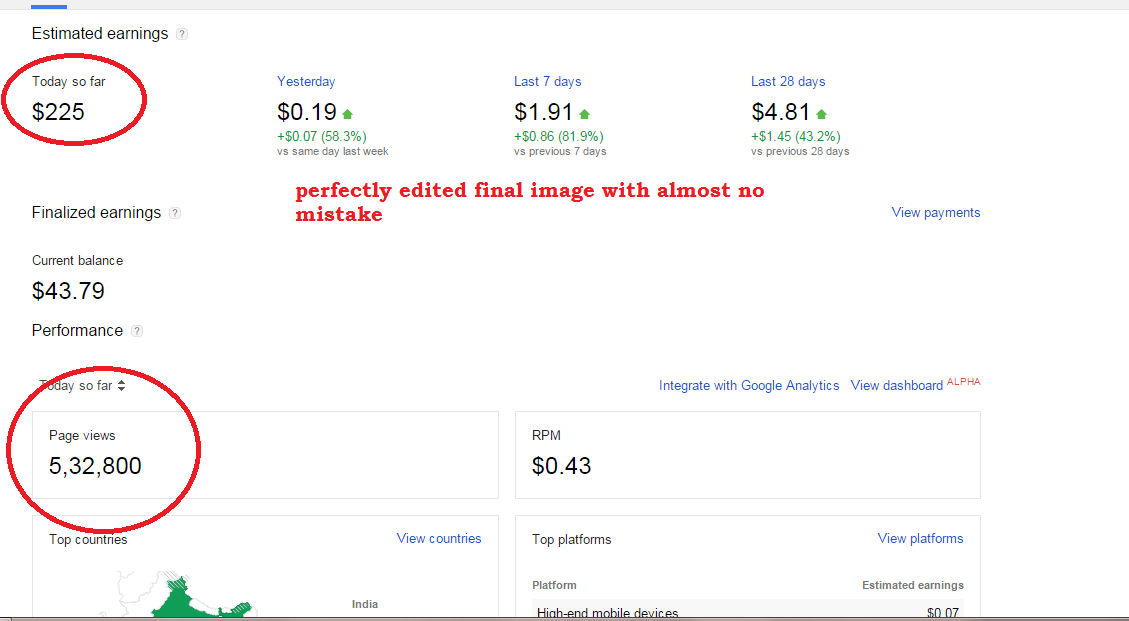 Now, you can see, this image is with almost no mistake. Anybody can easily believe of earning 225 USD with 5,32,800 page views in Adsense.
Here if anybody ask you,
"Hey! want to earn like me? I will give you the trick to earn this figure only in 50 USD. Pay now and start earning this figure from today onwards with Adsense!"
What you will do? I think now, I don't need to explain what I want to make clear here.
Some of you people start making the guesses that, these images have been edited in paint or photoshop. No dude, you are wrong. Editing in photoshop and paint are easily tracked. These images are edited by inspecting elements. You can also try it. Don't worry it's so simple and I will guide you how that scammers do this. but before I would like to show CASE 2 with Paypal account payment proof screenshot.
First Image (Real) with Zero balance in my Paypal account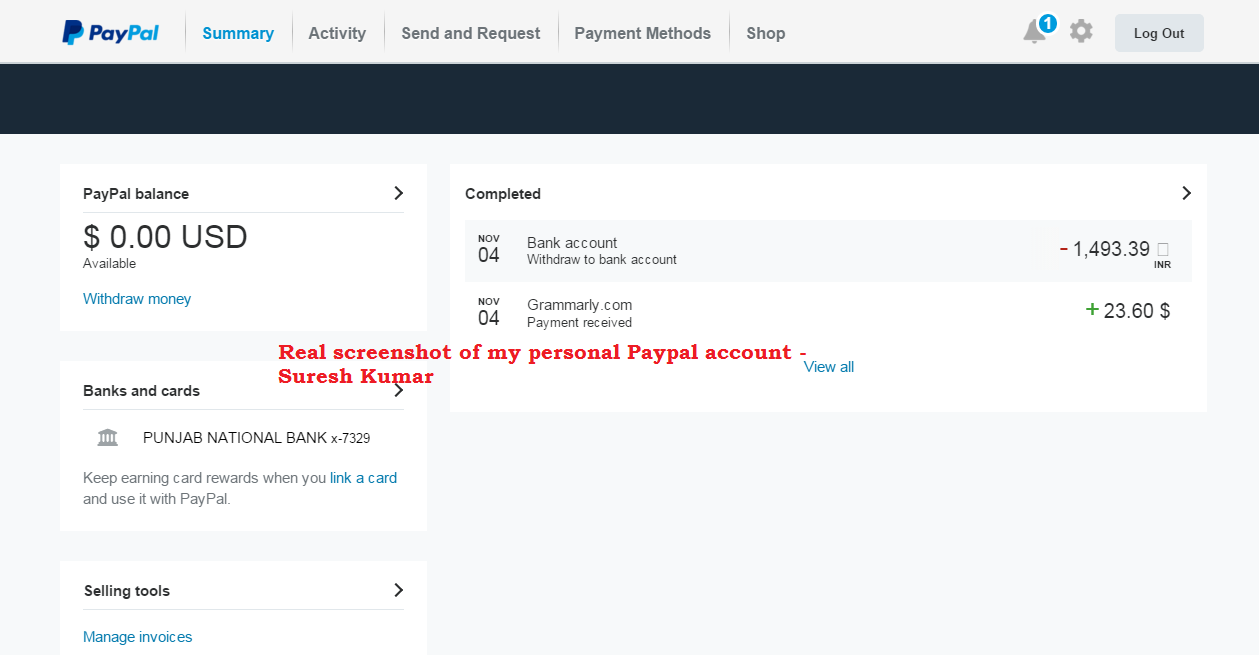 This image is the screenshot of my personal Paypal account.
Second Image (Edited)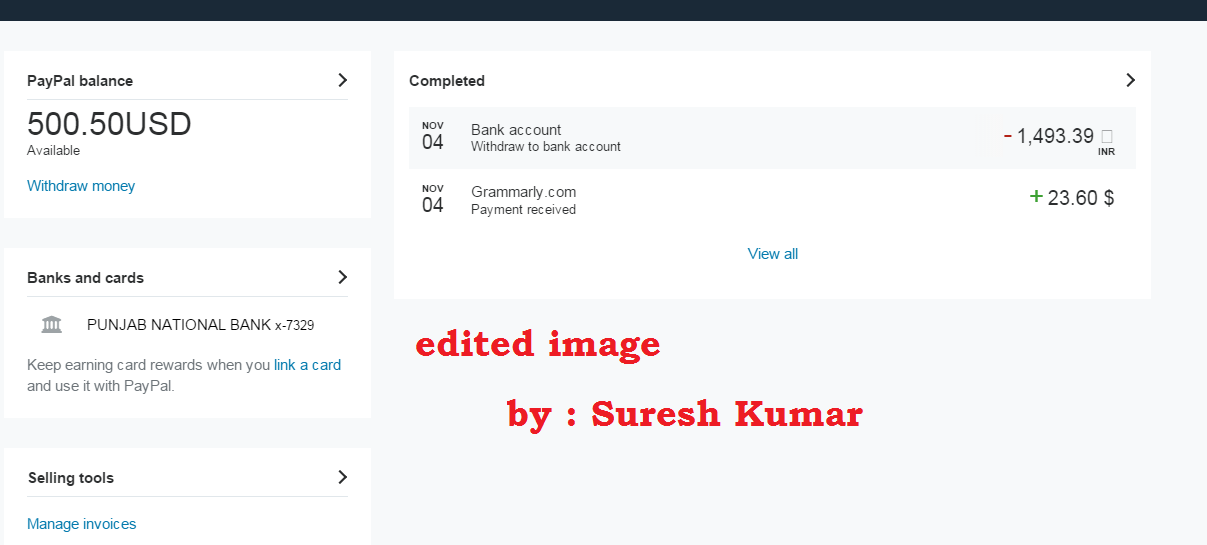 In this image, you can see that I have funded with 500 USD, which is not true and you can say fake. This same thing is used by scammers to do scam with us.
Now, your wait is going to over and It's time to reveal the techniques used by scammers to create these type of fake payment proofs.
Watch this video, In this video I have captured the steps of how people create fake payment proofs.
Link to watch this video on Youtube:
Video Quality: High Definition
Video Length: 50 Seconds
Created by: Suresh Kumar
Conclusion
I hope you have learned lots of new things after going through this post and reading the section of Conclusion. I suggest you please make sure about the programs before in which you are going to participate. Do some study and researches online before investing in any online earning program websites, no matter how appealing they are. If you share this information with your friends and on your social sites, then it would be appreciable as it may prevent some people to be scammed by scammers.
Message: I hope that you have enjoyed 'How People Create Fake Payment Proofs to Scam You?' article. However, if you want me to deliver more items, then please share my post. You can use Social Sharing Widget provided at the end of every post. After all, Sharing is Caring!