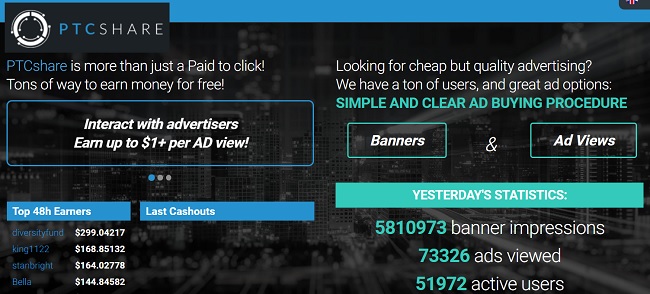 If you are the one who interested in PTC websites then you might already have heard of recently launched paid to click site PTCshare. In this post, I am going to share my honest Ptcshare review whether Ptcshare is legit or Scam.
PTCshare is a paid to click website launched on 14th June 2019. This platform is launched by the same managing directors of Paidverts & Mytrafficvalue platforms running for the last 9 years.
I was also involved in paidverts 5 years ago and earned $1000+ in just few months and then left that. But this time, I am going to be very serious with PTCshare as it has come with numerous features and tons of methods to earn money.
In this post you will learn;
What is PTCshare?
Is PTCshare Scam or Legit?
How Ptcshare Generates Revenue?
How to Earn money with PTCshare? (Explained Each method in detail)
How to buy Bulk Ads to Accumulate more BAP?
PTCshare Referral Program details
Ptcshare Payment Methods
Ptcshare Payment Proof
Conclusion

Ptcshare is a PTC website like Neobux & ySense where you can earn money by surfing Ads on a daily basis. You can also complete short tasks and surveys to earn extra and fast money.
PTCshare offers these earning opportunities;
Paid Ads (By viewing a few seconds of each Ad)
Click Grid
Cash offers (By completing short and simple tasks)
Games (By playing games)
Refer and Earn
We will discuss each point separately and learn how to earn more dollars in PTCshare, just keep reading the post.
Before proceeding further, I would like to answer this question because there are so many people that want to get started with PTCshare but they are confused whether they should start or not.
So by coming to the main point, Is Ptcshare Scam or not? The Answer is; PTCshare is 100% real, genuine and legal platform to earn money.
The model is based on Advertising. Ptcshare never offers any fixed return or profits they simply share the percentage of revenue generated by them to their users.
Ptcshare generates revenue by advertising as you can see there are tons of banner ads on their website and even in your dashboard. Secondly, users need to purchase Ads to accumulate more BAP to increase their earnings.
Ptcshare also offers a different kind of subscription packages to their users to save their time, receive recycled ads, super upgrades to ger your BAPs converted into cash faster. Ptcshare earns huge money from these subscriptions as well.
They distribute paid ads Monday to Friday and the value of Ads in $$$$ differ daily. Paid Ads value depend on the total revenue generated by the company on the previous day. Ptcshare shows all these data and other stats publicly on their website.
At first, you need to register yourself.
CLICK HERE
to create your account. You need to enter a username, email address & password to create your account.
You will get a verification email to your registered email address, open that email, click the verification link and verify your account.
Sometimes, verification email goes into Spam/Junk folder so check them if you don't receive in your email box.
Once you're done with the registration process, Login to your account and access your dashboard.
After checking the dashboard, you might get confused at first because of their ugly interface (yes, I didn't like their interface). So let's talk and discuss the main points/options that will help us earn more money.
NOTE:
If you face error or problem in viewing Ads then navigate to your account settings and switch captcha.

Paid ads are the Ads that we need to click and view daily to earn money. We get paid Ads depending on the number of BAPs we have in our account.
So here the main point comes, how to accumulate more & more BAPs? Well, there are two options for that; 1. Watch activation Ads daily to earn some BAP, 2. By purchasing bulk Ads.
Bulk Ads purchase worth $1 gives you 2360 BAPs that equal to $1.18. Means, technically, you're going to earn 118% on your Ads purchase. The more Ads you buy the more BAP you will accumulate and the more dollars you will earn.
My Best Strategy to Earn More Money: At the initial stage, Invest the amount whatever you can and then start compounding the earnings you get for viewing Ads at least for first 3 months and you will see there is a huge growth in your money. After 3 months, you can start withdrawing some percentage of your revenue for your use and keep compounding the remaining amount.
For example, On the first day, you invest $50 in buying Ads and acquired 118,000 BAPs. Now if you earn you $1 on the next day or whenever just invest that $1 again in buying Ads regularly. In this way, you can have a good number of BAPs.
If you want to know how much & how fast dollars you will earn then do focus and learn the BAP group distribution chart.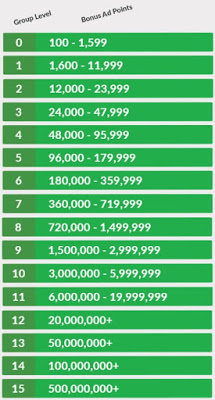 There are 15 Levels in Group chart and you will receive the earnings according to your level. Check the above-added image carefully.
Like if you have 100,000 BAP then you will fall into 5th Level that is for the people having BAP 96,000-179,999. Now, all the people falling in the 5th level will receive the same amount of Ads and Earnings.
The higher the level you get in the higher value of Ads you will get. 
Sometimes, People from 7th or 8th level get the value of ads as high as up to $30 for a single click.
You may like to read,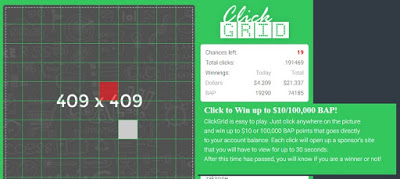 Click grid is like trying your luck to win jackpots. You need to click on grids and view ads for 4 seconds each and if you're lucky enough then you can earn some BAPs or dollars. But at most of the time, you will fail as per my experience.

In this Ptcshare review, this is the most liked feature by users as here you can earn money by just completing short & simple tasks. You can also earn money by completing surveys.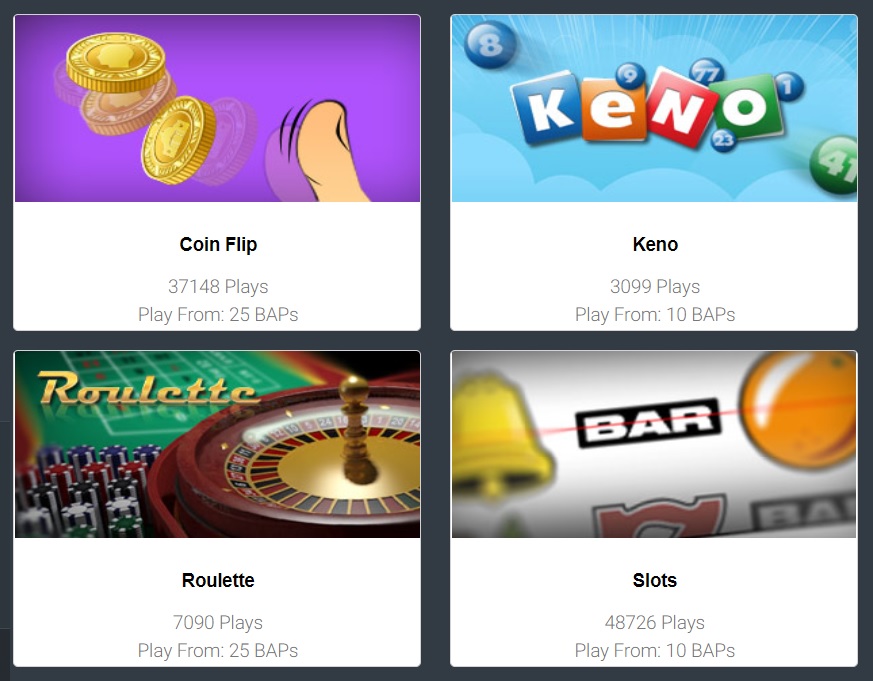 In this section, you can use some of your BAPs in playing games and if you win you get double of BAPs you invested in playing the game.
Now, I am going to teach you how to purchase bulk ads to earn more BAP.
Remember, you will get BAPs only if you purchase bulk ads, if you purchase other options available for purchasing Ads then you won't get BAP.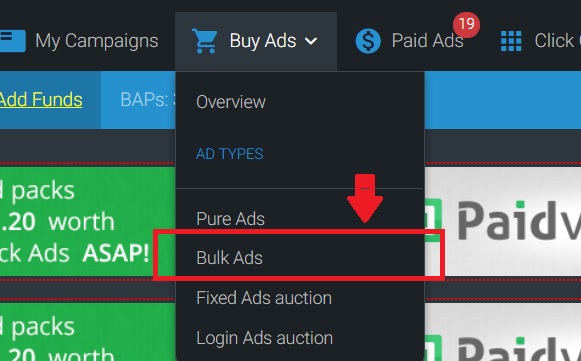 To purchase bulk Ads follow these steps;
Login to your account
Navigate to Buy Ads>>Bulk Ads
Give a name to your campaign
Add 3 lines of description about the product or link you're going to advertise. You can bring or send this free traffic to any of your website, link, app, or product.
Add a link (If you don't have any link to add then you can simple Add your Ptcshare referral link but it's recommended to add some other links to get additional ROI on your purchase.
Now click verify and proceed. You will be redirected to view your ad for 4 seconds
Now it will ask you to Add banners, simply Opt Out both the banners
Select the payment method you want to use to make your purchase
You're done. The BAPs will be added to your account instantly.

Now in this Ptcshare Review, we will discuss the referral program by PTCshare. If you refer your friends or other people to Ptcshare then you will get 7% commissions of their Ad packs purchase, and 3% from the value of every ad they surf & view.
If you refer even a single person then you will be earning 7% commissions every time he buys an Ad pack and 3% when he views Ads.
Ptcshare accepts 5 different payment processors; Perfect Money, Solid trust pay (STP), Payeer, Bitcoin, Litecoin.
As it's very new, I will add some of my payment proofs very soon to this page. Also, I recommend you to bookmark this page and keep visiting the page on a regular basis as I'll keep updating the post with new and additional information.
Conclusion
I hope you've enjoyed this Ptcshare review. At last, I just wanna say you should not miss such kind of opportunities. You must give a try to this system. If you face any problem then you can directly reach to me over my email; kumarsluck0001@gmail.com
Message:
I hope that you have enjoyed 'PTCshare Review – Is it Best PTC Site to Earn Money or Scam?' article on
Tips2secure
. However, if you want me to deliver more items, then please share my post. You can use Social Sharing Widget provided at the end of every post. After all, Sharing is Caring!