Yes, You can recover mistakenly deleted files on your Mac OS X with the help of Disc Drill. Today here on
Tips2secure
, I am going to review an amazing Application Disc Drill that helps in recovering the deleted files on Mac OS X.
Before proceeding the tutorial, let me give a brief introduction of Disc Drill.

What is Disc Drill?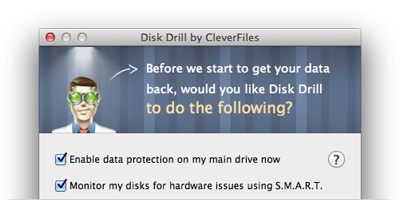 Image Credit Goes to: Clever Files
Disc Drill is like an Application or tool that can recover lost files on your Mac – even from failing drives with the several powerful scanning techniques.

How to Download Disc Drill and How to Install it?
You can easily download Disc Drill by click on the link given below.

Download & recover deleted files with Disk Drill for Mac OS X
Disk Drill installation process is quick and easy. Follow the below given simple steps and you will be done.
1. First of all, Download the App using above given link.
2. Go to your downloads and open that file.
3. Drag the Disk Drill app icon into the Applications folder and you will be done.
If you face any problem then you can learn the steps from the Video embedded below. This video is uploaded by Disc Drill.

How to recover deleted files? (In 10 Steps Only)
After learning "How to Install" now we will proceed on "How to recover the lost Files on Mac OS X?".
1. The first step after Installation is to connect your device. If the deleted files those you want to recover are on an external device, such as a flash drive or camera, connect it to your Mac now.
2. Now, Quit all applications that you currently have running on your Mac.
3. Now you have to start Disc drill. For this just go to your applications folder and make double click on Disc drill icon.
4. If you are installing this tool for the first time then it might ask you some questions.
5. It will ask you for the Admin password that will give Disk Drill permission to scan your drive.
6. In the next steps you will see a list of the drives and devices available to be scanned.
7. Click on the name of the drive that you wish to recover your deleted files from.
8. Click Recover (or Rebuild) next to the volume you have just remounted and wait for Disk Drill to finish scanning.
Note: It might take some more time if you have a large hard drive or disk (In hours).
9. Now you can filter the results as needed by keyword, file type, file size and date.
10. You have done.
They have also Pro version of this tool, If you are satisfied with their basic free version then you can later upgrade to their Pro version.

Final Words:
We know how bad we feel if we delete a file by mistake. But now we don not need to be worry because Disk Drill is the fast and easy way to recover deleted files on Mac OS X. We can easily recover deleted files from our internal hard drive and almost any other type of storage device you can connect to your Mac.
So, you must give a try to this amazing tool. If you are going to try Disc Drill then don not forget to share your experiences here with our readers using below comment box.
Message: I hope that you have enjoyed 'How Can I Recover Deleted Files on Mac OS X with Disc Drill' article on Tips2secure. However, if you want me to deliver more items, then please share my post. You can use Social Sharing Widget provided at the end of every post. After all, Sharing is Caring!