Why SEO?
An important aspect of SEO is making your website easy for both users and search engine robots to understand. Although search engines have become increasingly sophisticated, they still can't see and understand a web page the same way a human can. SEO helps the engines figure out what each page is about, and how it may be useful for users.
A beautiful example to prove you why SEO is important
Imagine you posted a picture online of your Mobile phone. Humans might describe it as "Samsung smartphone", "Black colored with latest Model" and so on. On the other hand, how search engines understand the photo you have uploaded? How do you make search engines to understand that photo? Here, only SEO, which will give clues to search engines to understand the photo by adding title and alt tags in that pic.
After knowing the importance of SEO, mostly webmasters want to rank their blog on the first page of SERP's. But it's not an easy job to rank on first page of search engine result pages, especially on major search engines like Google without SEO. But we can make it possible with the smart and right use of Search engine optimization.
In this post I am not going to write in
deeply about SEO
, but mention only
some SEO tips
, which would help you to rank your blog and page on 1st page of Google within a week.
Before proceeding for that Five SEO tips, I recommend to do some study on the keyword or posts, for which you want to rank in Google.
Study of Competitor strategies
Search for the keyword on which you want to ran your blog or page. Visit that page and check the length of the article, keywords and tags used by them. To check you can explore their source code by pressing 'Ctrl+U' from your keyboard or by right clicking of mouse and then 'View Source Code'. Do this only for getting ideas to compete your competitors, not to copy their tags. Copying others article is unethical and illegal. If you do so, it may create a big problem for you in future.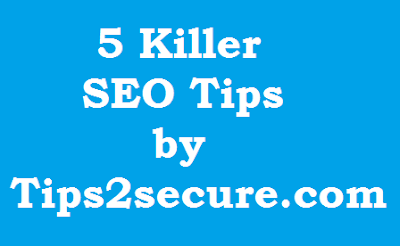 Your post title should not be more than 66 character. Because in google search result pages, it shows only first 60 characters of title. If your title is long then users will not take interest in your post, as it does not clear the ideas for which you have written your post. According to some experts, using numerical digits in title performs well as compared to tiles without numerical digits.

Title should be attractive. Titles with little suspense is considered good, as it creates excitement in readers to know the facts in details.
Descriptions should be in the limit of 150 characters. Mention keywords in description to make it more search friendly. Always give the genuine descriptions, don't try to do spam by adding only keywords. If you do so, it will be considered as keyword stuffing.
Articles should not less than 400 words. Blogger.com users can count their words by using microsoft word, as there is no option for blogger.com users to count their article words. If you are a wordpress user then don't worry, they count words automatically. Articles with 800 words with at least 1-2 images is best for SEO. Don't forget to give title and add alt tags in images.
Fetch as google is one of my favourite tools in SEO. It will ask Google to index your page immediately once your page has published.
How to use this tool?
Login to your Google webmaster tools, and expand 'Crawl' menu, there you will find 'Fetch as Google'. Open that link and submit the URL of your newly published article. Click on fetch and in next step click on submit to index.

For new users they will provide 500 submissions every month for free.
5. Do On Page and Off Page SEO optimization
on-page optimization refers to factors that have an effect on your Web site or Web page listing in natural search results. These factors are controlled by you or by coding on your page. Examples of on-page optimization include actual HTML code, meta tags, keyword placement and keyword density.
Off page SEOoptimization refers to building links, promotion of post on social sites like Facebook, twitter, pinterest, tumblr, reddit, linkedin and others.
Other Suggestions to Rank 1st in Google
Now almost you have done the steps essential to rank on first page on Google. If your content is unique then you might be rank in google within 7 days. Generally, google bots take a lot of time to index your page, but fetch as google will solve your that problem.
Also don't try to use Robots tags, if you don't have complete knowledge about them. Wrong use of robots tags put bad
effect on SERP's
. Don't copy articles and never do
article spinning
.
Sometimes SEO is considered as unethical by some experts, only if we use black hat SEO techniques. But here the steps mentioned above are the part of white hat SEO. So, you can use above given techniques to ran your blog and pages in search engines.
Message: I hope that you have enjoyed '5 Basic SEO Tips to Rank Your Blog on First Page' article. However, if you want me to deliver more items, then please share my post. You can use Social Sharing Widget provided at the end of every post. After all, Sharing is Caring!