Serpstat: a tool for effective business management
Serpstat is an all-round tool for anyone in the marketing field. May that be SEO, advertisement, content marketing or competitor research, it has tools which ease progress in your business and simplify each task for you. But, it doesn't end here! It has these special features which keep you up to date about your website's performance. Not only does it monitor the performance, it alerts you on occasions that require your attention, which is an outstanding feature. I have been using Serpstat and believe it or not, I have seen a significant effect in the way I handle marketing and my websites.
The latest development (Checklist)
This review is focused on the new tool Serpstat has come up with, Checklist. This is basically a tool which creates a "to-do list" which you can comfortably use to keep up with your tasks and goals. Checklist is a useful feature which can be used by almost any person who has important work to take care of. I personally used it to monitor my progress in different business projects (at the same time!) and also to accomplish tasks set for the day/week, etc. Anyhow, it can be used by any individual, or team, like:
Businessmen
PMs
SEO studios
SEO specialists
In a nutshell, any individual, may that be a marketer, SEO writer or a content marketer; all can make effective use of this tool to manage their jobs and tasks well. They can also keep track of multiple projects simultaneously and still not create a mess since the interface is simple and user-friendly.
Serpstat Checklist features
There a huge number of features which can be used in Checklist. The most used features by me are as follows:
1. Listing multiple projects with checklists: In order to create a checklist, you have to create a project first. As mentioned before, the tool allows you to maintain multiple projects at the same time. The best part of this feature is that it doesn't mix any of the information, preventing confusion which might be the case if one kept on paper checklists. Moreover, since all the projects can easily be found in one place, you don't have to look anywhere else to find your important project checklists.
2. Serpstat templates: The tool also provides you with prepared templates which can be quickly used to create your checklist. For instance, it has ready-made templates for common business tasks and uses like:
a)Business analysis: Can be used to plan out internal processes of a project
b)Links: Can be used to list important links and their verification or optimisation
c) Content: Can be used for quality control and optimization of the content of the project
d)Technical part: Can be used to set technical parameters and other numerical information about the project
These templates, which can be accessed through the "Serpstat templates" tab, can be used swiftly to create checklists for these common tasks. Also, in case you wish to edit these templates, it allows you to do that too!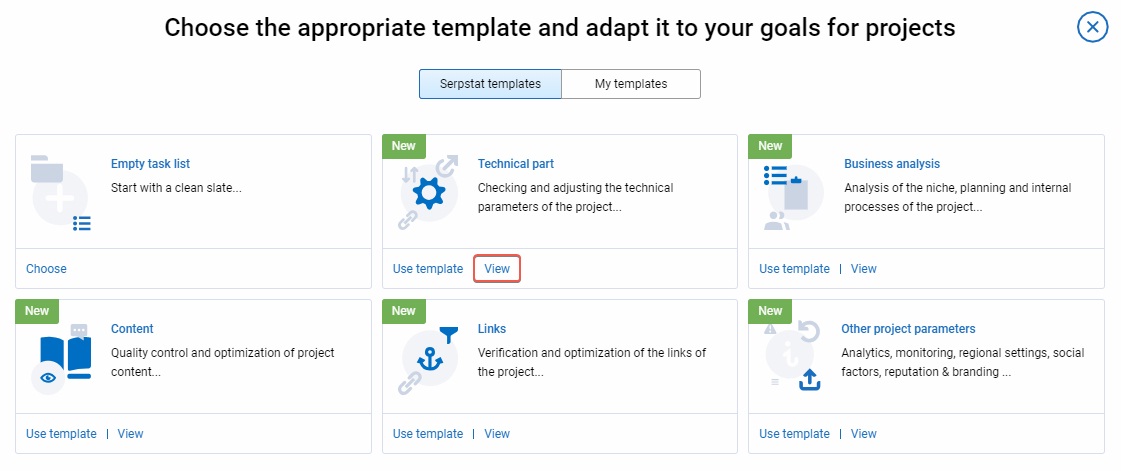 3. Personalised templates: This feature allows you to create a checklist by yourself from scratch. This means that you can have your personalized tool which suits your needs and preferences. These templates can be accessed through the "My templates" tab, which has all the templates you have created for your projects.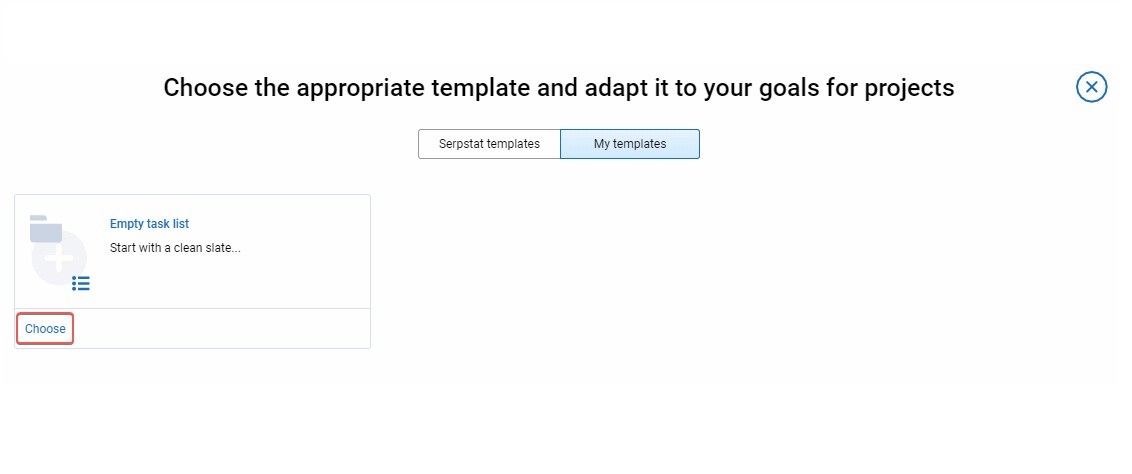 Utilities of the Serpstat Checklist
Along with providing a wide range of features, Checklist also gives other benefits and aid to the users, which are listed ahead:
1. Statistical data generated from checklists: Along with maintaining various lists for your projects, the Checklist tool also generates information in for of statistics according to fulfilled tasks. This allows you to have a quick glimpse of how many times or how much of an activity has been completed.


2. Task repetition settings: Some tasks need to be completed on a regular basis (daily, weekly or monthly) which require you to set the task repeatedly after completion. But, this is not the case with the Checklist! You can set the repetition setting which will create the same task according to the regular interval as per your requirement.

You may like to read,
A step-by-step guide to creating your own checklists
1. Create a template: First and foremost, you'll need to create a project for your checklists to be stored in. After that, enter the project and click on "Create Checklist".


2. Choose a checklist template for your project: Select the template of your choice and list the projects you want the checklists in. If you add one checklist to more than one projects, each project will have a separate checklist of the same template.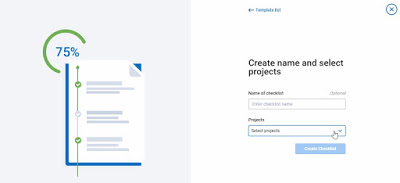 3. Editing checklists: After you have created your checklists fill in the data as per your requirement. You can edit the name of the checklist if you wish so later as well. Also, in case you need to distinguish a particular checklist, you can click on the star as demonstrated below.


That is it! Your projects will be created with the checklists and now you can manage your projects more efficiently than ever!
Message:
I hope that you have enjoyed '[Review] Serpstat Checklist Feature – A Tool for Improving your Projects' article on
Tips2secure
. However, if you want me to deliver more items, then please share my post. You can use Social Sharing Widget provided at the end of every post. After all, Sharing is Caring!