A great idea and its development are the basis of any successful start-up. The hardest part is to get the right target market. Finding prospects and generating leads is one of the crucial elements for any business to grow. There are various lead generator tools available in the market, here we will look at Snovio.
What is Snovio?
Snovio is a decentralized lead generator tool that claims to find the right people at the right time.
It's actually getting a fair bit of positive feedback from its users. Snovio finds the email address, the job profile of a person and other related data. It has a massive database. Around 20,000 Users have installed Snovio Chrome Extension. The Chrome store ranking is 4.9.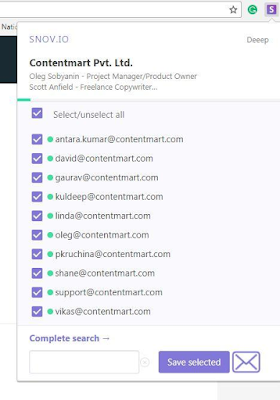 Snovio is based on crowdsourcing data and blockchain technology. The Token sale system used by this tool is quite attractive. This innovative technology is being used in lead generation for the first time. Snovio rewards its data suppliers for their contributions with its own cryptotoken SNOV.
The main idea of this tool is to find the right connections for a company. This saves a lot of time and money. It is widely used by recruiters who are looking for the best employees, individuals who are looking for the new employer, and start-ups and other businesses seeking to publicize their products. Snovio is constantly updating its data.
The Snovio tool is a decent email finder and verification service according to its users. Users are saving their quality time and getting email addresses instantly. It also ensures the relevant contact by verifying the mail list.
Let us check various features of this tool.
Features offered by Snovio Tool
Domain Search
LinkedIn Email search
Company Profile search
Linker (Boolean string builder)
Email address Verifier
Domain Search- You can enter a domain name to find email addresses. There is also the bulk domain search. You can upload a file with a domain and Snovio will find emails along with the names for you. There is no issue of low quality or outdated data with Snovio.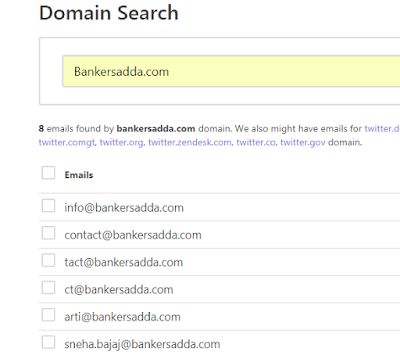 LinkedIn Email Search- Snovio finds and save the emails of LinkedIn users. Go to LinkedIn Page, search for a specific job role or skill set. Use the Snovio chrome extension to get the profiles and emails. More LinkedIn users are attracted to Snovio as it is a massive player in the lead generation market.
Company Profile search-
Snovio has a built-in database of many companies. If you know the name, location, type of the company, you can get the public listed emails for that company.
Email Verifier- Snovio verifies the email addresses for you. You just have to upload your mailing list and Snovio cleans it by finding abandoned and invalid email addresses.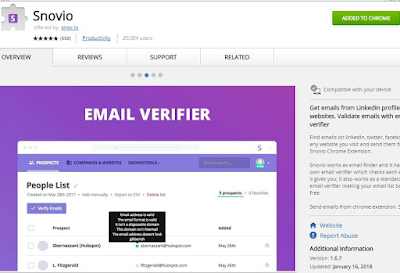 Linker- Snovio promises it will enable you to find the right people. So, this linker feature will be added to it. Companies need people with definite skill sets. Snovio has a boolean search option for this. You can filter the list of talented prospects based on the job title, skills, and location. The exclude skill option is also there in Snovio. This option will help to get a specific result. Everyday, 200 + new users are added to Snovio.
Snovio is indeed the first ever place that regulates a price for a lead. This will be done in a decentralized manner using the marketplace with rewards for its data suppliers who will be paid in SNOV to fulfill client initiated contracts.
The are many users who are fully satisfied so far with Snovio. The HR departments and sales specialists of many companies highly rated this tool.
Users add contacts to the existing database. They are rewarded with tokens for updating the data. The database is fully transparent as it is based on blockchain technology. The token name is SNOV.
SNOV is a utility token used to reward contributors and to get the services from Snovio.
The total tokens issued is 651,129,644 SNOV. The current market cap for SNOV is $20,720,278 USD according to Coinmarketcap.com
The Snovio Tool has many other benefits. The customer can see the full details of the data. Snovio gives you reasonable pricing as per your need. This tool receives real-time updates.
The Chrome extension of Snovio is appreciated by users and well rated.
This tool gives most up-to-date and relevant data to its customers.
You may like to read,
Snovio is by-far the best email extractor. It gets positive reviews from companies like UBER, ORACLE, UBISOFT, LA POSTE and LEGO. These big companies are the satisfied users of Snovio.
Overall Snovio is a good tool for recruiters, Start-ups, and salespersons. This is a easy and economical option. It has more features and fairer pricing than other lead generator tools. If cryptocurrency trading is your cup of tea, then you can also invest in SNOV through Kucoin or Bibox trading exchanges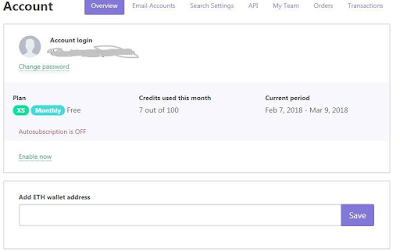 Snovio Tool is free of cost for first 100 credits (XS =100 domain search, unlimited domain emails, 100 verified LinkedIn emails).For 1,000 credits, you will pay $ 19 per month. For 5,000 credits, it costs $ 39 per month. Snovio gives you an option for Cryptocurrency Payment.
Message:
I hope that you have enjoyed 'Snov.io Review~ Email Finder Tool Free for Linkedln, Websites & More' article on
Tips2secure
. However, if you want me to deliver more items, then please share my post. You can use Social Sharing Widget provided at the end of every post. After all, Sharing is Caring!