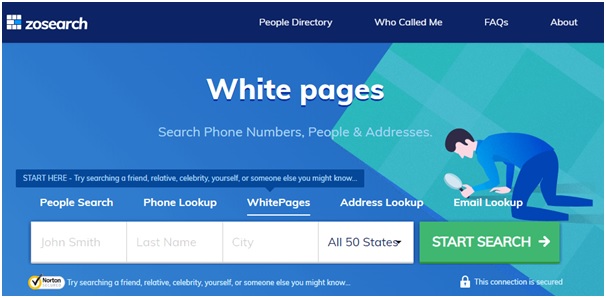 There are many whitepages options on the internet. Many of them promise quality and accurate results, while others seem useless to many people. Hence, choosing the best one for our needs can be a challenge.
If you are looking for a whitepages solution that is effective, we have a solution for you. You are going to like it, I bet. Today, we will review the Zosearch free whitepages website and show you why how it works.
Ensure that you read until the end.
A Basic introduction of the site
Zosearch is a people search web service. In addition to providing whitepages, the same website comes with other services such as an individual's physical address, and email lookups, people searches, social security number lookup, yellow pages, and reverse phone lookup.
The funny thing is that all these services depend on each other. If you need to run a full background search on an individual, then you can do it with this site.
The whitepages section
Our focus today is on this section. For those who have no idea what whitepages are, they consist of a database with people's phone numbers. You only need the individual's name, and you are good to go.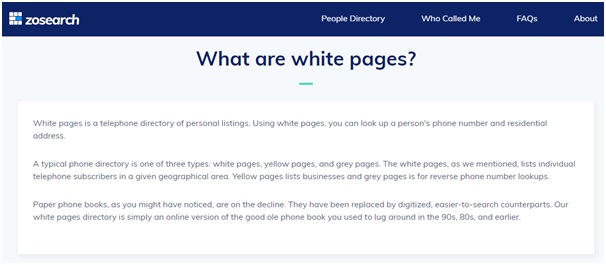 Note that yellow pages are different from whitepages. Yellow pages are suitable for businesses only. Therefore, if you are looking for the contact information of a company, then you can find it in the yellow pages section.
What you need to use Zosearch whitepages
Zosearch, primarily, is easy to use. You do not need so many details to find a person's phone number. With their full name, the city they reside in, and the state they live in, you are good to go.
Once you enter these details, you can hit the search button. The Zosearch should provide all the information on the individual in a clear and easy-to-use report. Within the report, it should contain all their phone numbers (that is if they own more than one), and their addresses (which include their residences, business premises, or any other addresses linked to them).
If you want more information
Sometimes, when running a background search, it can be challenging to recognize the person's phone number if you get multiple people with the same names. Hence, doing additional searches could help you distinguish between your results.
You can use the people search service for additional information. It will provide details about their relatives, friends, associates, email addresses. You should try Zosearch for free to see what we are talking about.

Yes, Zosearch is free
Some whitepages services usually provide a detailed report. However, if they require you to pay a premium to use their website, you need to pay that fee to access the entire report or some of the critical details of that report like criminal and financial records.
Zosearch does not carry that mindset with it. The reports are free, and to add on that, they have all the details you would want to know about a person. By the way, this does not just apply to the whitepages function. Every service within this platform is free to access.
The reports are accurate
Another common problem among users is that you will find reports that have misleading information or un-updated data on them.
Zosearch collects information from various public records, data brokers, and the information you use on their site. Therefore, it is legal to use the site. Besides having legal data in their system, the website ensures that they update the information in their whitepages section frequently. This is to ensure that users get accurate information all the time.
Why you should trust Zosearch
The website has more than a million users
Various online brands such as Tech Radar, Forbes, Top 10 Reviews say that the site has one of the most efficient whitepages
They have strict privacy concerns. You are sure that no one will know your search queries unless they can access the Zosearch server
You can ask the customer care team to delete or update your details upon request.
Final remarks
When users are looking for whitepages solutions on the internet, they usually consider its user-friendliness. Now, Zosearch promises you simplicity and efficiency at the same time. Hence, this is more reason why you should use this site at all times.
By the way, since it is free, it is suitable for everyone. Regardless of your financial status, you are sure that you will get your friend's or relative's phone number.
About The Author
AqibIjaz is a digital marketing guru at eyesonsolution.com. He is adept in IT as well. He loves to write on different topics. In his free time, he likes to travel and explore different parts of the world. You can read more of his blogs at eyesonsolution.
Message:
I hope that you have enjoyed 'What is ZosearchWhitepages? How it Works?' article on
Tips2secure
. However, if you want me to deliver more items, then please share my post. You can use Social Sharing Widget provided at the end of every post. After all, Sharing is Caring!