This is the world of internet. People use the internet for most of the things. Our daily activities are mostly done on the internet. We do transactions, emails, chats, etc. via
the internet
. There are many websites which can help us in each and every field of our online life.
If you are the job seeker then finding a job offline may be the tough task for you but find a job online is very easy in this era.
Have you ever thought about how such websites are built? Do you think such websites are build using so much of coding?
I think many of you have already heard the Content Management System called WordPress. With WordPress, you can develop any such site without coding.
Yes, You can develop such site with WordPress Jobs Plugin. Yes, WPJobBoard plugin is one of the very popular plugins for WordPress websites.
So let me take you through the complete review of WPJobBoard Plugin…
WPJobBoard Plugin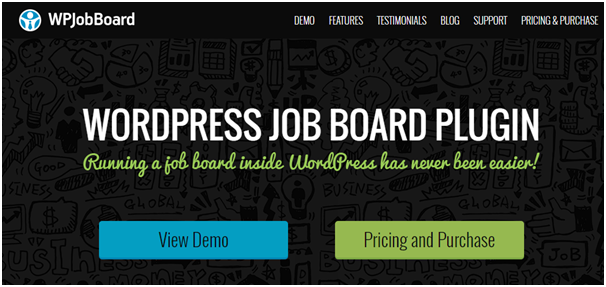 WPJobBoard plugin is a great plugin which allows you to create eye catchy job boards in WordPress website. The employers can post the new job, view listing stats, create their profiles, manage ads, etc. This plugin is also useful for Job Seekers. Job Seekers can upload their resumes, search positions, apply for the job, sign up for the job, etc.
This plugin offers admin panel to the site owner to setting up this plugin at the back end. Admin can create and manage the form via drag and drop builder. It allows PayPal and stripe integration.
The best feature of this plugin is you can create a number of categories and job types, manage emails, Employer's profile, create some discount codes and do many other things easily.
WPJobBoard Plugin – Top Features
1. Compatible with any WordPress theme and plugin

While installing the new plugin, we always have some fear in mind. Will the plugin which we are going to install is compatible with the current themes and plugins?
But now, you don't need to worry because WPJobBoard plugin is compatible with almost all the WordPress themes and plugins. So you can use any theme with this plugin for your WordPress website.
2. Institutive Visual Editor

The power of Visual Editor allows you to create forms, resumes, job listings very easily and painlessly. The user is having the full control over the layout. The creation of forms is very easy due to the drag and drop builder.
3. Shortcodes
WPJobBoard allows you to use more than 15 shortcodes by which you can create a unique job board and add some more features to it whenever you want.
4. Single Click Installation and Activation
Plugin installation is sometimes the cumbersome task. But this is not the case with WPJobBoard plugin. You just need to click one time to install this plugin. Once you are done with the installation, you can active this plugin by the next one click.
5. All standard WordPress features are present
Do you worry about the standard WordPress features which you are using right now?
Worry no more, because with WPJobBoard plugin, you can continue with your standard WordPress features. This plugin doesn't affect the standard features of your site.
You can make separate job boards along with your blog.
6. Built on PHP Engine

This plugin is built on PHP Engine. So you can redesign entire job board the way you want. If you are the developer, then you can change some of the codes and come up with the new job listing and resume layouts.
The plugin also comes with the guide which will help you to do enough modification in this plugin.
7. Marketing Features
This plugin allows you to syndicate your job listings instantly on the websites like Juju, SimplyHired. So that you can increase the applicants for each listing.
This plugin also auto posts the job listing on the Twitter profiler which is attached to it.
The applicants and customers can stay in touch with you through the features like job feeds, job alerts, and Email notifications.
Pricing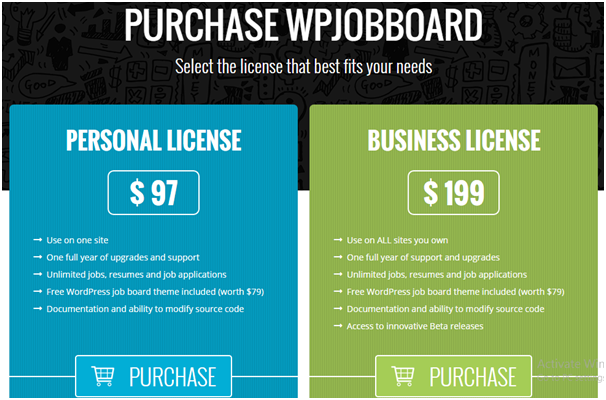 There are two different licenses are available as per the need of the user. The first license is for the individual user who is known as the personal license. The second license is for business which is known as the business license. The business license can be used on multiple sites.
You will get one free theme named "Jobeleon", which is a job board theme with this plugin.
The personal license is used on single site and can be purchased at $97. The business license can be purchased at $199 in which you can use this plugin on multiple sites.
Final Words
WPJobBoard is a great plugin which allows you to create a job-based website. There are two options for you. Either you can create a solely dedicated website for jobs, or you can assign the portion of your WordPress website for jobs.
This plugin works well with the current themes and plugins. You can also integrate PayPal and Stripe payment options on your site with this plugin.
So what are you waiting for? Go, buy and try this plugin to create Job listing in your site and see the results.
I would like to hear your results with this plugin, So feel free to comment.


Message: I hope that you have enjoyed 'WPJobBoard Plugin Review: Run a Job Board Inside WordPress' article on Tips2secure. However, if you want me to deliver more items, then please share my post. You can use Social Sharing Widget provided at the end of every post. After all, Sharing is Caring!