Are you looking for the best discount broker in India to start your trade? Here we are going to review one of the best Indian discount brokers, 5Paisa. In this 5Paisa Review, we will cover all the important points like 5Paisa account opening, 5Paisa Trading, 5Paisa Demat Account Charges, 5Paisa brokerage & all.
What is 5Paisa?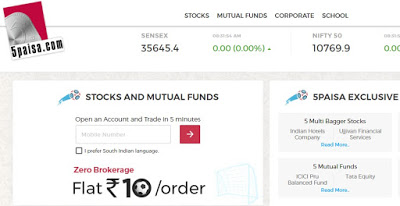 5paisa is a leading discount brokerage firm located in Mumbai. Unlike traditional brokers, discount brokers offer different brokerage services at very less charges. 5 paisa is a part of IIFL and it was re-launched in the year 2016 as a discount brokerage firm. IIFL was established in the year 1995 and has 1000+ branches in all over India.
How to open an account with 5Paisa?
5paisa offers its customers a hassle-free way to quickly open their account with them. Following are the quick steps you need to follow for opening your account with 5paisa:
5Paisa Account opening process
1. CLICK here to open the registration page. Enter this Referral Code: ASURE405 (You will get the registration amount refunded with the help of this code).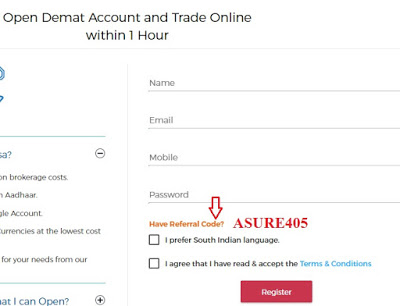 2. Now you need to do is fill their online account opening form, mention your aadhaar card number. If your mobile number and aadhaar card are linked in an appropriate way, then it will be really easy for you to open an account with them. Once you fill all the required fields in the form and submit it online, after few hours your account will be activated.
With 5paisa you can open 2 in 1 account i.e. using the same account you can trade both in stocks and mutual funds both. If you want you can open an account for only mutual funds as well. It is not mandatory to open 2 in 1 account. However, it is beneficial if you open it.
Also, it is not compulsory that you have to open a demat account with them. If you want you can make use of your already existing demat account by linking it with them. To open a demat account with them no charges are to be paid. Annual maintenance charges are charged by them on demand account, no account opening charges.
5Paisa Review: Brokerage & Charges
All about brokerage charges and fees of 5 paisa for the year 2018
5paisa brokerage plans
| | |
| --- | --- |
| Segment | Brokerage charges |
| Equity Delivery | Rs 10/executed order |
| Equity Intraday | Rs 10/executed order |
| Equity Futures | Rs 10/executed order |
| Equity Options | Rs 10/executed order |
| Currency Futures | Rs 10/executed order |
| Currency Options | Rs 10/executed order |
| Commodity | NA |
5 paisa account opening charges
| | |
| --- | --- |
| Opening charges with trading account | |
| Opening charges with demat account | |
| Annual maintenance charges with trading account | |
| Annual maintenance charges with demat account | |
5Paisa Trading Platforms
5 paisa offers with the most innovative trading platform. One can get access to its trading platform via mobile, web browser and desktop. Here are the highlights of all its trading platforms
1) 5Paisa Web browser based trading
To trade in most efficient manner and earn maximum profit it is must you should be able to trade when market presents with good opportunities. In the stock, market timing plays a vital role and if trading is not done at the right time it is really difficult to earn good returns.
With web browser trading one can trade using a web bower by sitting at any place.
You need to access the trading website using any of the devices like laptop, mobile phones, tablets etc. On that website, you can find all different trading and investment options.
You need to log in using your login credentials. Once you are successfully logged in you can start trading.
All advanced trading tools, live market updates related to stocks quotes and technical analysis is available to help traders take best possible decision while trading.
To facilitate successful trading, their web browser based trading platform offers with all facilities required for instant fund transfer.
2) 5Paisa Desktop trading
This trading platform is a convenient form of trading platform.
5 paisa has designed a trading terminal for its customers which can be installed on their computer system.
With a desktop trading platform to provide flexible trading, there are several shortcuts available using which one can easily switch from one window to another and track market in real-time.
This trading platform is best suited to those looking for some advanced features while trading.
With this trading platform, one can get information related to all historic charts.
With futures options and cash, multiple watch lists is available.
3) 5Paisa Mobile trading
This trading platform is designed to meet the needs of traders who want to trade conveniently using their mobile phones.
You need to download mobile app of 5 paisa to trade on your mobile phone.
After successfully installing the app in your device you need to enter your login credential to prove yourself an authentic user.
Once you log in, you can start trading across any segment like stocks, futures, options, currency, ETFs, mutual funds.
They offer all live updates related to market quotes which are provided by NSE and BSE on their trading platform.
To facilitate traders in taking a wise decision while trading all advanced charts and quality technical analysis is provided.
For trading with their any of the above trading platforms, no charges are to be paid. You can trade using any of their trading platforms as per your convenience for free of cost.
You may like to read,
What Is CFD Trading- Explained By XFR Financial Ltd
5Paisa Trading PROS
In a cost-efficient manner, by charging a flat fee per executed order it offers with all the reliable services which are offered by a traditional brokerage firm.
Flexibility to trade across different segments like currency, equity, options, futures.
Using single mobile app you can trade in stocks, MFs, insurance all.
Offers with all smart features like fundamental reports, technical advice etc to meet distinguish needs of individual traders.
Brokerage plan is very affordable. Only Rs 10 per executed order, irrespective of trade size and segment.
5Paisa Trading CONS
They have limited branches.
You cannot open 3 in 1 account with them.
They allow trading in all different segments but not commodities.
There are no trading plans for monthly and yearly basis. You need to pay for every executed order.
With them, you need to pay demat debit transaction charge of 0.04% which is quite high.
5Paisa Conclusion
5paisa offers to trade with most innovative trading platforms and trading tools using which one can have improvised experience of trading. With them using a single account you can trade in stocks and MFs both. Also, it is not mandatory to open an account with them; you can link our already existing account and start trading with them. They offer brokerage services at most competitive price i.e. Rs 10/executed order.
In India, it is among the first company to provide robot advisory and share trading services via the single mobile app. Along with trading tools to facilitate trader in improving their trade results they also offer additional resources like well researched fundamental reports and more. Also, they have a team for customer support services.
5Paisa
address all the issues of customers in a best possible way by taking minimum possible time. Additional services which they offer which are generally not offered by other discount brokers are investing in MFs and insurance, experts trading tips and more.
If you are looking for the one-stop service provider to meet all you distinguished needs in the best possible way then 5paisa can be an ideal choice.
Message:
I hope that you have enjoyed '5Paisa Review 2020 & 5Paisa Trading & Demat Account Charges, Brokerage' article on
Tips2secure
. However, if you want me to deliver more items, then please share my post. You can use Social Sharing Widget provided at the end of every post. After all, Sharing is Caring!