Every online website or blog is started with the vision to share the knowledge, provide the services or make the human life better. You are putting your efforts into this venture. You need living and for that living you need money.
If you are planning to make money online, you need to convert huge amount of visitors into customers. How many times you have applied in Google Adsense and got rejected? If you are not much of a person having patience, then you can have the other options to monetize without AdSense.
Yeah, you got it right. Monetizing without Adsense!! There are many good alternatives to Adsense.
Adsterra is the best ad network with a simple and easy procedure to follow. If you own a blog and want to monetize via ads, then this is the right option for you. Let me brief you about this amazing network.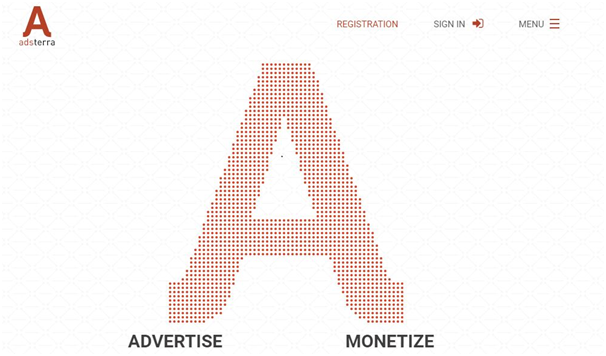 This advertising network is basically located in Scotland. This ad network came to the existence in 2013. 190 countries are covered via this network. Now you can imagine the growth of this network.
The revenue models of Adsterra are CPC, CPM, and CPA.

Here is what you will require to join the Adsterra premium advertising network as a publisher…
Your website must be free from Hacking or Phreaking content.
Websites with less or no content are not allowed.
Don'ts…
You are not supposed to alter the ad code.
Usage of bots, traffic exchanging or traffic manipulating traffic is not allowed.
Available Ad Formats
You can have great choice in ad formats with Adsterra. They are offering display banners, pop-unders, sliders and direct links in case of desktops. What you need to do is choose the right ad format and place it on the right place on your website in order to increase your revenue.

Payout
You get paid on the bi-weekly basis. Your payment gets processed twice a month. The payment modes available with this network are PayPal, Bitcoin, Wire transfer, Paxum, Payza, ePaymentsand WebMoney.

There will be commission depending on which payment mode you are choosing.
Interface
Once you have created your account, you will find the neat and easy to approach interface. If you have no campaigns yet, then you will get to see the skype id of your personal manager on the right of the screen.
API
Yeah, already the features of this ad network are breathtaking; still they are not stopped by here. They have launched their API to replace any hassles related to statistical analysis.



Pros of Adsterra Ad Network
Faster Payment
High quality ads
Premium network of advertising
Higher CPM rates
Multiple Ad formats available
Real time Reporting
Good support
Availabilityof referral program (5% commission)
Cons of Adsterra Ad Network
Low traffic sites can't join this network.
Blogspot blogs can't monetize with this network. Only blogs having custom domain name can monetize with this network.
Compared to other alternatives, the payout threshold is very high.
For some countries traffic, the rate might be low.
More AboutAdsterra
Account Manager
Adsterra has a multilingual team dedicated to personalized solutions and advice you to enhance your campaign performance.

Security
You don't need to worry about the security of your campaign. Adsterra provides an amazing combination of in-house and third-party fraud detection systems.

Conversion Tracking and Favourable CPMs

You can choose the profitable plan to target mobile and desktop traffic for high conversion through perfect payment models: CPM, CPA, CPL, CPO, CPI (PPI)
Real time statistics
Want to track your performance? No worries. You can get instant access to your detailed statistics and track your performance in real time.
Final Verdict
Adsterra is one of the best alternatives of Google Adsense. It helps you to monetize more if your site is having great content and European visitors. If publisher includes into any kind of illegal activity, he might lose the account. There is no fix limit of your earning. You can earn hell lot of money depending on the niche and the kind of traffic you get on your blog.
I hope this review will help you monetize your blog. If you have any doubt starting with this ad network, reach us via comment section. Share your review with other readers if you have used Adsterra. Feel free to share this article with your other blogger fellows who are looking for the monetizing ways for their blogs.
Message:
I hope that you have enjoyed '[Review] Adsterra Network – Is it Good for Publishers or Not?' article on
Tips2secure
. However, if you want me to deliver more items, then please share my post. You can use Social Sharing Widget provided at the end of every post. After all, Sharing is Caring!