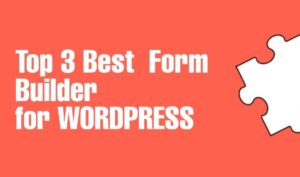 Today many form builders help to create different online forms. The form can help marketers to convert their visitors into the lead by getting information through the form. Many other forms are essential for your website, like the contact form, registration form, etc.
It is very important to keep your site secure from spammers, and so one must create a contact form using form builder to ensure complete security. The form builder gives you the freedom to create a form based on your requirement and know more about your customers. There is a different form of the builder, and so it becomes a difficult one that comes with all required features.
Below are the top 3 form builders that help create a versatile online form depending on your requirement.
1. WPForms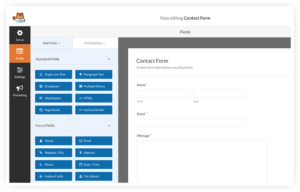 One always looks out of the form builder that offers flexible options and helps the user connect with customers. WPForms is one of them as creating a form with this form builder is quiet easy and has a pre-defined template to incorporate in your form. It is also compatible with extensions that can help to power up the functionality of the form.
Pros
WPForms has the drag-drop interface ad also give the option to customize the field based on user requirement.
It is a responsive and mobile friendly form that can give a good user experience. It also helps to increase outreach and get good leads.
Users have various options to customize the login and registration form based on their requirement. Moreover, it has a good collection of templates that can make your form attractive and engaging.
WPForms allows taking payment through differed online payment gateways. Thus it is beneficial in creating an e-commerce form.
It allows you to import forms created using other plugins, and thus, you can create an optimized form.
WPForm is best to create a conversational and registration form. It is easy to integrate email marketing with this form builder.
2. Formidable Forms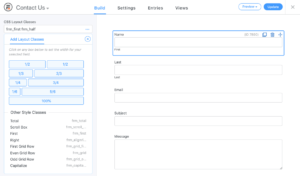 Formidable is a powerful online form builder tool that makes it easy to create the form on your site with different conditions. Developers looking out for a form builder that can create an attractive and engaging form in a limited time will find it the best tool.  It gives the freedom to add a dynamic field and also work with different payment gateways.
Pros
It helps create form according to the theme, and thus, integrating such form in the website will not be a difficult task.
It has different templates that consist of calculator form and woo-Commerce form, which are hard to find. Thus using these templates would make it easy to create attractive forms.
The easy customization of form with Formidable makes it the best form builder today. Not only this but developers are free to customize HTML based on their requirement.
This form builder can add dynamic files automatically based on the saved entries of user's. Thus, it can make it easy to add conditional login and give the best user experience.
Formidable has the calculation field that can solve compels calculation in no time. So, if it's about to create a calculation for nothing is better than formidable.
3. Gravity Form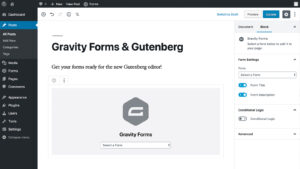 It is one of the popular plugins today that can help create a WordPress site form. The best part about this form builder is the theme optimizations. It means the forms can easily be embedded with the theme, and there is no need for any extra programming for embedding. The drag and drop interface comes with formatting options like insertion of custom HTML, conditional formatting and much more.
Pros
Gravity Forms can be integrated with other third party websites like PayPal, Mail Chimp, etc.
The pricing of gravity forms its quiet less than others but is equipped with many eye-seeking features. Moreover, for re-signing, it offers a great discount to its users.
It is easy to developed form with Gravity as it allows us to build it within the website. It also works with condition login and thus helps to create a form based on customer input.
Users are free to create poll forms, surveys and even quizzes with Gravity form builder.
In all, WPForms is one of the best tools to create an attractive and engaging form that can easily be integrated into your site. It is effortless to create a form with this powerful tool, and also, it is SEO friendly that can help get good traffic. If you are a beginner and looking or some budget friendly form builder, go for WPForms.