In this detailed Remotasks review, you'll learn is Remotasks legit, is Remotasks real or is Remotasks scam, is remotasks safe, and Remotasks salary details. I will also cover How to delete Remotasks account.
Remotasks is one of the trustworthy and reliable platforms that are controlled by Scale Labs Inc. It is most probably similar to Mturk, Picoworkers, Rapidworkers and Microworkers and thousands of people earn well through this website.
Like any other crowd-sourcing website Remotasks also have some rules and principles. It connects workers and employers together and both get the deserving work here.
A worker gets the appropriate work and more chances to earn and the employer gets the person who can able to fulfill his all requirements.
If you want to know more about Remotasks read this article carefully and you come to know all about Remotasks, so let's have a closer look at that:
What is Remotasks?
Remotasks is a popular website that develops such opportunities to fulfil the needs of employers and workers. Here you can post a job or get a job as well. It offers multiple mini-jobs and micro-tasks.
All you need to have fluency in the English language to work here and have to pass some tests to get more jobs and work here. You have to complete the task and you get weekly payments in your account.
Remotasks Review: How does Remotasks work?
There are some steps that you have to follow on Remotasks which start from creating an account and so on. You can't start work instantly before that you have to fulfil other compulsory fields.
Sign up (Get $10 as a Bonus Free):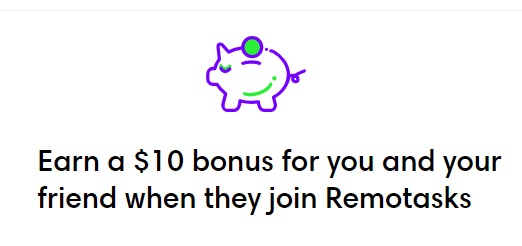 You have to create a Facebook account to sign up for Remotasks if you have already an account on Facebook then directly open the Remotasks website and sign up.

Exams:

If you want to become a skilled and talented worker and want to attract more employers towards you then click on the 'Exams' button and pass out the exams. There are multiple categories available for exams and as more exams, you pass out the more you get the work here and are able to unlock high-paying jobs.
These exams include video box notation, segment annotation, image and cube recognition, etc.
Complete the task: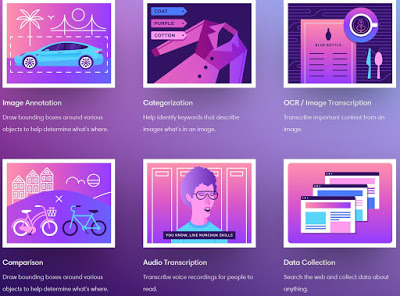 After clearing the exam you can start work. Click on the tasks and get one to read the following instructions provided by the client complete it and deliver it to the client. If you can't be able to complete a task do not go for that and do not repeat silly mistakes or it can spoil your image as well as your work. Get the payment:
Getting the payment is the best part of Remotasks. No hassle and no waiting for the payment. You just have to concentrate on your work and they pay you weekly and you get your payment in your account automatically. Just link your PayPal account and forget about the other worries.
Remotasks Bonus
Remotasks offers a $10 bonus for every person you refer who earns at least $20 by doing tasks within two weeks of their registration1. You can also get a $5 bonus for every $10 earned by you and the person whose referral code you used. However, these bonuses may vary depending on the availability and terms of the referral program.
If you are interested in joining Remotasks, you can sign up for a free account and start learning how to do tasks with their online courses or free bootcamp training. Remotasks pays you weekly via PayPal or AirTM based on your quality and number of tasks completed. You can also choose your schedule and work on tasks that suit your skills and preferences. Remotasks is a flexible and reliable way to earn extra income from home.
Remotasks Review: How to earn via Remotasks?
Remotasks allow totally different tasks and jobs and if you dream to earn in dollars then you have to use some extra part of your mind here. It depends on your exam passing levels and how many exams you have passed will provide and show more jobs to your Remotasks dashboard. There are some tasks that you can do are:-
Image annotation:
In this task, they will show an object to you and you have to draw a line to the outside of the object. The object can be anything like a car, bike, or any other thing.
Categorization:
In this task, you have to do modernization on a particular website or in content. You have to divide category whatever they have asked like divide the bookkeeping, and dealing area, or make a different category for jackets and pullovers etc.
Transcription:
It includes image and voice transcription both. You have to write or type the data as the image is showing or you have to listen to the audio and type it.
Comparison:
You have to compare the objects with each other from the provided image.
There is a big list of exams try to pass as many exams as you can and unlock more criteria for earning.
Collecting the data:
In this task, you will have to collect important and related data from different websites as per requirements and send it to the client. The information and data must be accurate and relevant to the topic.
How much you can earn via Remotasks
Now, this is a complicated question because it depends on person to person. What kind of task is a person choosing, how many exams he passed, how much time you spend to complete an exam, what are your order delivery chances and the quality of the orders and many other factors that decide the earning.
If you work efficiently and fast you can be able to earn $1.5 to $2 per hour. An average skilled person can make $40 to $50 in a month. They never pay you for poor quality work or wrong work or sometimes they cut some of your money for the poor quality work as well.
The more difficult exam you will pass the more chances to get the high payout. Try to pass out more exams so you can able to earn more, watch related tutorials and learn how to break the exams.
You may like to read,
How to withdraw Remotasks Payout?
The withdrawal procedure maintained by Remotasks is tremendous which makes it a perfect site. They send your money to your PayPal account every Friday morning. You don't need to make a single effort or a single click to withdraw.

They will send your payment on a weekly basis no matter how much you have earned more or less you will get it every week.PayPal is the only mode of payment for now and as we all know it is a reliable mode. Just keep updating your PayPal app so your service never gets slow or interrupted. Remotasks rarely delays in the payment procedure and they are very concerned regarding their facilities so you never feel any irritation or frustration.
Remotasks Salary
The salary or earnings on Remotasks can vary based on several factors, including the type of tasks you perform, your efficiency, and the volume of work available. Remotasks generally operate on a piece-rate or task-based payment system, where you earn money for each task completed successfully.
The specific payment rates for tasks on Remotasks may differ depending on the complexity of the task and the demand for that particular type of work. It's essential to review the platform's payment structure and terms before you start working.
The compensation for each task fluctuates based on its level of complexity. However, I discovered that the majority of tasks typically yield between $0.02 and $0.10 per task. Although it may seem modest, these amounts accumulate rapidly. If you work efficiently, you have the potential to finish numerous tasks within an hour.
Remotasks Review: Pros and cons of Remotasks
Advantages of Remotasks
Remotasks is a genuine and professional platform for genuine and talented people and pays your skills well.
There is no limit to how much you can earn and no limits for withdrawal whatever you will earn is transferred to your account.
If you earn $10 in two weeks you will get $10 more as bonus points that motivate workers to earn more and fast.
There are multiple tasks that pay handsomely just work hard and think more to make money.
Disadvantages of Remotasks
You have great knowledge otherwise you can't hit the exams the levels are too hard for an average person.
Remotasks are very strict for their client's requirements so if you repeat silly mistakes like late delivery, poor quality submission, or other mistakes then your account can be rejected or you will be banned forever.
You won't get work until you pass out the examinations and if you are not fluent in English then this is not a cup of tea of yours.
Is Remotasks Legit?
Remotasks is definitely a genuine and legit website that offers multiple opportunities for earning. You need the basic knowledge of recognizing the objects, your learning and listening power also works here.
One of the most appreciating qualities is that I have never heard a single review of clients or workers regarding payment delay or something like that.
They are connected with popular business companies like Gusto, Google, Uber, Procter etc. it means you can have chances to connect with good companies and clients.
If you are serious with your earnings choose it and work here. In the beginning, you may feel some difficulty but later you can make money for sure. Always try to provide quality content to the clients and try to improve it.
Take the help of tutorials and related videos to learn to crack the exams. There are many videos available on YouTube.
Is Remotasks Real?
Remotasks is a real platform that offers remote work opportunities in the field of micro-tasking. Remotasks allows individuals to perform various small tasks that require human intelligence, such as image annotation, data categorization, and other similar activities.
Is Remotasks safe?
Remotasks is generally considered a legitimate platform for remote work. It offers opportunities for individuals to complete micro-tasks, such as image annotation and data categorization, and earn money.
Is Remotasks SCAM?
Remotasks is a platform that connects remote workers with various micro-tasking opportunities. These tasks typically involve human intelligence and can range from image annotation to data categorization. The platform claims to offer individuals a chance to earn money by completing these small, specialized tasks.
To determine whether Remotasks is a scam or a legitimate option, it's crucial to consider several factors:
Remotask Background:

Research the background of Remotasks. Look for information about its founding, mission, and any affiliations with reputable organizations.

Remotasks User Reviews:

Explore reviews and testimonials from individuals who have used Remotasks. This firsthand feedback can provide valuable insights into the user experience and payment reliability.

Remotask Payment:

Legitimate platforms have transparent payment processes. Investigate how Remotasks handles payments and if there have been any reported issues.

Help and Support:

Contact Remotasks' customer support to inquire about any concerns or queries. A reliable platform should have a responsive support system in place.
Remotasks appear to be a legitimate platform for remote work. However, individual experiences may vary, and it's advisable to exercise caution and conduct personal research before committing to any remote work opportunity.
Remotasks vs mTurk: Which is Better?
Remotasks and MTurk are both online platforms that connect businesses and individuals with workers who perform various tasks. However, there are some key differences between the two:
Nature of Tasks:

Remotasks: Focuses on image and data annotation tasks, such as image categorization, object detection, and data labeling. It is often used for tasks that require human intelligence but are difficult for machines to handle.
MTurk: Offers a broader range of tasks, including data entry, surveys, content moderation, and more. MTurk is a general-purpose platform that caters to a wide variety of tasks.

Task Complexity:

Remotasks: Specializes in tasks that typically require more specialized skills, especially in the field of computer vision and artificial intelligence.
MTurk: Offers a mix of simple and complex tasks, with a wider range of opportunities for individuals with different skill levels.

User Interface:

Remotasks: Provides a user-friendly platform designed specifically for image annotation and related tasks.
MTurk: Has a more general interface that can accommodate a variety of task types.

Availability:

Remotasks: Tasks may be more specialized and dependent on the demand for image annotation services. Availability of tasks can vary.
MTurk: Offers a larger pool of tasks covering diverse categories, leading to potentially more consistent opportunities.

Geographical Restrictions:

Remotasks: May have restrictions on the countries or regions from which workers can participate.
MTurk: Allows workers from various countries, making it more accessible globally.

Payouts:

Remotasks: Payouts can vary based on the complexity of tasks and the skills required. Some tasks may offer higher payouts compared to simpler tasks.
MTurk: Payouts can vary widely, and workers often face challenges in finding well-paying tasks. The pay structure on MTurk may be more competitive.
How to delete Remotasks account?
Remotasks didn't have a built-in option for users to delete their accounts directly through the platform. However, you can generally contact the customer support team to request an account deletion or deactivation.
Here's a general guide on how you might proceed:
Visit the Remotasks website and click on the Contact/Support page.
Use the provided contact form or email address to submit a request to delete or deactivate your account. Clearly state your intention to close your account.
Be prepared to provide any necessary information, such as your account details, to verify your identity. This is a standard security measure.
After submitting your request, wait for the customer support team to respond. They may ask for additional information or provide instructions on the next steps.
Follow any instructions provided by the customer support team to complete the account deletion process.
Conclusion
Thousands of people love and like this site for its authenticity and reliability. The Remotasks is quite professional. It is different from other websites and follows its rules and regulations sincerely.
Remotasks is worthy for sincere and decent people and I assure you that you will get 100% payback for your talent and skills. However, your earnings and getting the projects depend on clearing more exams so you have to do a little hard work in the starting.
Remotasks is strict regarding the order delivery and never compromises with constant mistakes so do not take it lightly. Working here can be great fun you learn many things like how to deal with branding companies and people, how to be responsible related to your work, how to tackle pressure and complete the task within the deadline and many more.
We hope that the information will be helpful for you and guide you well. If you are already working with this site then please share your experience with us and if not then sign up today with a Facebook account and work with them.
If you have any questions or any problems share with us and feel free to ask us.
Message:
I hope that you have enjoyed 'Remotasks Review 2024 – Is Remotasks Legit or Scam? (Unbiased)' article on
Tips2secure
. However, if you want me to deliver more items, then please share my post. You can use the Social Sharing Widget provided at the end of every post. After all, Sharing is Caring!