Are you seriously looking for the Google Forms alternatives? Well, Creating a best Google form and distraction-free form on your WordPress is not that easy and if you have a site on WordPress then you better know the trouble of making a form.
Creating a WordPress form is a challenge because WordPress controls all the layouts and themes and unluckily these themes are not much prioritized by WordPress.
But now the developers have build-up the best alternative that can create 'distraction-free' forms easily and without taking help of anybody and the tool is called Form pages by WPForms.
WPForms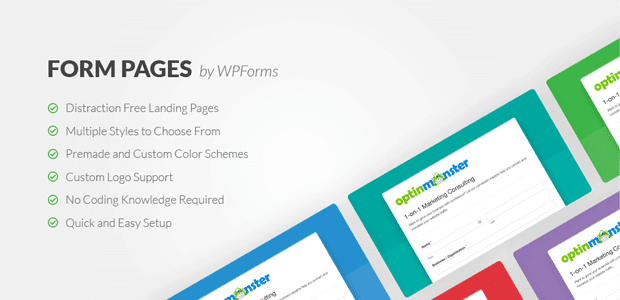 People spend a lot of money to create a business website and they often feel disappointment when people leave the site without filling their forms and never look interested in surveys.
WPForms is the way to create 'distraction-free' forms on your WordPress. You need not to hire any developer; one can do all the landing pages and other forms creating a procedure by itself.
WPForms allows you to fix all the bugs and errors with its WPForms addon. You can simply activate the 'Form Page Mode' through the settings. You can easily attach your logo and form details, URL of a landing page, and other description.
Google Forms

Google forms are mostly used by thousands of people for creating such kinds of survey forms, poll forms etc. it was popular since we are not introduced by WPForms.
You can have an app of Google form service in your android device but still, it is not better than WPForms and that's what we will describe in this article.
Why WPForms is best Google Forms alternative
WPForms form page addon offers to build multiple types of forms easily and without any coding knowledge. If you are a beginner and had less knowledge related forms creating then it will surely help you to learn, create and manage different kinds of forms.
You can build a custom landing page and related description in just 5 minutes whether Google forms take a sufficient time to create similar forms.
Just enable the Form page mode clicking on the form settings. Write your form title, a few lines of description, and the URL of your landing page and that's it.
WPForms allows you to create forms in two modes, one is Classic mode and the other one is Modern mode. The Classic form is a carbon copy of Google forms and the Modern mode as name describes is new look of 2019.
Here you will find the 6-color modes and you can compare colors and choose one of them. Whenever you choose the main color WPForms will automatically appear the other colors icons and gradients.
Click on the save button and save your all settings and layout of your landing page and now it is ready to share with all of your clients and viewers.
Features of WPForms
1. Build survey forms in just 5 minutes
2. You can build survey forms within 5 minutes and no other forms building service is as quick as Form Pages by WPForms. The main con of disinterest of users is form distraction and WPForms allows you to create attractive forms and brings traffic on your website.
3. Leading generations is now simpleton:
4. You can make signing up options on your landing page so users can simply login and can leave their remarks.
Various events creating:
Whether you are arranging a birthday party or RSVP invitation or a business meeting or conference you can easily create events and invite people and also get feedback from them.
You may like to read,
Easy to use
WPForms is a modern way to create smart and attractive contact forms easily than Google forms service that acquires bit knowledge of the related field.
WPForms offers predesigned templates and in just a few clicks you can create your form and share with your links but Google forms have limited templates which force you to use only the available templates.
You can easily do improvements and changes in your forms with Form Pages by WPForms and addon.
WPForms Vs Google Forms – Which one is better?
Well, getting a closer knowledge of all the features and working flexibility and reliability we announce WPForms as a winner and it is the best alternative of Google forms in 2019.
Conclusion
At last, we must say that if you are a serious entrepreneur and want your public to stay connected with you and you heartily want to set down your conversions and an attractive form making tool then goes for WPForms without any second thought.
We have done many experiments and the conclusion was clear that WPForms proved the better one. You can also have discounts on its membership plans also the packages are quite worthy so as the services are.
Form Pages by WPForms and addon is a smart solution of your every problem so go for it and share your experience with us.
Message:
I hope that you have enjoyed 'WPForms: Is it Best Google Forms Alternative 2019?' article on
Tips2secure
. However, if you want me to deliver more items, then please share my post. You can use Social Sharing Widget provided at the end of every post. After all, Sharing is Caring!