Are you also looking to integrate the Debutify theme for the Shopify store? Is installing Debutify worth it for managing your online store? Should you opt for the premium version of Debutify to get all the features?
So, all such people looking out to get the perfect theme for their online store can rely on Debutify. Shopify has many themes, but if you are looking to be equipped with all the essential features for free, nothing is better than "Debutify."
What is Debutify Theme?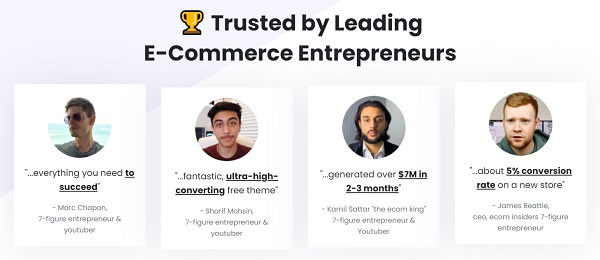 CLICK HERE TO VISIT OFFICIAL PAGE OF DEBUTIFY
Debutify is a free theme for the Shopify store and has features to change your online store's overall performance. One who plans to start their Shopify online store will find Debutify the best as it has built-in features that can make it easy to set up the store.
People who are managing large inventory on Shopify and can spend money should go for Debutify paid version. It has the potential that can convert your visitors to your potential buyers and thus increases sales. Debutify does all by itself, and there is no need for any coding or designing to set up your own built–in store.
The theme features are also divided into three categories: the store, product, and cart. Thus it is a complete package that is required for any online store. The add-ons are mainly for big stores that need something more to attract customers. In all beginners and experienced, everyone would find Debutify very useful for their business.
Debutify Theme Features:
The free version of Debutify comes with the basic features which are a must to set up a Shopify store. These features are as follows:
1. Currency Converter
The main aim of the theme is to work with your customers worldwide, so it has automatic country detection so that visitors can check the price in their currency. It also has a multi-currency checkout option so that one can select it during the checkout.
2. Product sliders
Just like any e-commerce shopping site, one can also have a product slider with Debutify. T has arrows and dots that show users some more products on the sliding, and you are free to set many products to be displayed on the slide. This feature is available from the desktop and mobile versions and will give information regarding similar products.
3. Customizable slideshow
You can show the product in the form of a slide show as it impacts visitors. The height of the slideshow can be set based on mobile and desktop versions. The customized slide shows also support different animations, and the slider can be customized based on your liking.
4. Customizable header
The header can also be customized like you can place it in the left-right or even centre. Moreover, you can have a transparent logo over the slide show, which will brand your business. One has the option to select either a sticky header or a transparent header. Thus it gives a top choice, and it's your creativity to make the difference.
The footer of the store can have different images like social media, newsletter, and much more. Thus you can build a connection with your customers through this option. It also has email and links that would help your customer to get connected.
6. Product Details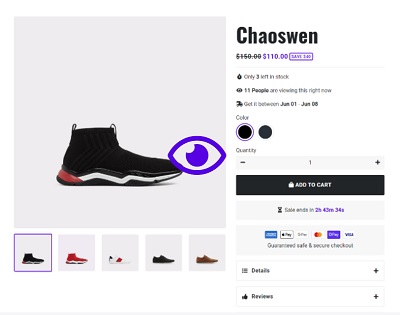 The details regarding your product are of utmost importance, and it must speak out. So, with Debutify, there is an option to give detailed information regarding the products. It also has a full-width add-to-cart button and a dynamic checkout option, and drop-down varieties with the product information. It all will increase the chances of your visitors becoming your potential customer.
7. Product Testimonials
You can include the product testimonial on your product page, and it will have a good impact on new visitors. The testimonial can have products, reviews, share details, and much more to impact visitors substantially. The testimonial can also be customized and can have a slider.
8. Product Images
Images are also vital to select the products. Debutify has the option of images slider, zoom on hover, and even the alignment option. The thumbnail layout will allow showing images of the product from different angles.
CLICK HERE TO DOWNLOAD DEBUTIFY THEME FOR FREE
Which are different versions of Debutify?
The theme has three-four different variations so that one can select based on their needs and budget. The pricing structure of each variant is different from others, so let's look at them:
Free
The free theme consists of 1 store license and necessary them and the support for Facebook. Every beginner will find it enough to start their store and, as they proceed, can switch to other variants.
Starter
It has one store license and three add-ons that can be integrated to get more support. The starter package also has a standard theme along with the full backing for Facebook. This package is at $19/ month, which is less as compared to the features.
Hustler
It cost $47/month and comes with a one-store license. It supports 28 add-0ns and also will give the option to integrate the future add-ons. It provides complete support for Facebook and has a standard theme.
Master
It is one of the best plans with three store lances for all the prominent entrepreneurs. It allows integrating with future add-on along with 28 current add-ons. Moreover, it has mentoring and advanced courses that would help to stand out from the crowd. The product research tool will help to study competition and thus make a plan accordingly.
How to install Debutify?
It's very easy to install the theme to your Shopify store, and to do so, follow the below-mentioned steps:
First, you need to visit the official site (Click here), and click on "Free Download."
Debutify is for the Shopify store, and so it requires users to enter their Shopify name and email address. It might also ask to enter the Shopify Domain to install the Debutify theme.
If you have not set up Shopify, you need to create an account and get the required details. Once you get the Shopify credentials, it is used to install Debutify them in the store.
Spam and security concerns always restrict installing themes, but there is no such concern with Debutify. Yes, it is entirely secure, and there is no issue with installing Debutify.
Once the theme is installed, you can customize it as per your requirements and start selling products in the store.
You may like to read,
Top 3 Best Form Builder for WordPress
5 Most Popular E-commerce Marketplace Builders
How to Create Multipage Forms in WordPress
Pros of Debutify Theme
A single click would help to install the theme in your Shopify store. Moreover, it is compatible with other plugins, and thus you can easily install Debutify with Shopify.
The free versions come with basic features, which the premium version gives full support with differed ad-on to make it easy to manage the store.
The theme is designed especially for drop shipping and so comes with all the features like managing products, carts, payment management, and much more.
Users who find it difficult with Debutify can connect with the 24*7 support team and resolve all their issues on time.
The optimized theme reduces the loading time and is also mobile-friendly, making it readily available for shoppers. The conversion rate of the theme is very high, and thus it helps to get good sales.
Debutify theme Review (My Personal Experience)
Once you have installed the theme, it comes with a customized dashboard where you will find different options. There are sections on the page that will help to change the setting of the store. The theme is entirely responsive, so it hardly takes minutes to make any changes with the store.
The premium version would find all the extra add-on under the theme setting options. Even the free version of the theme would also have opportunities to customize your store. The main aim of the theme is to change the store's overall look and make it easy to manage.
The Debutify theme manages products, theme look, cart, payment, and everything required to run the Shopify store. Today more than 8000 customers are using Debutify, and almost all are satisfied with the features and add-ons.
Debutify Theme Faqs
1. Which are the paid add-ons of the Debutify theme?
The theme's premium versions consist of different add-on, which is chat boxes, add product videos and tabs, sticky add to the cart, trust badges, cart animations, and much more. These are add-ons that can make your store look attractive and add an oomph factor.
2.Why install Debutify?
One who wishes to manage drop shipping and make money must install Debutify. It allows you to work from any place and anytime, which means it becomes easy to attract customers and make money. The free version and premium version comes with features that reduce your workload.
3.Is it possible to change the plan?
Yes, it is possible to change the plan whenever you want. If you are a beginner, go for the free trial version and once you find it efficient, select the plan according to your requirements. One whose business is expanding should go for the highly configured version.
In all, Debutify is one of the best themes for all Shopify users. All the users can enjoy the theme's integrated feature, and one can even get an add-on through the premium variant. The easy installation of the theme along with customer support will help to mage business efficiently.